2012 | NYC | Artist
Katarzyna Krakowiak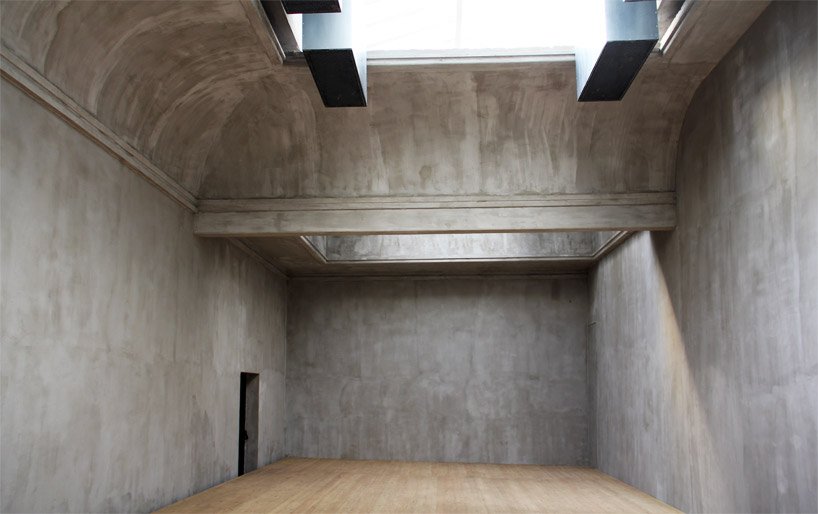 poland06
'making the walls quake' distorted walls in the polish pavilion at the 2012 venice architecture biennale. image © designboom
http://krakowiak.hmfactory.com/
Katarzyna Krakowiak was born in 1980 in Poland. Her work explores sculpture and architecture with the use of various media, notably sound. In 2006 the Krakowiak graduated from the Sculpture Transplantation Studio, at the Academy of Fine Arts in Poznań, under Mirosław Bałka, where she worked as assistant from 2004 to 2007.
From August 29 through November 29 2012, Krakowiak is presenting at the Polish Pavilion, 13th Venice International Architecture Biennial a major sound sculpture that presents architecture as a primary system of listening. "Making the walls quake as if they were dilating with the secret knowledge of great powers" is the amplification of the Polish Pavilion as a listening-system. This project is a design exploration into the interaction between sound and architecture in creating our environment. The sculpture collaborates with neighboring pavilions and echos the sounds that reach the Polish Pavilion, highlighting its acoustic qualities. The Jury Reports: "Special mention goes to Poland for 'Making the walls quake as if they were dilating with the secret knowledge of great powers'. This brave and bold installation reminds the visitor to listen as well as to look... And to feel the sound of the Common Ground."
Other significant exhibitions by Krakowiak include Who Owns the Air?, Galeria Foksal (Warsaw, 2011), Game and Theory, South London Gallery (London, 2009). Her works were presented in group exhibitions at, among others, KUMU Museum (Tallinn, 2011) and HMKV (Dortmund, 2011). In 2007 she completed an internship at the Architecture Foundation, London. Since 2011 she has been working at the Studio Urban Interior Design (Department of Interior Design) at the Academy of Fine Arts in Gdańsk (in collaboration with Jacek Dominiczak). Working with Krzysztof Gutfrański as part of the Ekspektatywa series (Fundacja Bęc Zmiana, 2010) she has prepared and published a manual for constructing your own Metaphones.
http://krakowiak.hmfactory.com/
Katarzyna Krakowiak's residency is organized in association with A-I-R Laboratory/Centre for Contemporary Art Ujazdowski Castle in Warsaw, Poland with support of the  Polish Cultural Institute, New York .