2018 | NYC | Artist
Julie Leidner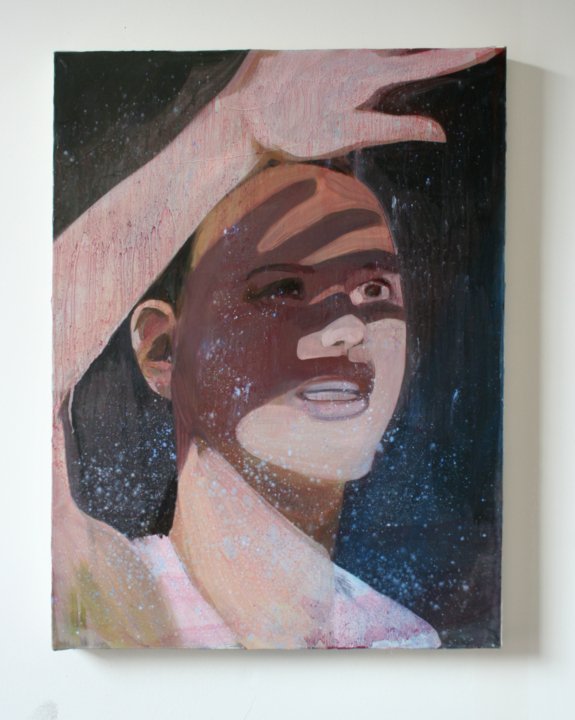 Karahkwa
2014, oil on canvas, 16" x 12"
Bio / Statement:
Drawing from mythologies found in the Appalachian landscape, Julie Leidner is a Louisville-based  artist who creates paintings and drawings that are part fantasy and part history. The character of the artist-cavewoman recurs in her work as an archetypal adolescent who moves through environments while learning to be human, and making/desiring things. Using paint as a primary medium, along with collage, performance, and publishing projects, Leidner's practice digs into the layers of shared human impulses, and posits an alternate reality where time and distance can be collapsed.
Julie Leidner has participated in group exhibitions at KMAC Museum (2015) and Zephyr Gallery (2015) in Louisville, ACNY Spattered Columns in Brooklyn (2013), Samson Projects in Boston (2011), and UnSmoke Projects in Pittsburgh (2010). In 2013 she had a digital solo exhibition in 57Cell, curated by Gregory Kalliche, sponsored by Blonde Art Books, in Brooklyn, NY. She is currently a long-term Artist-in-Residence at St. Francis High School in downtown Louisville, and runs an experimental exhibition space in Old Louisville called Sheherazade. In addition to being awarded a grant from the Great Meadows Foundation to fund her participation at Residency Unlimited in 2018, Julie was recipient of a Mary Hadley Prize in 2015 and a Kentucky Foundation for Women Grant in 2014 and 2011.
Artist in the studio: Julie Leidner (video available here).
Great Meadows Foundation announces Julie Leidner's residency and partnership with Residency Unlimited.
Support: Julie Leidner's residency is made possible with support from Great Meadows Foundation.