2018 | NYC | Artist
JUJU U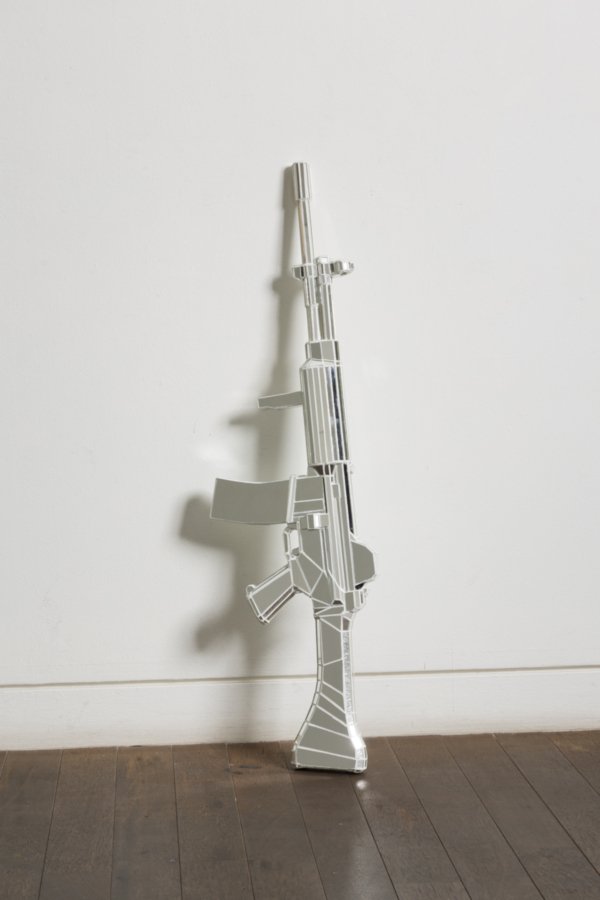 K2
2017, mirror and mixed media, 90cm x 40cm
Bio / Statement:
JUJU U´s interdisciplinary practice investigates different modes of production as well as expanding craft related techniques with nontraditional materials such as gunny sacks, napkins, candies and food wrapping paper. The North, a series of mirrors and stained glass captures North Korean propaganda slogans such as Obey Father, Evil and Victory. The collages from the same series are imbued with a variety of icons that appear in the North Korean printing media.  Since 2012 JUJU U has been developing the photographic series Super Museum Project, a comment on consumer culture and goods that can be found in supermarkets. Inserted in each photograph, the artist's costumes are carefully constructed out of ingredients such as straw, strings, candy wraps and disposable dishes. Juju's artistic path leads her to study, explore and merge a wide range of materials such as wood, felt or ceramics to name a few, resulting in fresh and unexpected outcomes.
Recent solo exhibitions include Motherland, OCI Art Museum, Seoul, Korea; Nowhere noWhere,Dynamo Expo, Enschede, Netherland. Group exhibitions include Jeonbuk Museum of Art, Wanju, Korea; Experiment & Expression, Buk Seoul Museum of Art, Seoul, Korea; TOP 10 2016, make art space, Paju, Korea;RecFukuoka Asia Art Museum, Fukuoka, Japan; Seoul National Art Museum, Seoul, Korea; Salon de SEMA, Seoul National Art Museum, Seoul, Korea;  UJUJUMAC, Alternative space Loop, Seoul, Korea; The Great Artist, Posco Museum, Seoul, Korea; Small Future, Nam Seoul Living Art Museum, Seoul, Korea; Choi & Lager gallery, Cologne, Germany; Korean Cultural Service Center, New York, USA; ISKAI contemporary art, London, UK; Inchon International Digital Art Festival, Inchon, Korea; Art Center Nabi, Inchon, Korea, Inspace Gallery, Beijing, China  Love Love, Gallery Ssamzie, Seoul, Korean; Truth, REDCAT, Walt Disney Concert Hall, Los Angeles, USA; Believe or not, Ilmin Museum, Seoul, Korea; Welcome, Wolverhampton Art Gallery, Wolverhampton, UK.
Juju U has attended various residency programs around the world including: ACC residency program in New York, USA, ARE Holland, Enschede, Sema Nanji Residency Program, Seoul, Korea; Fukuoka Asian Art Museum Residency Program, Fukuoka, Japan: Bikalpa Art Center Residency program, Kathmandu, Nepal; Zone D Art residency program, Bangkok, Thailand; and Ssamzie Art Space residency program in Seoul.
Select Permanent Collections: 2015 Fukuoka Asian Art Museum, Japan 2014, 2016 Seoul National Art Museum, Korea 2013 Goldsmiths Collage, United Kingdom 2008 SSamzie Art Collection, Korea
Support: JUJU U's residency is made possible with support from Asian Cultural Council NYC.