2023 | NYC | Artist
Jodie Lyn-Kee-Chow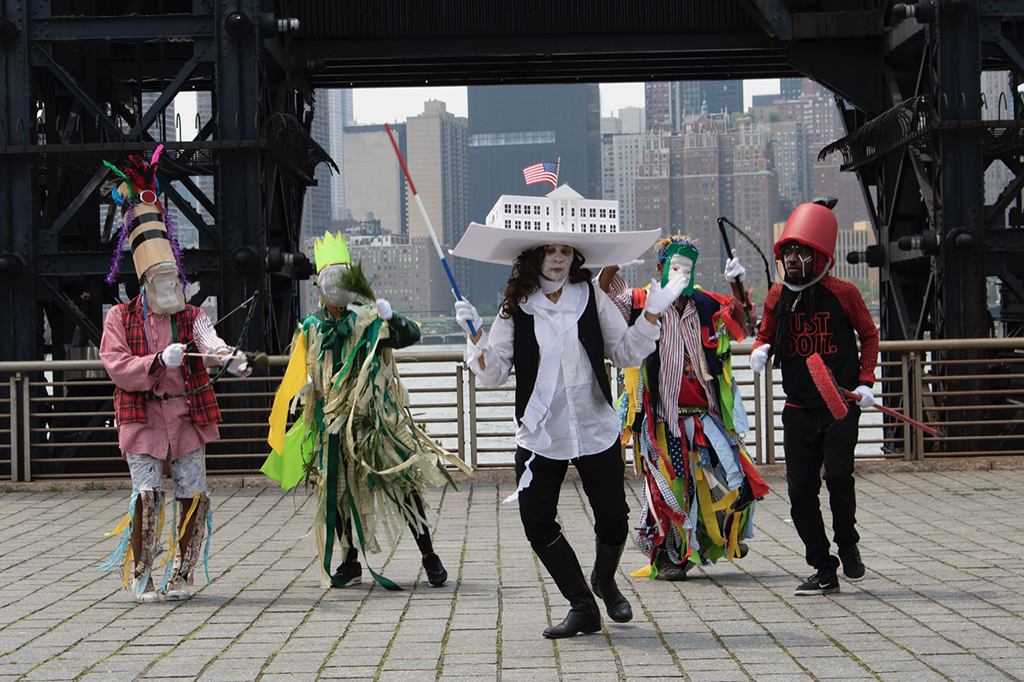 Jodie Lyn-Kee-Chow, "Junkanooacome", 2019, Performance with mixed media, Photo: M.Charlene Stevens.
Artist Name: Jodie Lyn-Kee-Chow
Residency Dates: April - June 2023
Born: 1975
Hometown: Manchester, Jamaica
Lives & Works: Queens, NY
URL: https://www.jodielynkeechow.com
Education:
2006 | MFA in Studio Art - Combined Media, Hunter College, New York
1996 | BFA in Painting, University of Florida / New World School of the Arts, Miami
Bio/Statement:
Jodie Lyn-Kee-Chow is a Jamaican-American interdisciplinary artist whose work often explores performance and installation art drawing from the nostalgia of her homeland, Caribbean folklore, fantasy, feminism, globalism, spirituality, environmentalism, and migration.
The African diaspora, European colonialism and Chinese migration make-up significant parts of Lyn-Kee-Chow's origin story. The ancestral convergence in Jamaica (slavers, enslaved Africans, and migrant workers) followed by her family's immigration to the United States, informs her artistic practice. Through her immigrant lens and celebration of her heritage, she investigates colonial narratives with the use of drawing, performance, and installations to re-tell histories and the lost traditions of her people to educate and build more informed futures.
She has been featured in Jamaican Pulse, Royal West Academy of England, Bristol, UK (2016), Jamaica Biennial, The National Gallery of Jamaica, Kingston, JA (2017), Guangzhou Live 5: International Performance Art Festival, China (2014) amongst others. Solo exhibitions include, Picnic Parade at Chinese Historical Society of America, San Francisco, CA (2022) and Junkanooacome at Five Myles, Brooklyn, NY (2022). She co-authored and performed in, Living Histories of Sugar in the Caribbean and Scotland: Transnationalisms, Performance and Co-creation, a project funded by the Arts and Humanities Research Council presented at The Institute of Jamaica", Kingston, JA, Beacon Theatre, Greenock, and St. Cecilia's Hall at Museum of Music Edinburgh, Scotland (2022).
Lyn-Kee-Chow's work has garnered the New York Foundation for the Arts Fellowship Award (2012), Rema Hort Mann Artist-in-Community Engagement Award (2017), Franklin Furnace Fund (2017-18), Culture Push Fellowship for Utopian Practice (2018), and shortlisted for Creative Capital (2022). Residencies include Wave Hill Winter Workspace (2022), and Triangle Arts (2020-22) where she was one of their first Artist Fellows. Recent publications include "Patchwork: Essays & Interviews on Caribbean Visual Culture" by Jaqueline Bishop (2023), Hyperallergic (2019), The Miami Rail (2017), and Artsy (2022-23). Jodie Lyn-Kee-Chow is a 2023 sponsored artist of The Field's Social Justice Artist Practitioner program.
Jodie Lyn-Kee-Chow is one of five artists participating in the 2023 New York City-Based Artist Residency, dedicated to supporting the voices of underrepresented artists in NYC who identify as Black, Indigenous and People of Color and whose research-based practices fill in gaps in historical knowledge. The program is organized by Guest Curator Rachel Gugelberger.
The 2023 NYC-Based Artist Residency Program is made possible by the New York State Council on the Arts with the support of the Office of the Governor and the New York State Legislature and public funds from the New York City Department of Cultural Affairs in partnership with the city council.