2019 | NYC | Artist
Joaquin Torres Zavaleta (a.k.a. Bater)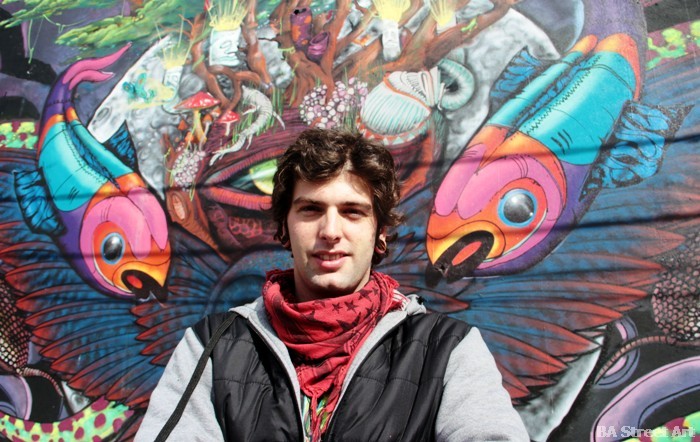 Aires graffiti artist Bater and mural near San Isidro
Name: Joaquin Torres Zavaleta (a.k.a. Bater)
Residency Dates: May - July
Born: 1989
Lives & Works: Buenos Aires, Argentina
URL: See links in below.
Education: Studied at the Art Institute of Buenos Aires University (IUNA) with Argentinian artists Maximiliano Sánchez Soza, Duilio Pierri and Maggie de Koeningsberg. Joaquin works individually and is also part of a collective of artists THG Crew.
Bio/Statement:
"My art is aimed at reintroducing nature into the city, in making people aware that we are surrounded by many natural wonders, even if these are a small weed growing on a ruined wall or a skyscraper, wild flowers blooming in unexpected places, birds and other amazing creatures. My aim is to show what is generally unseen and the value of nature to heal the mind and body. My purpose is to introduce beauty, life and a loving and caring perspective into everyday life. I have always been interested in art as a means for social integration, and I strongly believe that communities who are given the chance to participate in a project in their neighborhoods increase their sense of belonging, commitment and involvement".
Joaquin is the founding member and Artistic Director of "Asociación Estilo Libre", a not for profit that brings together various municipalities to serve through art under-served communities, shantytowns, community sports centers, and other public spaces.
Google Arts & Culture (formerly Google Art Project) is a partner.
"Asociación Estilo Libre" also curates mural festivals bringing artists from all over the world together in different locations in Argentine to create murals such as Meeting of Styles International Festivals (most recently in San Isidro, Province of Buenos Aires, 1000 sq.m. wall, over 900 local and international artists) together with the Department of Culture of the Municipality of San Isidro. "Asociación Estilo Libre" also organizes street art tours for tourists.
Joaquin was also invited to participate as an artist in several street-art festivals abroad (Peru, Germany, Brazil, Chile and Uruguay), and was commissioned to paint a mural (designed by another artist) for NY City Skyline (2017)
Interview with the artists fro Buenos Aires Street Art magazine available here.
More information about Joaquin's projects can be found below:
Meeting of Styles, San Isidro (2016)
UrBAna (2016) within YAMB Program
Tigre 100x100 Festival (2013)
Meeting of Styles Buenos Aires City (2012)
Meeting of Styles Buenos Aires City (2011)