2020 | NYC | Artist
Joana da Conceição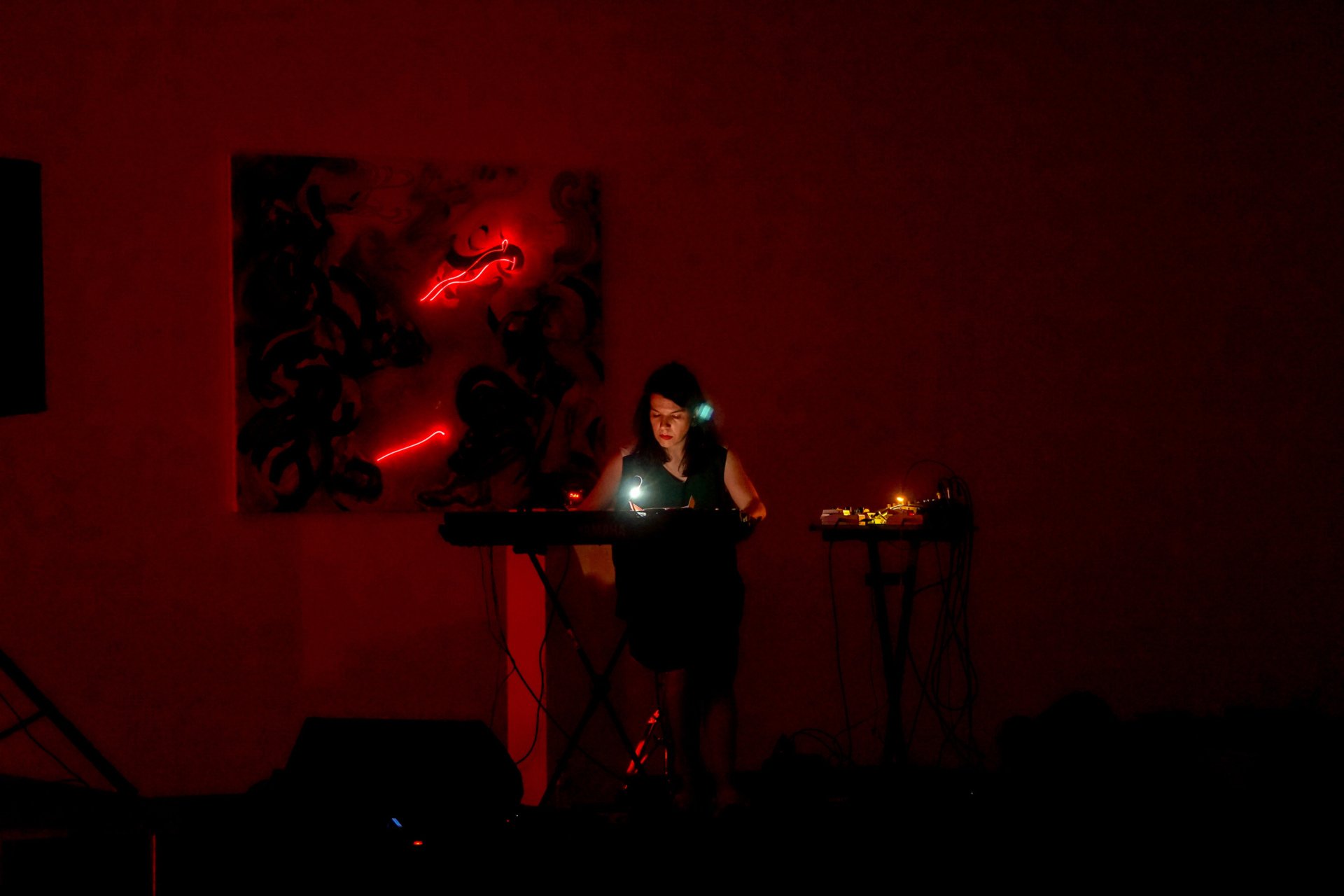 Singular Dividido.
2019. Performance, Vanishing Point, Galeria do Torreão Nascente da Cordoaria, Lisbon
Bio / Statement:
Joana da Conceição lives and works in Lisbon, Portugal. Her practice is rooted in painting and music with public presentations of her work resulting in multimedia installations that revolve between the two. Together with André Abel she formed Tropa Macaca, a band working in the field of contemporary electronic composition.
Selected exhibitions in Portugal include: Singular Dividido, Ponto de Fuga, Galeria do Torreão Nascente da Cordoaria, Lisboa (2019); O Berço de Vénus, Casa dos Crivos, Braga, BoCA Bienal (2019); Guia Interior - Joana da Conceição & Tropa Macaca, Capela de Serralves, Serralves em Festa'18, Porto, (2018); Cores em Silêncio, Lehmann + Silva, Porto (2018); Matéria Doméstica Exótica, ZDB, FLUR, Palmira e Pacific, Lisboa (2017); Síntese Radiante, Cinema Passos Manuel, Porto (2017); Corpo que Sabe, Galeria Carlos Carvalho, Lisboa (2015); Bora Puxar Atrás Para Ver Melhor, Museu Bernardo, Caldas da Rainha (2015); Vinde ver Pintura, Edifício Amparo, Lisboa, (2015); and Uma Certa Falta de Coerência, Porto (2014).
In 2018, she was part of Toda Matéria, a multimedia collective that presented live performances at Galeria Lehman+Silva, in Porto, Resident Advisor: Lisa at Galeria Zé dos Bois, in Lisboa, and at OUT.FEST, in Barreiro.
Tropa Macaca's selected discography includes: Caçador do Futuro, LP [ 2018, Dunno (PL)]; Vida, LP [2016, The Trilogy Tapes (UK)]; Praga de Urubu Só Pega em Cavalo Magro, one sided 12'' [2014, Wasser Bassin (PT)]; Ectoplasma, EP [2012, Software (USA)]; Sensação do Princípio, LP [2009, Siltbreeze (USA)]; Fiteiras Suadas, LP [2008, Qbico (IT)]; and Marfim, LP [2007, Ruby Red (PT)].
da Conceição participated in the 2013 Artistic Residency Lagamas Program promoted by the Cornelius Foundation, and the 2011 ZDB Gallery Residencies in 2011. She is a recipient of the 2010-2011 Inov-art fellowship in Rio de Janeiro, at Capacete Residências Artísitcas, and the 2005 Anteciparte Millenium BCP Award.
da Conceição's work is in the permanent collections of the António Cachola Collection, Fundação PLMJ, and Marin Gaspar, all in Portugal.
Support: Joana da Conceição's residency is made possible with support from Atelier-Museu Júlio Pomar/EGEAC.