2023 | NYC | Artist
Jessica Jurassica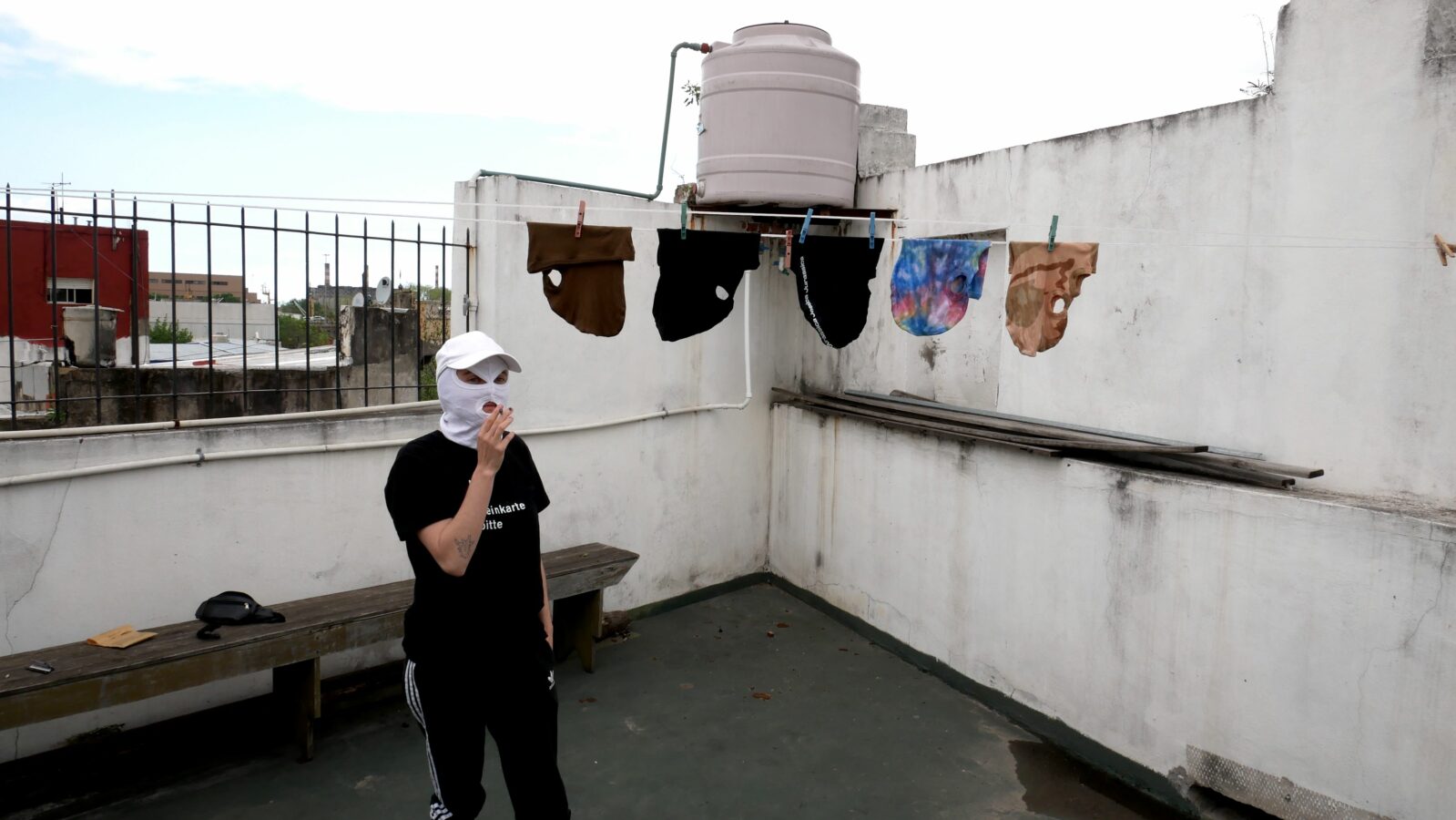 Jurassica in Buenos Aires, Film still from the mockumentary "Dieter Meiers Rinderfarm", 72min., Switzerland / Argentina, 2020.
Artist Name: Jessica Jurassica
Residency Dates: February - April 2023
Born: 1993
Hometown: Appenzell Ausserrhoden, Switzerland
Lives & Works: Bern
URL: https://jessicajurassica.com/ | Instagram: @jessicajurassica
Bio/Statement:
Growing up in a village where everyone knew everyone else, Jessica Jurassica plays with identity, anonymity and perception. As an artist, author and musician, she works with different media and genres including social media which she uses as spaces for performance and literature. Jurassica is part of the Eurodance duo CAPSLOCK SUPERSTAR, the rap collective HATEPOP and the feminist network for sound research and interdisciplinary dialogue Salon Vert.
She writes essayistic and political texts as a freelance author and columnist for various publications and anthologies and published two novels, including a polarizing short novel about the fictitious erotic adventures of an experienced journalist and the president of the swiss federal council. With DAIF and Jeremias Heppeler, Jessica Jurassica is part of the collective Dieter Meiers Rinderfarm, which in 2019 realized the music mockumentary Dieter Meiers Rinderfarm as their first joint project in Argentina. In the spring of 2022 the collective made a science-fiction-musical-movie-exhibition hybrid called CAPSLOCK SUPERSTAR - Am Anfang der Zeit. The product of the project is the 80-minute science-fiction movie CAPSLOCK SUPERSTAR samplen den Urknall that premiered in January 2023.
In 2018 Jessica Jurassica started anonymously publishing short texts and pictures taken with her low-quality cell phone camera on social media. From this experimental field, inspired by other artists and in exchange with her social environment, she developed her own language and soon began to write for various publications. In 2021 her debut novel Das Ideal des Kaputten was published by lectorbooks and received one of the bernese literature awards, as well as a work grant from the canton Appenzell Ausserrhoden. In Spring 2022 Jurassica developed the spoken word performance Gaslight on the occasion of the exhibition Jenny Holzer x Louise Bourgeois – The Violence of Handwriting Across a Page at the Kunstmuseum Basel. In the summer of 2022, she stayed at the Franz Edelmaier Residency for Literature and Human Rights in Merano. With audio installations, video works and performances she was part of various exhibitions, such as the exhibition Klug und Kühn at the Historisches Museum St. Gallen, and Heimspiel at the Kunsthaus Glarus.
Support: Jessica Jurassica's residency is made possible with support from Canton of Berne Office of Culture / Cultural Promotion.