2019 | NYC | Artist
Jenifer Wightman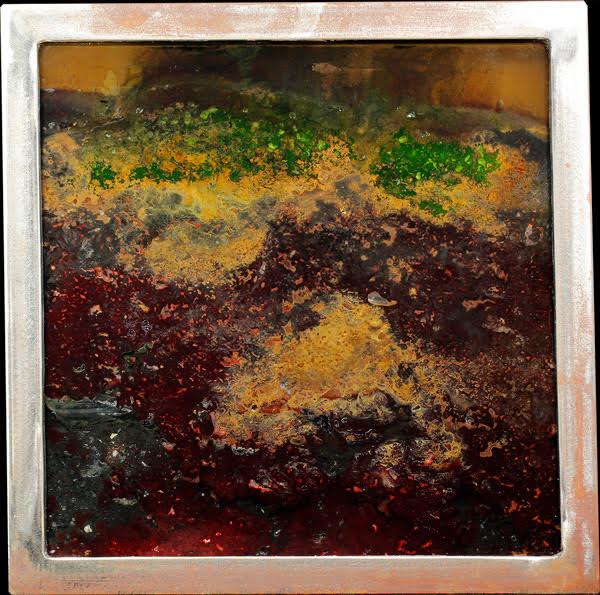 Portraits of NYC: Gowanus Canal 2012, Steel, glass, silicone, eggs, newspaper, chalk and mud from the Gowanus Canal. 15"x15"x2"
Artist Name: Jenifer Wightman
Residency Dates: February-April 2019
Born: 1973
Lives & Works: Bronx, New York
Artist URL: http://www.audiblewink.com
Education: BS Cell Biology Carnegie Mellon; MS Environmental Toxicology, Cornell University
Bio / Statement:
Jenifer Wightman is a research scientist specializing in greenhouse gas inventories and life cycle analysis of agriculture, forestry, waste, and bioenergy systems at Cornell University, funded by USDA, NYS DA&M and others. Since 2014, she has been teaching "Sustainable Systems" and "BioDesign" at  Parsons - The New School for Design. Her art practice began in 2002 and employs scientific tropes to incite curiosity of biological phenomena and inform an ecological rationality. Her art has been commissioned by NYC parks, featured at the Lincoln Center, BAM, and Imagine Science Festival, and is held in collections such as the Morgan Library, Library of Congress, Gutenberg Museum, Bodmer Museum, and the Danish Royal Library.
Mankind has mastered nature as evidenced by the transformation of 19th century Hudson River School paintings (e.g. taming majestic and frightening wildernesses into sites of civilized resource acquisition). This mastery has resulted in an unprecedented 7.5 billion people making livelihoods on the Earth's surface. Our rational acquisition has separated us from the very landscapes that literally create us. In talking about the 'figure' in landscape paintings, Brian O'Doherty posits "Surely this figure represents mind—mind separated from nature so that, in the epitome of the Romantic idea, it may be reabsorbed and interfused with it." Since 2004, Jeni Wightman have made transforming color field paintings with mud taken from the most pristine to the most toxic landscapes of Northeast USA in an effort to 'interfuse with it'.
Though difficult to see individually, microbes existing within mud photosynthesize pigments. As a species grows from individual to colony, it becomes visible as pointillist pigments amass horizontal blocks of transient color. As these bacteria express themselves (i.e. live: consume, reproduce, deplete resources, release wastes), they exhaust their habitat and create an altered landscape suitable to a successor. Like us, bacteria are bound by the law of conservation of mass; they constantly select and reject resources from the finite landscape. The resulting processes of growth and decay are intimately linked inversions resulting in beautiful transforming colorfields. As evidenced by her vibrant and literal portraits made from mud, these simple, highly adaptable, single-cell organisms craft a unique, colorful, and synthetic existence. They exhibit infinite expression in a finite landscape where Life & Landscape is an intimate, malleable, and reciprocal whole. Bacteria have already figured it out; we can learn from them.
Select Permanent Collections:
Austrian National Library, Vienna, Austria
Bavarian State Library, Munich, Germany
Beinecke Rare Book & Manuscript Library, Yale University, CT, USA
Biblioteka Seminarium Duchownego, Pelpin Poland, pending review
Biblioteca Nacional de Portugal, Lisbon, Portugal
Biblioteca Universitaria y Provincial, Seville, declined
Biblioteca Publica Provincial, Burgos
Bibliotheque de l'Agglomeration de St. Omer, St. Omer, France
Bibliotheque Mazarine, Paris, France
Bibliotheque Nationale de France, Paris, France, rejected
Bodleian Library, Oxford, UK
Bodmer Library, Cologny, Switzerland
British Library, London, UK, pending
Cambridge University Library, Cambridge, UK
Danish Royal Library, Copenhagen, Denmark
Eton College Library, Eton, UK
Frankfurt University Library, Frankfurt am Main, Germany
Gottorf Castle, Schleswig, Germany
Gutenberg Museum, Mainz, Germany
Hochschul-und Landesbibliothek, Fulda, Germany
Hofbibliothek, Aschaffenburg, Germany
John Rylands Library, Manchester, UK,
Lambeth Palace Library, London, UK
Landesbibliothek, Kassel, Germany
Library of Congress, Washington, DC USA
Library of the University of Mons-Hainaut, Mons, Belgium
Morgan Library, NY, NY, USA
Moscow State University Library, Moscow, Russia
National Library of Scotland, Edinburgh, UK
New York Public Library, NY, NY USA
Russian State Library, Moscow, Russia
Scheide Library, Princeton University, NJ, USA
Staats- und Universitatsbibliothek Gottingen, Gottingen, Germany
Stadtbibliothek-Weberbach, Trier, Germany
Staatsbibliothek zu Berlin, Berlin, Germany
Universitatsbibliothek Leipzig, Leipzig, Germany
Vatican Library, Vatican City, Italy
Wellesley College, Clapp Library, Wellesley, MA
Württembergische Landesbibliothek, Stuttgart, Germany
Support: Dirt & Debt, RU's first thematic residency program is made possible with support from the New York City Department of Cultural Affairs in partnership with the City Council.