2018 | Outbound | Artist
Jen Rosenblit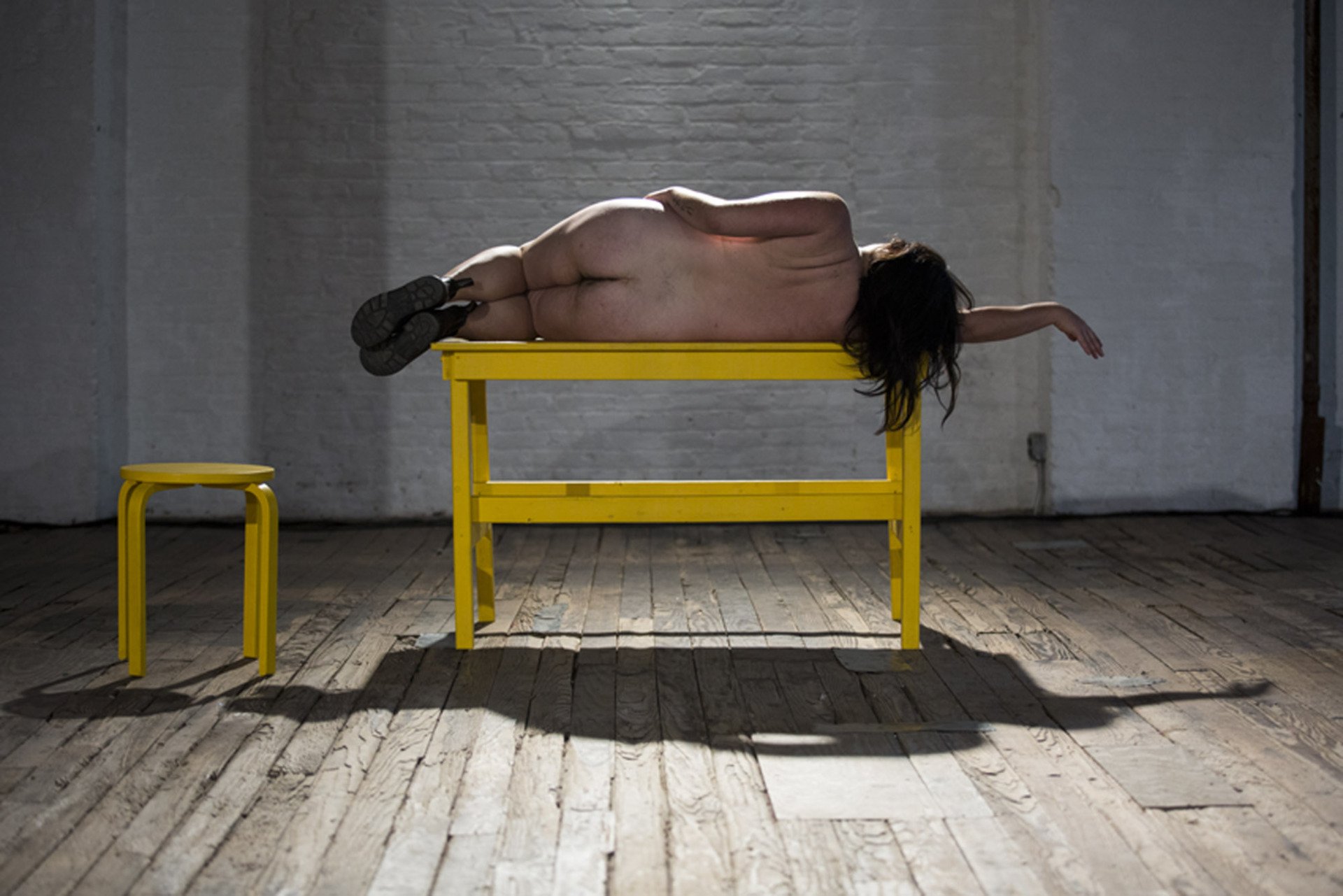 Jen Rosenblit, Clap Hands (2016) photo by Maria Baranova-Suzuki
Artist name: Jen Rosenblit
Dates of residency: February-July 2018
Lives and works: Brooklyn, New York
URL: http://www.jenrosenblit.net
Jen Rosenblit was selected for the 2018 Atelier Mondial Residency for New York City Artists. She will spend six months at Atelier Mondial, in Basel, Switzerland
Bio/Statement:
Jen Rosenblit makes performances based out of New York City. Rosenblit is a 2015-16 Movement Research artist-in-residence, a recipient of a 2016 MAP Fund, a 2014 New York Dance and Performance "Bessie" Award for Emerging Choreographer, an inaugural recipient of THE AWARD, a 2014-2015 workspace artist through Lower Manhattan Cultural Council, a 2013 Fellow at Insel Hombroich (Germany), a 2012 Grant to Artists from the Foundation for Contemporary Arts, and a 2009 Fresh Tracks artist (Dance Theater Workshop). Rosenblit has received commissions from The Kitchen, The Chocolate Factory, New York Live Arts, Danspace Project at St. Mark's Church, and Issue Project Room. Rosenblit was a part of MoMA PS1's Greater New York 2016.  Her recent work Clap Hands (2016) and the companion work Swivel Spot (2017) have lead her on an inquiry toward the uncanny and maintenance of care. Rosenblit has collaborated with artists including Young Jean Lee, Ryan McNamara, Yvonne Meier, Sasa Asentic, A.K. Burns, Kerry Downey, Anne Imhof, Miguel Gutierrez, Geo Wyeth and currently Simone Aughterlony. Together with Aughterlony, their work, Everything Fits In The Room, commissioned by HAU Hebbel Am Ufer and Haus der Kulturen der Welt (2017) is currently on tour. Rosenblit's new work, Stand In, is a co-production of Sophiensaele(DE) and The Chocolate Factory(NYC).
Rosenblit's processes of performance making are routed in choreographic thought with an improvisational approach to composition, where an emergent logic is valued.  With deep concern for arrangements of 'togetherness' her work locates and navigates ways of being together amidst impossible spaces, where bodies, architectures and ideas are not bound by the familial. The work traces remnants of domestic lingerings, labor as a poetic and the unwinding of sense making, all the while still invested in meaning, itself. While an inherent abstraction manifests in the form, the work often moves through the representational and stumbles into something completely other. Desires around the unknown mingle with routine tasks where Rosenblit and the work seem to manifest these contradictory spaces.
SUPPORT: Jen Rosenblit's 6 months' residency at Atelier Mondial is supported by the Zaeslin-Bustany-Scholarship in collaboration with Atelier Mondial and Christoph Merian Stiftung, Basel, Switzerland .