2019 | NYC | Curator
J Triangular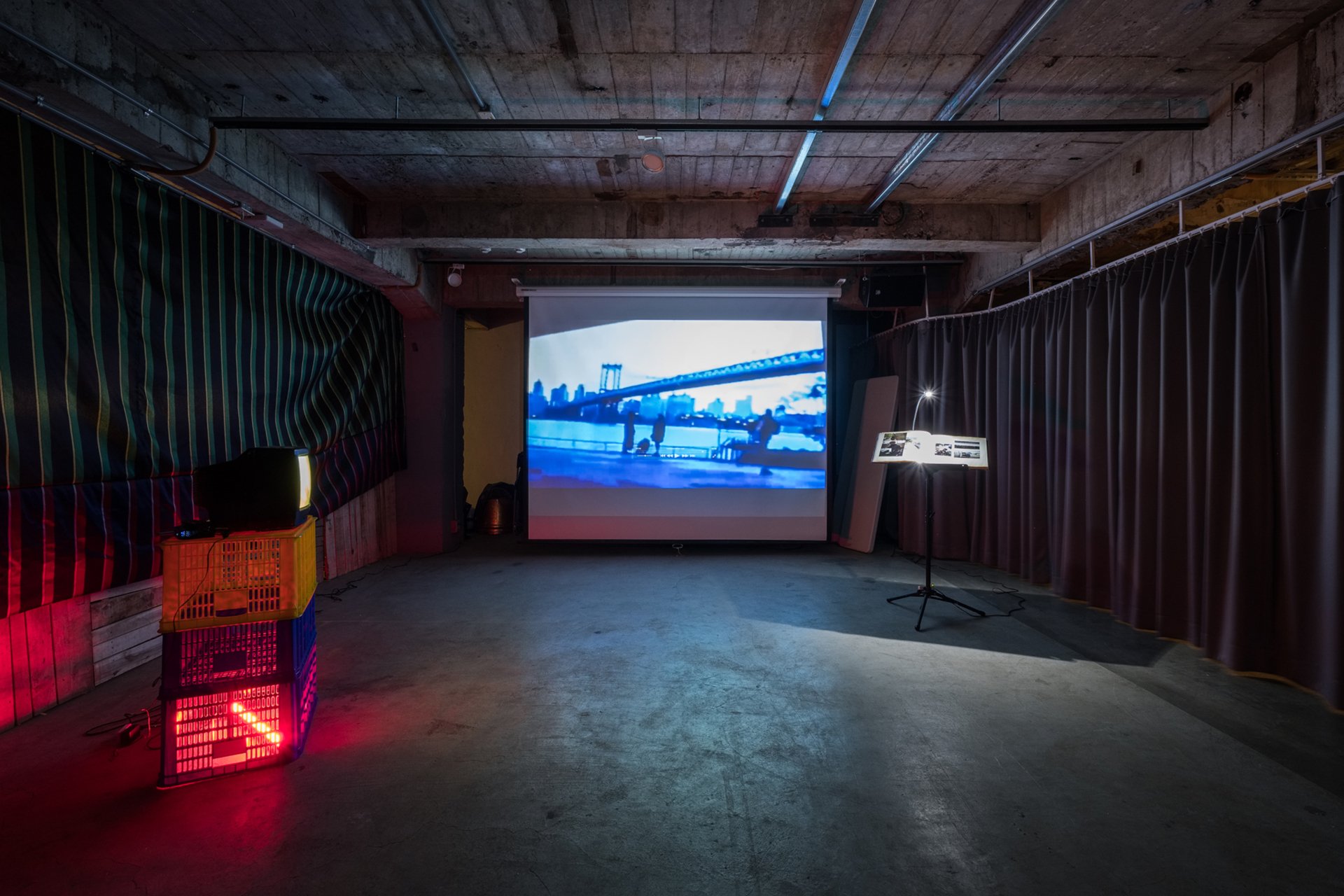 "Lunch Poems" and 愛是唯一真正的抵抗行動 Installation view at 神奇現像所 Magic Image Labs. Organized by 另一種影像記事 The Other Cinema / Taipei - Taiwan
Bio / Statement:
RU is thrilled to announce that J Triangular is our seventh annual Curatorial Resident, co-sponsored with Visual Aids. During their residency, J will create a weekly episodic video program called "THE WHOLE WORLD IS WATCHING" focusing on women living with HIV and AIDS. See here.
Colombia-born, Taiwan-based curator and artist, a queer poet, experimental filmmaker (DIY video artist), and photographer, J Triangular's art projects speak about resistance, gender dynamics and memory landscapes. Their works are poetic portraits of the unresolved social violence history and the rupture of identity in a culture of manufactured fear and legally institutionalized discriminations.
Since J' early films in super8 and curatorial projects in Spain (La Tabacalera art space and Fundación Triángulo/Triangle Foundation), their  themes are consistent - counterculture and music, queer community identity and self-empowerment - radical forms of queer memory and resistance, projects of social transformation - art and collective action with the use of accessible technologies, camcorder activism, promoting communication and solidarity. The goal is always to emphasize the contrast, the activation of social consciousness and emotional compassion, cementing community bonds and transforming disillusionment into strength.
Triangular creates community-based content, visual art about queer and feminist issues. Like the projections for the monthly benefit parties for Planned Parenthood in Park-Church Coop, where J collaborated with musicians like M Lamar.  In 2017 at Flux Factory, together with Cayla Lockwood, J created the first cutting edge fanzine of Flux, called: RUB.
Triangular is currently collaborating in Taipei with the artist Chen An An on an installation that is based on a poem that she made after the death of her collaborator, the actor Ricardo Olea, due to complications related to AIDS.
In 2014 Triangular and her brother Diego Barrera together with their TV and film collective: Celestial Twins, created a queer music and film festival, connecting transgender identity with music, an educational encounter called "Celestial Festival" in Chile. With the live concert of Genesis Breyer P Orridge (Psychic Tv) special screenings of movies and performances like the ones of Joey Arias and Tara Transistory aka One Man Nation from Thailand. And with conferences and workshops called: Trans-feminist Education in the PCdV/Cultural park of Valparaíso.  That same year, Triangular participated in the "women´s perspectives" Exhibition, Matadero, Madrid, and Valladolid. Spain. In 2016, Triangular participated like a filmmaker with a video installation for the major exhibition ABCNORIO: Against Competitions/Towards Mutual Aid. Flux Factory, Queens, New York. Since 2017 her analog videos are part of the selected Works From Asian American Artists Archive: "Lunch Poems" with Miss Expanding Universe. Permanent Collection. New York. In 2017 until now with RUB (independent publication, now-wave zine). RUB mission is creative engagement with local communities. Thanks to Rub, Triangular made an alliance with the Taiwanese multimedia pioneer Shu Lea Cheang to promote her last film: Fluidø. Triangular was able to delve into the new york years of Shu Lea Cheang like a cyber activist in Paper Tiger Tv and Deep Dish Tv. For the next issue of RUB another alliance was made with the artist Ashley Hans Scheirl the creator of the magnificent countercultural piece Dandy Dust. That was recently released at 志趣相投 Kindred Spirit, TCAC- Taiwan Contemporary Art Center.
Select Permanent Collection:
Asian American Artists Archive (J's videos became part of Asian American Artists Archive's permanent Collection, thanks to the exhibition: Art Across Archives: Postcards from Chinatown, AAAC / 亞美 藝術 中心 PRESENTS. Selected works from AAAC Archive - a collaboration with the artist Ashley Yang-Thompson).
Support: J Triangular's residency is made possible with support from Visual Aids.