2015 | NYC | Artist
Ishu Han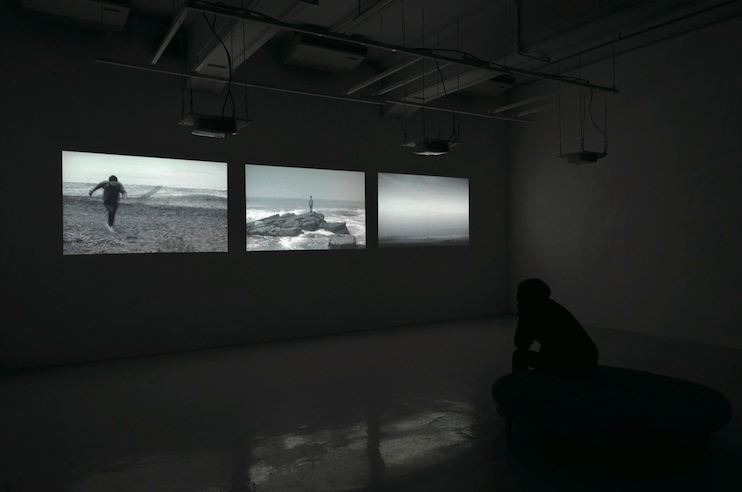 Screen Shot 2015-01-27 at 2.45.22 PM
Form of Sea, 2012, video installation
Artist name:  Ishu Han
Dates of residency: Feb-April
Born: Shanghai, China
Hometown: Shanghai (China) and Aomori (Japan)
Lives and works: Tokyo, Japan
Education: MA Inter Media Art, Tokyo University of Arts,  2012
URL: http://www.hanishu.com
BIO/ STATEMENT:
Ishu Han questions the notion of belongingness, civic duty and how such notions influence our voices as individuals. In his video practice, he uses his own body and migration history to explore the notion of 'identity'.
In 2013 during a 12 weeks residency at the Victorian College of the Arts, he explored Australia's immigration history, focusing on Chinese immigration following the discovery of gold in Victoria in the 1850s.  Through the exploration of how people of different nationalities, races, ethnicities and cultures coexisted in Australia, he also investigated how independent identities have been retained.
Ishu Han (b. 1987, Shanghai, China) currently lives and works in Tokyo, Japan. From 1997 to 2006, Han resided in Aomori, Japan. His works have been featured in a number of solo exhibitions, most recently, Life Scan (Tokyo Frontline, Japan, 2014),  and groups shows such as 2014  "Art Basel HK Film Sector"(Hong Kong Arts Centre, Hong Kong) and Asia Anarchy Alliance (Kuandu Museum of Fine Art, Taipei, 2014), Local Futures (He Xiang Ning Art Museum, China 2013), Study Country (Victorian College of the Arts Student Gallery, Melbourne, Australia, 2013), Form of Sea (Kyoto Art Center North Gallery, Japan 2012), 16th Japan Media Arts Festival (The National Art Center, Tokyo, Japan 2012), Local to Local (Openspace Bae, Busan, Korea, 2010), YAKINIKU Artist Action in Edagawa (Tokyo, Japan, 2009), For example rabbit and shampoo (nagune, Tokyo, Japan, 2009), INTERVAL (Space Laboratory, Aomori, Japan, 2005) and Lonely Island (Hirisaki Municipal Hyakokumachi Museum, Aomori, Japan, 2005).
Awards include Semi grand prix (Asia Awards, Tokyo Designers Week 2014, Japan), New Talent Award ("Local Futures" He Xian Ning Art Museum, China 2013) and 2012  "Runner-up Prize"(Art award tokyo marunouchi 2012)
SELECT PERMANENT COLLECTION: He Xiang Ning Art Museum, China
SUPPORT: Ishu Han's 3 months residency is supported by Asian Cultural Council (ACC).