2022 | NYC | Artist
Ibtisam Tasnim Zaman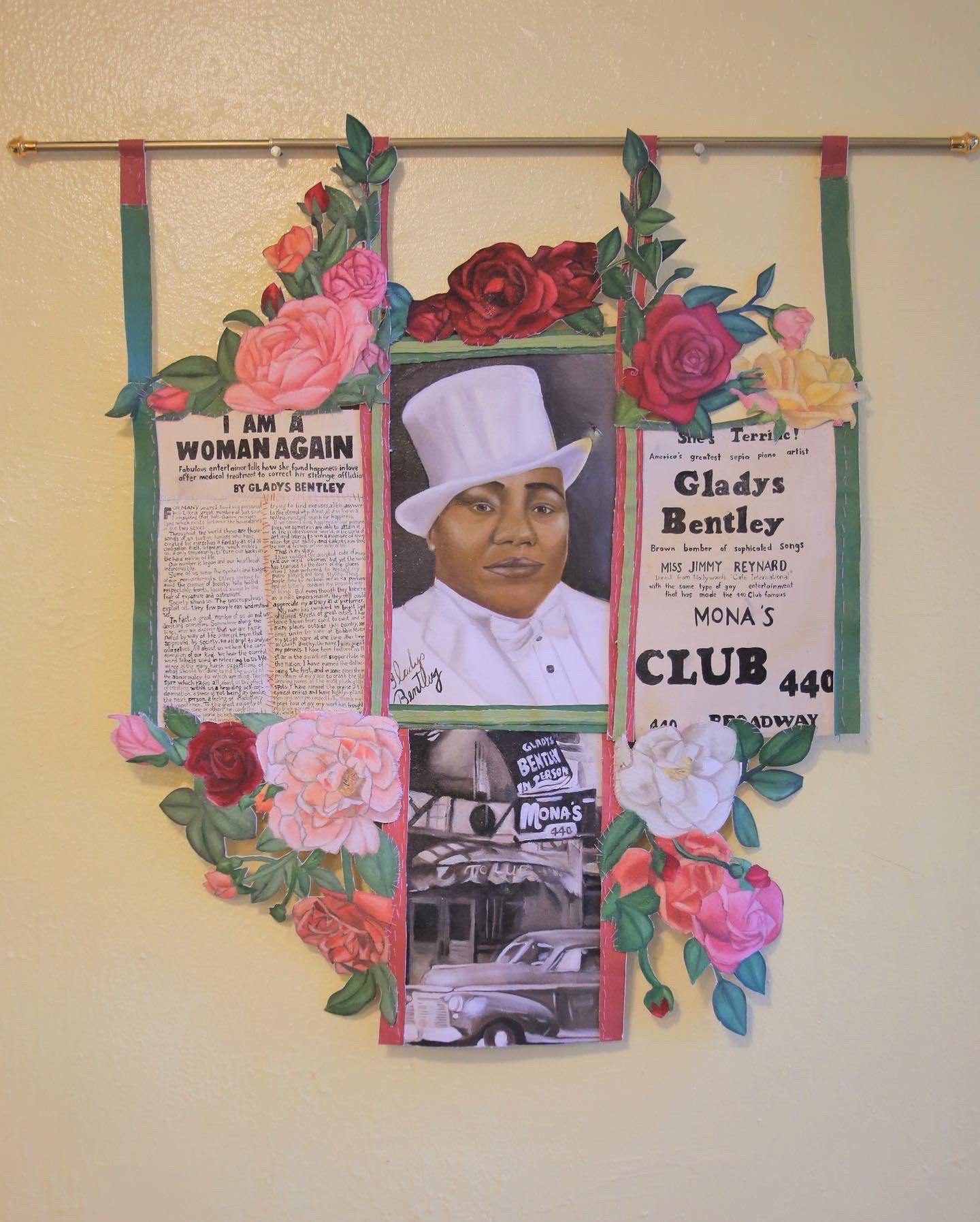 Ibtisam Zaman, "Gladys Bentley", Oil paint on canvas, 38x36", 2022
Artist Name: Ibtisam Zaman
Residency Dates: February - October 2022
Born: 1995
Hometown: Tulsa, Oklahoma
Lives & Works: New York
URL: https://ibtisamzaman.com/
Bio/Statement: 
Ibtisam Tasnim Zaman is a Black Lesbian American Multidisciplinary feminist and self-taught artist. Her art practice consists of creative writing, spoken word poetry performance, narrative painting of BIPOC people, and community art projects. Her work draws inspiration from Persian Islamic geometric art, Indian classical art, surrealism, and magical realism. Originally from Tulsa, Oklahoma, Ibtisam moved at age six to England, followed by the UAE. Her mother made the decision shortly after 9/11 to escape the violence that Muslims and BIPOC are still facing today. By thirteen, she would live between the UAE and India over the next nine years. Ibtisam's work has been exhibited nationally with New York Health and Hospitals Arts and Medicine Program in collaboration with Residency Unlimited, funded by the Laurie M Tisch Illumination Fund. She has also exhibited in group and duo exhibitions. In 2022 she completed a residency at the Peter Bullough Foundation in VA.
Coming from a theater background, she's also performed her poetry for Ruckus, in NY. Internationally, Ibtisam has performed in theater productions in the UAE, and her work has featured in The Gender Bender Exhibition by The Sandbox Collective and the Goethe Institut, in Bangalore, India. Where she debuted her first narrative portrait, 'Al Awra' The Intimate Parts. Her work has also been featured in international and national publications, most notably The Nation Magazine. She moved back to the states after receiving her Bachelor's of Arts, with a triple major in Sociology, Economics and History, From Bangalore University in India. She now lives in NY, where she works as a full time artist, art educator, writer, poet, and linguistic interpreter. She will be in a group exhibition titled Black Quoffee this June with APAC (African Peach Art Coalition) where she will be exhibiting her piece Al Awra The Intimate Parts, a mural tapestry about the lives of women and the LGBTQ community in The Middle East.
Ibtisam recently completed the 2022 Voices of Multiplicity (VoM) Artist Residency Program, a program supported, in part, by public funds from the New York City Department of Cultural Affairs in partnership with the city council, which culminated in a panel at Teachers College, Columbia University where she performed an excerpt of her performance American Condition. She was selected by Residency Unlimited to occupy a studio space in the 404B house on Governors Island from May to October 2022, which RU is sharing with KODA.