2015 | NYC | Artist
Hyon Gyon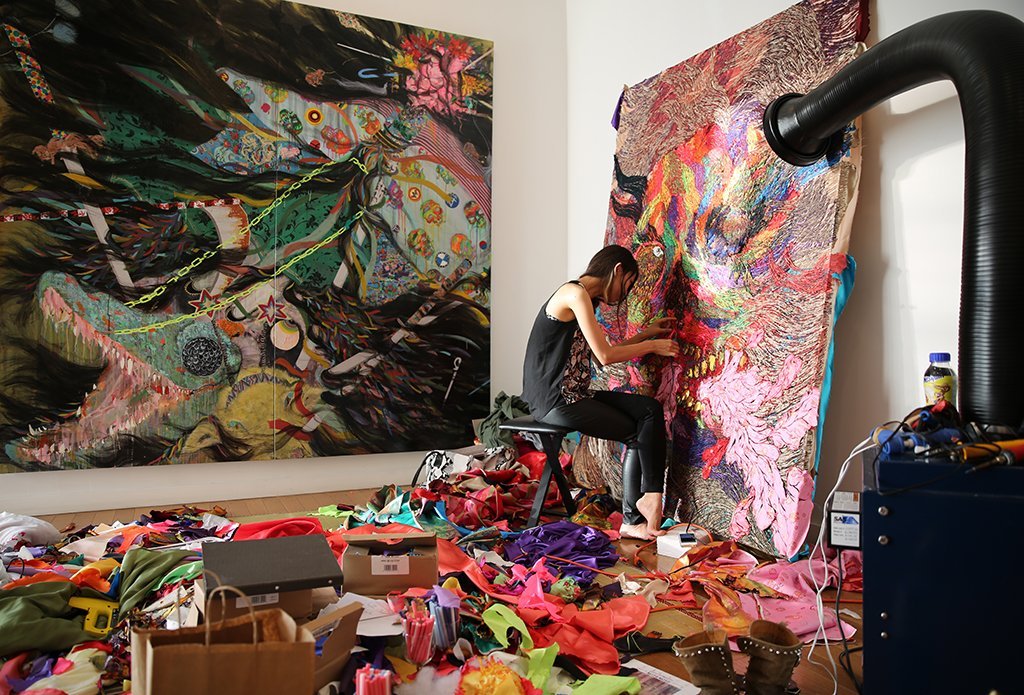 Hyon Gyon in her studio
Artist: Hyon Gyon
Dates of residency: February - November, 2015
Born: 1979
Hometown: Dangjin, South Korea
Lives and works: New York, U.S.A.
Education: PhD in Painting, Kyoto City University of Arts, Kyoto, Japan, 2011; MA in Painting, Kyoto City University of Arts, Kyoto, Japan, 2008; BA in Western Painting, Mokwon University, Mokwon, Korea, 2002
URL: http://www.shin-gallery.com
BIO/ STATEMENT:
After living in Japan for almost a decade, the South Korean artist Hyon Gyon has begun an extended residency in New York City to explore new directions in her practice.  Formerly a designer of chima jeogori (Korean traditional clothes), her last body of works was realized with Korean satin fabric and dedicated to the energy that stems from the still existing tradition  of female shamans (Mudangs) in Korea  as they mediate  between the spirit and human worlds.
The investigation of abstraction in painting through the use materials and materiality, textures and surfaces, colors and energy emanating from the New York City environment is her current focus. Abstraction conditioned by the response of diverse materials such as beads, gold leaf, pottery shards, feathers, wax, and encaustic now guides Hyon Gyon.
Solo shows by Hyon Gyon include: Shin Gallery in New York (2013), Gallery Golmok Seoul, Korea (2013), "Incubation 3; On a Knife Edge", Kyoto Art Center, Kyoto ( 2011), Tokyo Wonder Site Hongo (Tokyo 2008);  the Museum of Contemporary Art, Tokyo, in 2007 and 2010; Kyoto Art Center, Kyoto, in 2011. Group show include "Phantoms of Asia", Asian Art Museum, San Francisco (2012) ; "Tokyo Wonder Wall", Museum of Contemporary art, Tokyo (2010). She is the recipient of several fellowships and awards, including the Kyoto Cultural Award (2014) , the Kyoto City Special Art and Bounty Award (2012) ; Asao Kato International Scholarship (2006-2008)  and the Tokyo Wonder Wall Competition Prize.
GALLERY: Shin Gallery – New York, U.S.A.
SELECT PERMANENT COLLECTION:  Brooklyn Museum, New York, U.S.A., Frederick R. Weisman Art Foundation, Los Angeles, U.S.A., Kyoto Municipal Museum of Art, Kyoto, Japan,  Kyoto City University of Arts, Kyoto, Japan, Kyoto Bank, Kyoto, Japan, Takahashi Collection, Tokyo, Japan.
SUPPORT: Hyon Gyon's residency is supported by a private donor.