2014 | NYC | Artist
Hu Xiangqian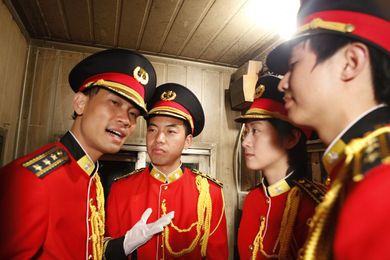 Image_web
Artist: Hu Xiangqian
Dates of residency: February-April 2014
Born:1983
Hometown: Guangdong, China
Lives and works: Beijing
Education: Bachelor of Fine Arts, Guangzhou Academy of Fine Arts, Major of Painting (2007)
BIO/ STATEMENT:
in his practice, Hu Xiangqian (https://artsy.net/artist/hu-xiangqian) tends to make humorously absurd narratives that draw on current events, popular culture or biographical experiences, with themes of uncertainty, social perception, and cultural identity. With a keen eye for the absurd, he skillfully highlights the contrasts in our society and amplifies minor incidents into major social signifiers. One of his best-known video works, "Blue Flags Everywhere", documents a humorous but earnest attempt to run for mayor of his hometown at the age of 21. In the video "Sun" , Hu Xiangqian tries to tan himself the same shade as two of his close African friends, while "Drift with the Tide" is a poignant work about the artist leaving university by literally rowing out to sea.
Hu Xiangqian disagrees with being categorized as a performance artist—he thinks both "performer" and "actor" are more appropriate terms to describe his performance and video practice. Hu, who never formally studied theater or film, says: "I lend my body to a story." Hu is also influenced by the teachings of Indian mystic Bhagwan Shree Rajneesh on the subject of boredom.
Selected solo and group exhibitions include:
Currently on view: "28 Chinese", Rubell Family Collection, Miami (Dec 4 2013-August 2014);
In 2013, he was one of seven short-listed artists for the Hugo Boss Asia Art – Award for Emerging Artists exhibition at the Rockbund Art Museum, Shanghai, China;  2013: "Reincarnation in a New Guise", Galerie Urs Meile,  Lucerne; 2012: "Protagonist", Long March Space, Beijing; 2011:  "5 one man shows", Galerie Urs Meile, Beijing; "Twenty years of Chinese video art" , Centro per l'Arte Contemporanea Luigi Pecci, Prado (Italy), "Thirty years of Chinese Contemporary Art – Moving Image in China 1988-2011" , Minsheng Art Museum, Shanghai; 2010:  Curated By Liu Wei - Wang Yuyang & Hu Xiangqian: "Organisms" , UCCA, Beijing, China, "Great Performance" , Pace Beijing,
GALLERIES: Long March Space, Beijing
SUPPORT: Hu Xiangqian's residency is supported by the Asian Cultural Council.