2021 | NYC | Artist
Helina Metaferia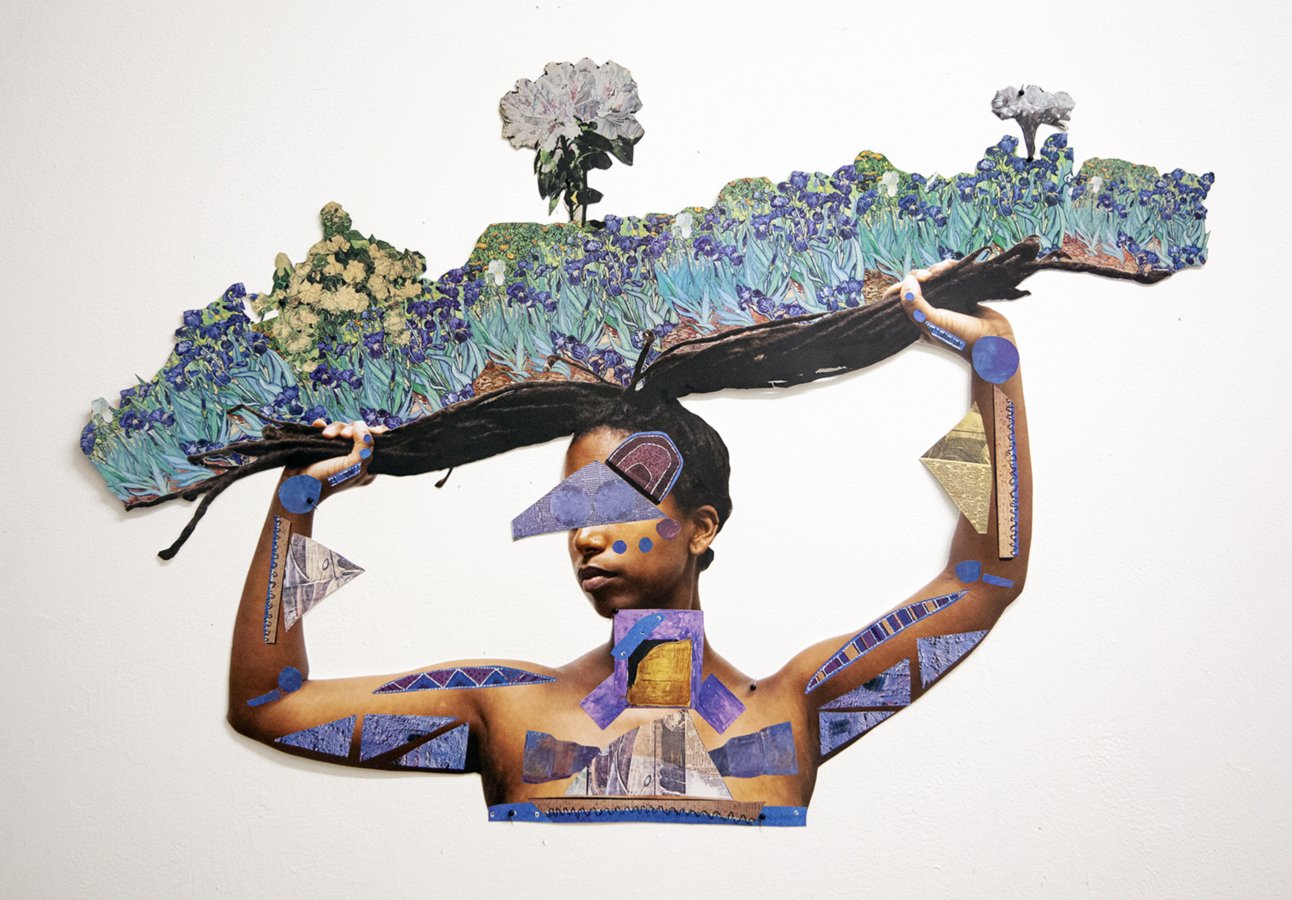 Helina Metaferia, Flower Pot 4, 2019, mixed media collage. Courtesy of the artist.
Helina Metaferia is an interdisciplinary artist working across collage, assemblage, video, performance, and social engagement. Through a hybrid of mediums, she tells overlooked stories that center Black bodies in positions of power and vulnerability. As a research-based artist, Metaferia's work is informed by written and oral archives and somatic practices. She often uses her own body as a medium, as well as the bodies of participants or collaborators in her community. Metaferia is interested in how documentation and relics preserve live art in the absence of the artist, expanding the lifespan of the work beyond ephemeral moments and becoming art unto themselves. As an Ethiopian-American, her work draws upon traditional African art sensibilities, where visual art and ritual often intersect, and art objects are infused with an experience or aesthetic that can layer their meaning. The subject of Metaferia's interdisciplinary projects has ranged from critiquing the bias in art historical cannons that perpetuate myths of Western male exceptionalism; advocating for the overlooked labor of BIPOC women activists; redefining notions of citizenship as it relates to forced (im)migration; and more. In our trying political climate, where Black lives are continuing to fight to matter, and women are courageously calling out sexual violence, her work seeks to reconcile with the contradictions of what it means to be an American.
Metaferia received her MFA from Tufts University's School of the Museum of Fine Arts and attended the Skowhegan School of Painting and Sculpture. Recent solo and group exhibitions have been presented at Museum of African Diaspora, San Francisco, CA; Museum of Contemporary Art Detroit, MI; New York University's The Gallatin Galleries, NY; Smack Mellon, Brooklyn, NY; Modern Art Museum Gebre Kristos Desta Centre, Addis Ababa, Ethiopia; Alabama Contemporary Art Center, Mobile, AL, among many others. Her solo exhibition, Generations, will open at the Museum of Fine Arts, Boston, in Fall 2021. Metaferia's work has been supported by several artist residencies including MacDowell, Yaddo, Bemis, MASS MoCA, and Triangle Arts Association. She is a participant of the 2021 Drawing Center's Viewing Program. Metaferia's work has been featured in publications such as Hyperallergic, Artnet News, The Boston Globe, The Washington Post, and San Francisco Chronicle. She is currently an Andrew W. Mellon Fellow / Assistant Professor at Brown University, and lives and works in New York City.
Helina Metaferia is one of four artists participating in the 2021 NYC Artist Residency Program dedicated to supporting the voices of underrepresented artists in NYC who identify as Black and whose research-based practices fill in gaps in historical knowledge. The program is organized by Guest Curator Rachel Gugelberger.
The 2021 NYC-Based Artist Residency Program is supported, in part, by public funds from the New York City Department of Cultural Affairs in partnership with the city council, The Cowles Charitable Trust, and generous support from individual donors.