2016 | Outbound | Artist
Helen Dennis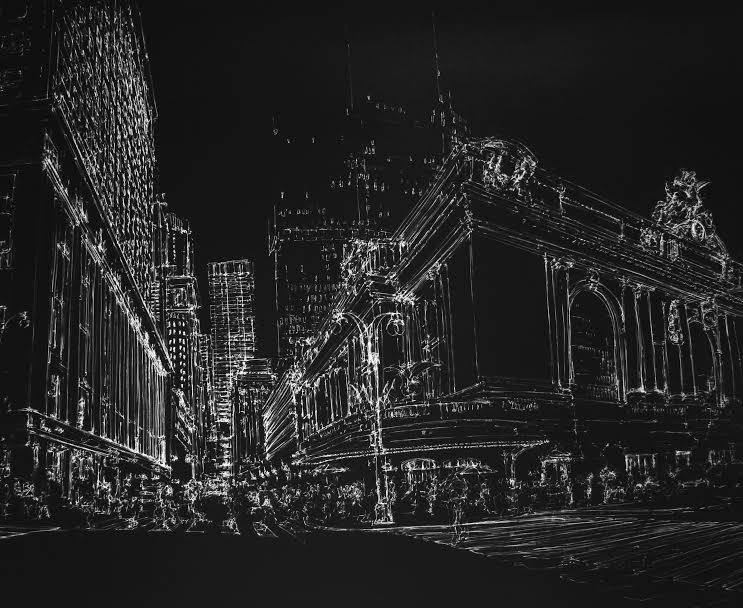 Artist Name: Helen Dennis
Date of Residency: February
Hometown: UK
Lives and works: New York
URL: http://helendennisart.com/home.html
Education: 2005, MFA, Hunter College, City University of New York; 2003, Art Curation, Summer School, Central St Martin School of Art & Design, London UK 2001, BA (Honors) Fine Art, University of the Creative Arts, UK; 1998, BTEC Foundation in Art & Design, Thurrock Technical College, UK
BIO/STATEMENT:
RU outbound artist Helen Dennis is the winner of the 2015 Residency Unlimited (RU) Raffle. She will spend a month-long residency at Mission Gallery in Swansea (Wales) sponsored by RU and supported by Mission Gallery (*).
Helen Dennis' work focuses on light, architecture, and urban environments. Using alternative photographic processes she creates large installations that are a fusion of drawing and photography. Using layers of drawings on translucent paper she morphs the light into the imagery created; she extends the moment in time at which a photograph is created. This process in her art practice focuses on light and it's role as an integral element within the artwork.
Beyond light, the subject of Dennis's artwork is architecture and the ephemeral qualities of urban environments; shaped by their inhabitants, they present a constant state of flux and kinetic energy. The photo medium appears dominated by drawing, emphasizing the fine lines and understated and seemingly impossible geometric structures that depict the tension and weight of the environment. On close inspection the drawings are abstract and a mass of mangled lines. However when viewed as a whole they read as detailed architectural renderings, which depict the movement and energy found in urban environments.
More recently, Dennis has been commissioned to create public art installation. Selected public art commissions include: Tiffany & Co., multiple commissions for artwork for new stores opening worldwide (2011); Gotham West Developments, NYC (2013); Drawing the Line - Site-specific installation drawing, Praxis International Art Gallery, NY (2012); Light Drawings, public art installation presented by the DUMBO Arts Festival (2011); Projected Drawings, site-specific public art installation, The LAB Gallery, NY (2011); Rendering Leonard, a 230ft long installation located at 56 Leonard Street commissioned by the Downtown Alliance of NYU (Feb. 2010 – Feb. 2011).
Recent exhibitions include: Fine Lines, Rhombus Space Gallery, Brooklyn (2013); Re:Construction Book Launch Exhibition, Downtown Alliance Exhibition, World Trade Center Site (2013); Pangea, New York Foundation for the Arts Gallery, Brooklyn (2013); Artists in Residence Exhibition - Caldera Arts, Sisters, OR (2013).
(*) Mission Gallery is one of Wales' best adapted spaces for the contemporary arts that has developed a reputation for residencies, dynamic and distinctive programming, to present excellence across the visual arts, applied arts and craft, from across Wales and beyond. Housed in a landmark church building built in 1868 by Benjamin Bucknall (St Nicholas Church, a non-denominational Seaman's Mission, Mission Gallery began its existence in 1977 as a voluntary artist run – artist led body.
SELECT PERMANENT COLLECTIONS:
Avon Corporate Art Collection.
Caldera Arts Organization
Gotham West Developments
Sendroff & Baruch LLP
Tiffany & Company
SUPPORT: Helen Dennis' month-long residency at Mission Gallery is sponsored by Residency Unlimited with support from Mission Gallery.