2016 | NYC | Artist
Hector Canonge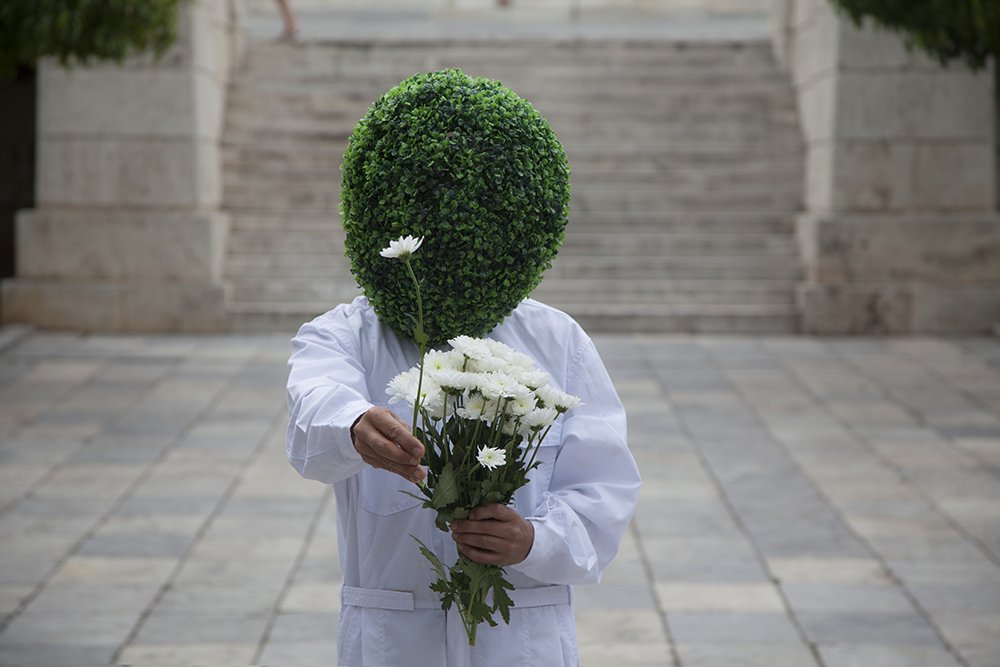 "Transplant", presented by epitelesis - P. A. F. , Athens, Greece. Photo: Andreas Pashias. Copyright © Canonge, 2015
Artist name: Hector Canonge
Dates of residency: Feb-April
Born: Buenos Aires, Argentina
Hometown: New York City, NY, USA
Lives and works: New York City
URL: http://www.hectorcanonge.net
Education: BA Comparative Literature, Cinema, and New Media Arts; MFA in Integrated Media Arts, City University of New York.
BIO/ STATEMENT:
Hector Canonge is an interdisciplinary artist, curator and cultural entrepreneur. His work incorporates the use of new media technologies, cinematic narratives, Live Action Art, and Social Practice to explore and treat issues related to constructions of identity, gender roles, psychogeography, and the politics of migration. Challenging the white box settings of a gallery or a museum, or intervening directly in public spaces, his Social Practice projects immerse in urban communities, and his performances mediate movement, endurance, and ritualistic processes. Some of his actions and relational practice involve collaborating with other artists and interacting with audiences.
His work has been exhibited internationally in the United States, Latin America, Europe and Asia. Recent solo shows include TROPOLOGIAS, Casa de la Cultura, La Paz, Bolivia (2016); ARENALS, Galería Arte21, Santa Cruz de la Sierra, Bolivia (2016); SOMATOPIAS, Pleamar Festival de Arte Contemporáneo, Arequipa, Peru (2015); PLYGMA, Galería 80m2, Lima, Peru (2015); TRES / KINSA / KIMSA, Museo Tambo Quirquincho, La Paz, Bolivia (2014); MISK'I, Centro Simón Patiño, Bolivia (2013). In 2015, his performance INTER/ACTIONS Program was featured at the 56th Venice Biennale; other notable performances include SEMINAL, Public Interventions and Performance Network, Rome, Italy; TRANSPLANT, epitelesis: Performance Art Network, National Academy of Fine Arts, Athens, Greece; TORINO, Intramurs: Festival de Arte Performance, Valencia, Spain.
After living most of his life in the United States, Canonge returned to South America in 2012 and lived abroad for almost three years.  The artist came back to New York City in the Fall 2015 to continue with the development and execution of new projects, exhibitions, and initiatives such as TALKaCTIVE: Performance Arte Conversation Series, the monthly program hosted at the Queens Museum; CONVIVIR, the international residency program at MODULO 715, his new space in Jackson Heights, Queens; and ITINERANT, Performance Art Festival NYC that took place in the 5 boroughs (2015). For 2016, Canonge is scheduled to teach Performance and Media Arts at City University of New York, and continue with his program PERFORMEANDO, program focusing on featuring works by latino/a performance artists living gin the USA and Europe. In February, the artist will launch the new monthly initiative LiveArt.US a performance art program at the Queens Museum and other local public institutions.
Canonge is the co-founder of QMAD, Queens Media Arts Development, a non-profit arts organization in Queens, NYC. As curator, he has organized exhibitions at Centro Cultural Santa Cruz, Queens Museum, Space 37 Gallery, and Visual AIDS. He started the monthly artists' program A-LAB Forum at Crossing Art Gallery, and created the monthly independent film series CINEMAROSA. Canonge's work has been reviewed by The New York Times, ART FORUM, Art in America, New York Daily News, Manhattan Times, Hispanic Magazine; by major networks ABC, NBC, CNN, CBS, UNIVISION, etc., and online by Art Experience NYC, Hyperallergic, Turbulence, Art Card Review, and New York Foundation for the Arts' bulletin NYFA News.
SUPPORT: Hector Canonge's 3-month residency at RU and Casita Maria Center for the Arts and Education is made possible with support from the Dedalus Foundation and funding from the National Endowment for the Arts (NEA).