2016 | NYC | Artist
Heather Dewey-Hagborg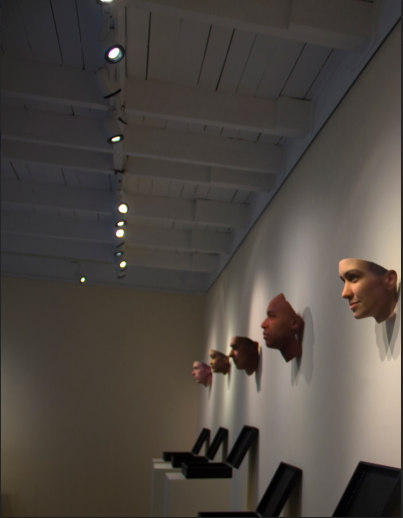 Found genetic materials,
custom software, 3d prints, documentation
Artist name: Heather Dewey-Hagborg
Dates of residency: Sept - Nov
Born: Philadelphia
Hometown: Chicago
Lives and works: Chicago
URL: http://www.deweyhagborg.com
Education: PHD, Rensselaer Polytechnic Institute, 2016 (expected); MPS, New York University, 2007; BA, Bennington College, 2003
BIO/ STATEMENT:
Heather Dewey-Hagborg is an information artist and bio-hacker whose works explore the intersection between art and science and in art as research and critical practice. She is most noted for her project Stranger Visions: a series of portraits created from DNA she recovered from discarded items, such as hair, cigarettes and chewing gum while living in Brooklyn, New York. She sequenced the DNA at the Brooklyn open biotechnology laboratory, Genspace. From the extracted DNA, she determined gender, ethnicity and other factors and then used face-generating software and a 3D printer to create a 3D portrait.
Dewey-Hagborg has shown work internationally at events and venues including the World Economic Forum (2016), the Shenzhen Urbanism and Architecture Bienniale (2015), Poland Mediations Bienniale (2012), Norway Article Bienniale (2015), Ars Electronica (2015), Transmediale in Berlin (2015), Centre de Cultura Contemporània de Barcelona (2014-15), the Science Gallery Dublin (2013), PS1 MOMA (2011), the New Museum (2011), and Eyebeam Art and Technology Center in New York City (2012). Her work has been widely discussed in the media, from the New York Times and the BBC to TED and Wired. She is an Assistant Professor of Art and Technology Studies at the School of the Art Institute of Chicago and a 2016 Creative Capital award grantee in the area of Emerging Fields.
SELECT PERMANENT COLLECTIONS:
Victoria and Albert Museum, London
Van Abbemuseum, the Netherlands
SUPPORT: Heather Dewey-Hagborg's 4-month residency is made possible with support from Creative Capital and ThoughtWorks.