2017 | NYC | Artist
Hadi Nasiri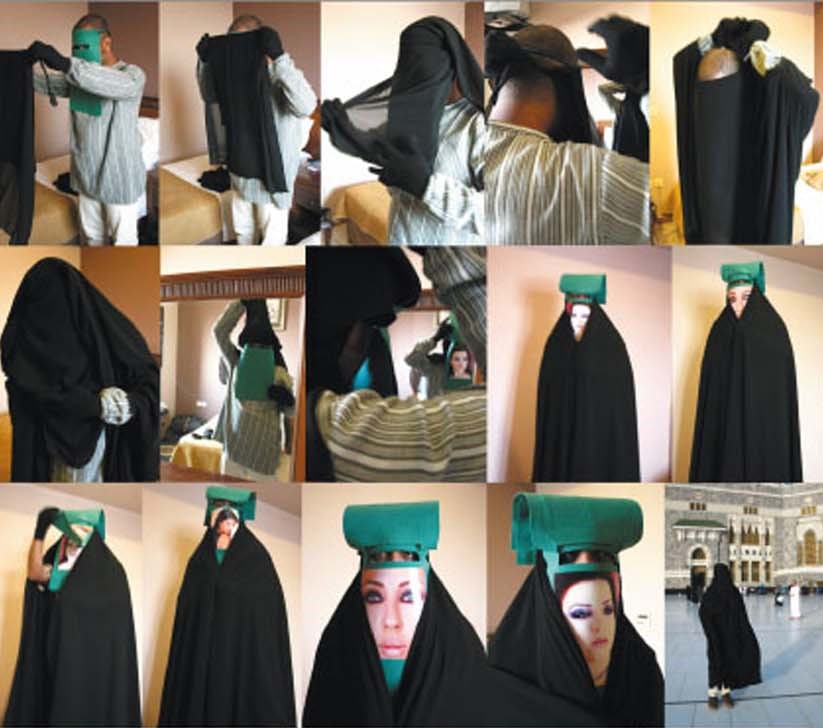 See Me as I Want to Be Seen,
performance in Masjid Al Haram, Mecca City, Saudi Arabia, 2009
Artist Name: Hadi Nasiri
Residency Dates: February - November
Born: 1985
Hometown: Bandar Abbas, Iran
Lives & Works: New York City
URL: http://www.hadinasiri.com
Education: AAS in graphic design, Shahid Rajaee in Shiraz city, Iran.
Hadi is the first artist to participate in the New York City Safe Haven Prototype, multi-organizational artist residency program designed to house, integrate and nurture artists at risk.
Hadi Nasiri is an activist/artist/researcher, whose work has encompassed performance, painting, sculpture, graphic design, and political protest exploring themes about the relationship of religion (specifically Islam) to women's rights, LGBTI rights, sexuality, and political ideology. His artistic experiences are informed by his human and women's rights activism; wherein he has established an underground woman's right organization, Afarinesh hay e-Irani, in Bandar Abbas, Iran, and gave a public speech at the school titled, "What the Qur'an Really Says About Hijab." Both actions resulted in his arrest by Iran's Revolutionary Guards, where he was interrogated and detained briefly. Hadi is still researching through his art practices to re-define keywords like democracy, freedom, sexuality. As an example, the word, "democracy" seems to have a clear meaning, but in different societies its definition not make sense to people living there. When used in a consumer society, the practice of the word is contrary to expectation.
Artist/ researcher in residence at Flux Factory for collaboration in a pilot research project among Flux Factory, NYFA (New York Foundation for the Art), and the Node Center for Curatorial Studies. Long Island City, New York, 2016. Artist in Residence at Montalvo Art Center, Saratoga, California, 2012. Research award to conduct comparative women's rights research in Islamic countries, field work in Mecca, Medina, Jeddah, and Riyadh, Saudi Arabia. National Youth Organization of Iran, 2009. Hormozgan's Governor Young Entrepreneur Award for teaching and creating job opportunities for prisoners in Bandar Abbas City in Southern Iran. Bandar Abbas, Hormozgan, Iran, 2010. "Iranian Young Inventor President Award" for making new solar panels using Graphene material, instead of Silicon to create an efficient solar panel. Tehran, Iran, 2008.
Support: Hadi Nasiri's residency is made possible with support from The Shelley & Donald Rubin Foundation, and thanks to the The New York City Safe Haven Program, a coalition led by ArtistSafety.net, Artistic Freedom Initiative, Residency Unlimited, Artists at Risk Connection and Westbeth Artists Housing.