2012 | NYC | Artist
Guy Goldstein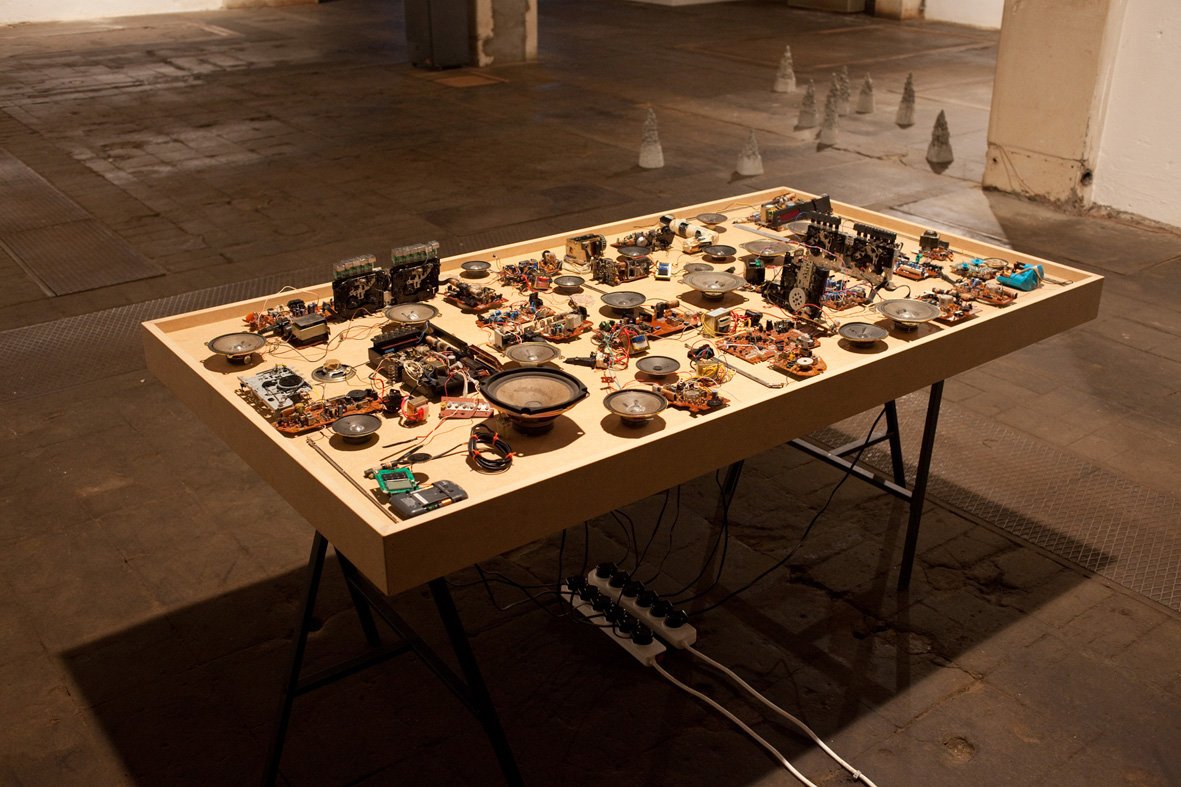 1._Timetable_2010_Sound_installation_radio_parts_MDF_metal_172X94X80_cm_installation_view_1_ON-OFF_Art_Projects_Hamburg
Timetable, 2010, Sound installation, radio parts, MDF, metal. 172X94X80 cm The installation spreads dismantled radio mechanisms that transmit simultaneously various radio stations in a specific time and place.
Guy Goldstein was born in 1974 in Haifa, Israel. Studied visual communication, art and design in Wizo Haifa Academy of art & design, and holds a MFA from The Bezalel Academy of Art and Design in Jerusalem."Guy Goldstein is a following artist, one that "comes after". The things that lay in front of him, those that were caught in the net, he receives as an inheritance and displays them as loot. He collects and samples objects, images and voices that oscillate between the inanimate and the animate, constantly preserving the tension between the two states. These materials are handled in various techniques ranging from the traditional to the experimental, creating works that are spread out in front of the viewer, displaying variety and multiplicity but at the same time also demonstrating a dynamics of negation and concealment". [Leah Abir]
His past solo exhibitions include Conserve, Art Gallery at The Memorial Centre, Kiryat Tivon, Israel (2010), Loot, Chelouche Gallery, Tel Aviv (2009), Transitional Object, TheHeder Contemporary Art Gallery, Tel-Aviv (2006). Selected group exhibitions include New on Paper, The Israeli museum, Jerusalem (2011), Electric Garden, Contemporary by Golconda, Tel Aviv (2011), The End of History, Galerie Speckstrasse& Kutscherhaus, Hamburg (2011) , Expanded Drawing, Isabel Hurley Gallery, Malaga, Spain (2010), Grandfather Paradox, On-Off, Hamburg, Herzliya Biennale for Israeli Art, Herzliya Museum of Contemporary Art, Herzliya, Israel (2007).
Guy Goldstein's residency is made possible with the support The Israeli Ministry of Foreign Affairs, Office of Cultural Affairs, NY and Artis – Contemporary Israeli Art Fund.