2020 | NYC | Artist
Gil Pellaton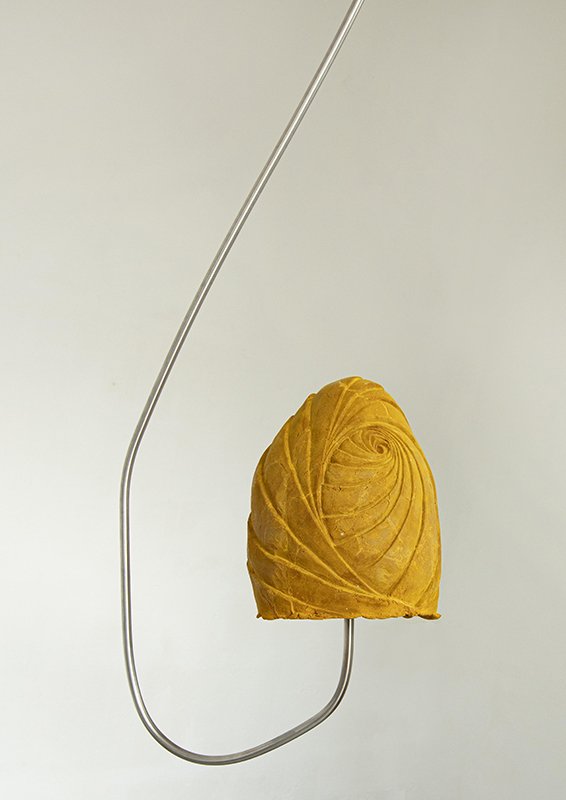 Curcuwoman.
2019. Curcuma, bone glue and stainless steel, 30×30×55 cm.
Bio / Statement:
The poetry of Gil Pellaton displays itself now to our five senses. The artist distills his stories through material compositions, embeds them in scents, masks, and matter like tiger balm, coriander, cast aluminum, and epoxy. Gil Pellaton describes himself as: 'interested in non-logical non-hierarchical non-moralistic magic poetic-positive narratives' and opens a space that feels disarmingly free, inviting the viewer to play with language and senses.
- Yves Mettler, Swiss Art Awards 2018, Basel, Switzerland.
In his installations that appeal to all the senses, Gil Pellaton challenges viewers to take their own perception as a guide, to move through the exhibition, to relate to the mysterious objects. Because a key to things does not exist. (...) the artist obsessively immerses himself in worlds. He collects like a botanist, cooks, and experiments like an alchemist and travels as an adventurer through coriander worlds.
- Claire Hofmann, Head of Visual Arts, Centre Culturel Suisse, Paris.
Gil Pellaton graduated as a graphic designer from the Visual art School of Bienne, receiving 2010 the Kiefer Hablitzel Award, 2011 the Anderfuhren Award, Getting his Masters in Fine arts at the FHNW Basel in 2017, he is nominated in 2018 for the Swiss Art Awards. He participated in several artistic residencies in Genoa (Italy), Buenos Aires (Argentina) and Porto (Portugal).
 Support: Gil Pellaton's residency is made possible with support from the Canton of Berne Office of Culture / Cultural Promotion.