2019 | NYC | Artist
Gabriella Ciancimino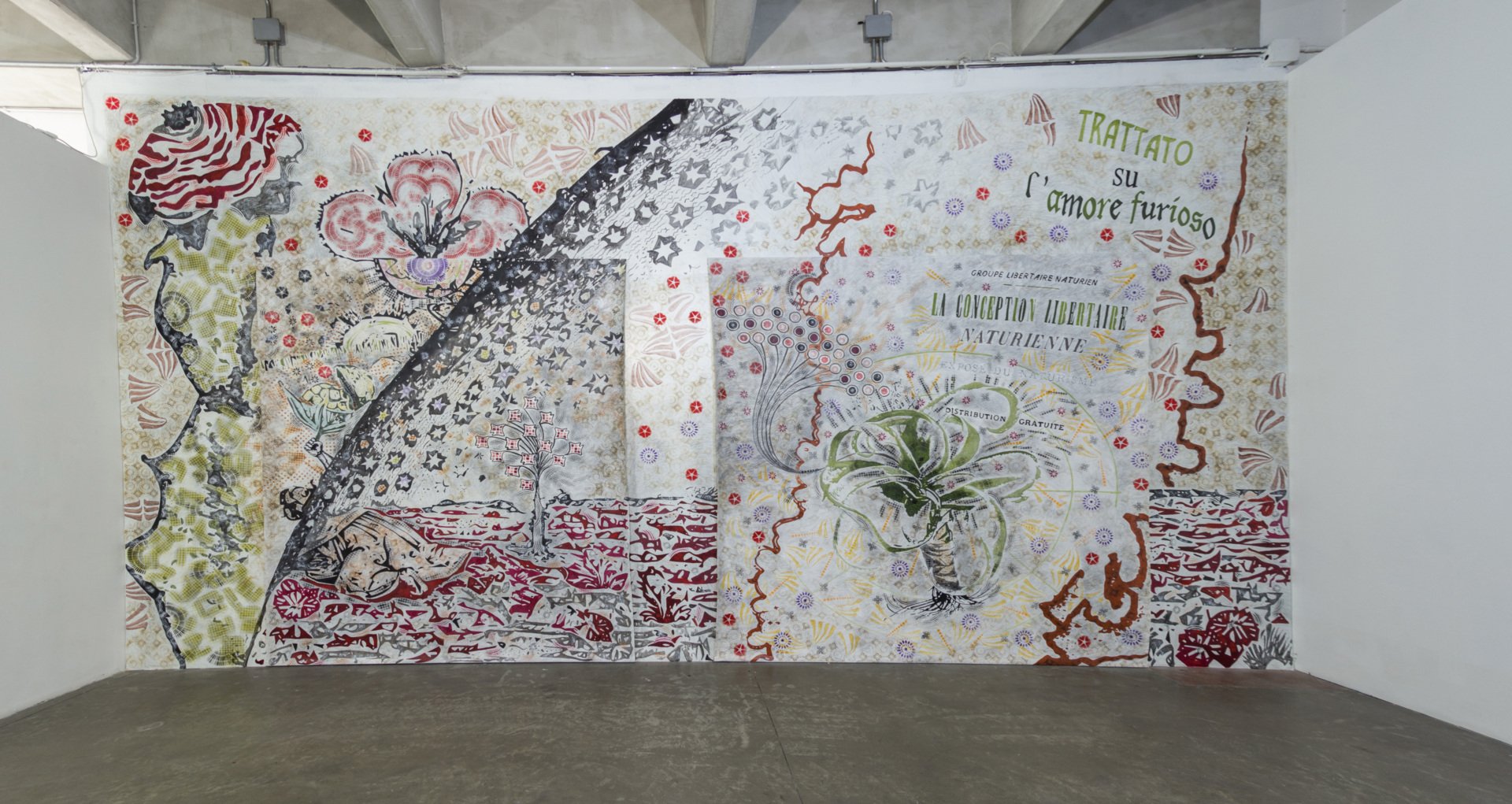 Gabriella Ciancimino, Efendisiz Flow, 2016. Mixed media on canvas and wall, cm 770x390.
Artist name: Gabriella Ciancimino
Dates of residency: May - June
Born: 1978
Hometown: Italy
Lives and works: Palermo, Italy
URL: http://www.ciancimino.it/
Education: 2006, BFA in Painting; Academy of Fine Arts, Palermo, 2005
Bio / Statement:
Gabriella Ciancimino's artistic practice is modeled on relational dynamics and communication where art is a catalyst for social change and community engagement. Influenced by Murray Bookchin's theories of Social Ecology, her primary source material is landscape and the observation of nature from which she draws connections between humans and plants. She views the dynamics of cohabitation between native and immigrant plants as a metaphor for how different communities are able to coexist through the sharing of knowledge and ecological collaboration to overcome cultural differences. During her residency, the artist will realize the mural project Smell in Dialect, a commission by Kings County Hospital Center (KCHC) for its pediatric unit.
Ciancimino has exhibited extensively and internationally. For Manifesta 12 , she realized the project "Fatimide's Tales", a project initiated by the Manifesta 12 education team engaging students from the Amari Roncalli Ferrara School and kids of Piazza Magione, situated next to Teatro Garibaldi. In a series of workshops, the artist and children explored past and future stories of the square, reflecting on what it has been and what it could become. These stories were brought to life in a series of drawings by the children, which were collected into a large handmade book, and available to read in the Manifesta 12 pop-up library.
Her exhibition history includes among others MMOMA (Moscow, 2016), MACBA (Barcelona, Spain, 2014), Kunsthalle Mulhouse (FR 2013), Museo Villa Croce, (Genova, Italy 2013), PAV (Turin, Italy, 2013), Triennale di Milano (2013), Benin Biennal, RISO - Museo d'Arte Contemporanea della Sicilia (Palermo, 2010), (2012) American Academy, Rome (2009), Darat al Funun (Amman, Jordan 2010), Working For Change, Project for A Moroccan Pavilion at the 54th Venice Biennale (Venice, Italy, 2011) and the Biennale Benin (2012).
During her time at Residency Unlimited Gabriella completed Smell In Dialect, a mural project conceived by the artist in collaboration with Residency Unlimited (RU) and commissioned by Kings County Hospital Center (KCHC) for its pediatric unit. The making of the mural took place during Ciancimino's 2-month residency in May and June of 2019 at RU and KCHC and we couldn't be more pleased with the beautiful results! You can read more about her process and see the final results here.
Here you can learn more about Manifesta in Palermo and Gabriela's participation. Article by Selina Oakes.
SELECT PERMANENT COLLECTIONS:
Museo del Novecento, Milan
Frac Provence-Alpes-Côte d'Azur, Marseille,
Museo Villa Croce, Genova
Support: Gabriella Ciancimino's residency is made possible with support from The Cultural Development Fund from NYC Department of Cultural Affairs, NYC Health + Hospitals Arts in Medicine (AIM), Kings County Center Hospital, American Chai Trust Inc, and Villa Montallegro.