2015 | NYC | Artist
Felipe Cohen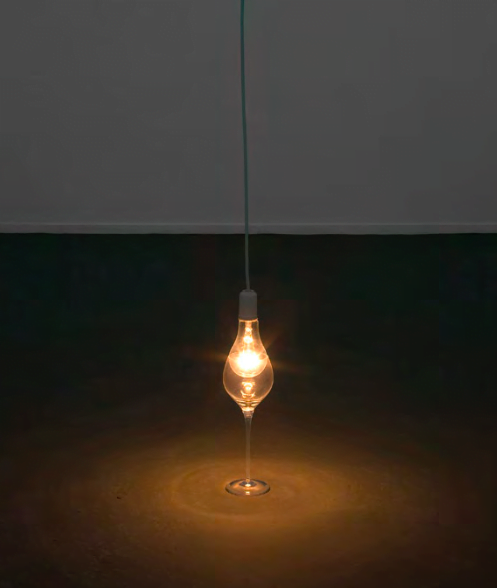 Felipe Cohen, Anunciaçião (Annunciation), 2008, lamp and crystal glass
Artist name: Felipe Cohen
Dates of residency: September - November
Born: 1976
Hometown: São Paulo, Brazil
Lives and works: São Paulo, Brazil
URL: http://www.felipecohen.art.br/
https://vimeo.com/19477770
Education: Fundação Armando Álvares Penteado (São Paulo), BA in Sculpture and Drawing.
BIO/ STATEMENT:
The Brazilian artist Felipe Cohen locates his practice between ready-made and sculpture. In his work, he uses a variety of mediums ranging from drawing to sculpture and installation. Cohen often merges long-lasting, strong materials such as stone or marble, together with fragile mediums like glass, cardboard or paper. The intention is to create both a dialogue between the different materials as well as the conditions for one material to contaminate another. Contamination changes the properties of the material. Through minimum intervention, Cohen uncovers unforeseen relations which indicate the possibility of looking at the world in a different way, searching for new meanings of materials,
Felipe Cohen's work has been widely exhibited. Recent solo exhibitions include: In 2001, he was selected for the Exhibition Program of the Centro Cultural São Paulo (Brazil), which earned him his first solo exhibition. He has since then has solo shows at Capela do Morumbi, Centro Universitário Maria Antonia, Galeria Millan and Galeria Marília Razuk, all in São Paulo. In 2009, he held his first solo exhibition in Rio de Janeiro, at Anita Schwartz Gallery. He has also participated in many collective shows including : 2014 On Another Scale" curated by Ricardo Sandenberg at Galeria Continua, San Gimignano, Italy; ", 2014, Artists Books, Musee d'art contemporain de Lyon; Quase figura, quase forma, Galeria Estação, São Paulo, Brasil, 2014, Astrup Fearnley Museet, Oslo, Norway, 2013.
GALLERY:
Galeria Millan, São Paolo, Brazil
SELECTED PERMANENT COLLECTIONS:
Pinacoteca de São Paulo (São Paulo, Brazil)
Museu de Arte Moderna de São Paulo – MAM (São Paulo, Brazil)
Scottsdale Museum of Contemporary Art (Arizona, USA)
Museu de Arte do Rio de Janeiro – MAR (Rio de Janeiro, Brazil)
SUPPORT : Felipe Cohen's 3-months residency is made possible with support from Galeria Millan.