2020 | NYC | Artist
Faten Gaddes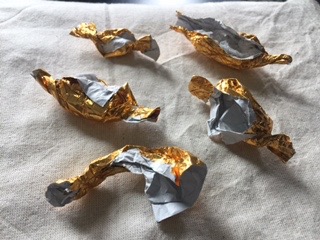 Halwa.
2020. White resin covered with polyester foil in gold and silver aluminum. 90X40cm
Bio / Statement:
Faten Gaddes is the third artist to participate in the New York City Safe Haven a multi-organizational artist residency program designed to house, integrate and nurture artists at risk. Launched in 2017, this initiative is supported by ArtistSafety.net, Artistic Freedom Initiative, Westbeth Artists Housing, and Residency Unlimited.
Matter of chance, the four bodies remind us of dices, thrown by chance, their composition implacably random. Their shell shape is that of bodies thrown in the sea, carried away aimlessly. They become tiny parts of a Japanese Obon ritual: shiny beacons of light, set afire, which will guide home the spirits of the deceased. Given time, the world breaks everyone. Especially artists. But, as I have come to understand, some are strong in the broken places. And those ones punch back.
- Valentine Umansky, Curator
Faten Gaddes is a French/Tunisian photographer who works in a political vein with an emphasis on memory and the duty to remember. Her work has been exhibited at Ammar Farhat Gallery, Sidi Bou Said, Tunisia; A.Farhat Gallery, Paris, France; and the IMA-Arab World Institute, Paris, France. She has has been represented by Ammar Farhat Gallery in Sidi Bou Said since 1998. Gaddess graduated in Interior Design while fostering her passion for photography and sharpening her skills through training classes. She is a member of the Visual Art Association (VA).
The work of Gaddes is in the permanent collections of the Ministry of Culture of Tunisia and the Pierre Bergé/ Foundation Lazaar.
Support: Faten Gaddes's residency is made possible with support from The New York City Safe Haven Program, led by ArtistSafety.net, Artistic Freedom Initiative, Residency Unlimited, Artists at Risk Connection, Westbeth Artists Housing, and The Shelley & Donald Rubin Foundation.