2020 | NYC | Artist
Faten Gaddes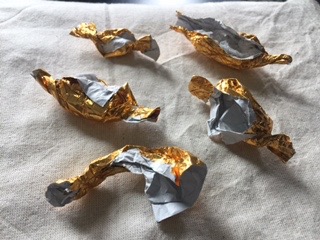 Halwa.
2020. White resin covered with polyester foil in gold and silver aluminum. 90X40cm
Artist Name: Faten Gaddes
Residency Dates: February - April
Born: 1974
Hometown: Tunis, Tunisia
Lives & Works: New York
URL: http://www.fatengaddes.com
Education: School of Art and Decoration of Tunis
Faten Gaddes is the 2020 New York City Artist Safe Haven Residency Program awardee.
Faten Gaddes is a French/Tunisian photographer based in New York. She graduated in Interior Design while indulging in her passion for photography and sharpening her skills through training classes. She is a member of the Visual Art Association (VA). Faten works in an artistic and political vein, with an emphasis on the duty to memory. Recently in Tunis, Tunisia one of her works symbolizing the violence experienced by women across different religions was destroyed.
Faten has shown her work internationally, including AGorgi Contemporary Art Gallery (formerly Ammar Farhat Gallery) in Tunisia; IMA Arab World Institute in Paris; Aga Khan Museum in Mali; Gulbenkian Foundation in Portugal; Museum of Modern Art of Algiers in Algeria; ifa-Galerie in Berlin; Musée du quai Branly - Jacques Chirac in Paris; Museum of Civilizations of Europe and the Mediterranean (MUCEM) in Marseille; Pratt Institute in New York, Tunisian Pavillon Venice Biennial (2017); Katzen Arts Center at American University in Washington D.C.; 6.4 Gallery in Marrakech; Sysley Foundation in Paris; The Africa Center in New York; Eretz Israel Museum in Tel-Aviv; Moleskine Foundation Collection at One World Observatory in New York.
Faten is the first prize winner of the Global Citizen Smartphone Short Film Festival 2019 with her film Stay With Me.
Her works are in the permanent collections of the Tunisian government, the French Development Agency, the Foundation Pierre Bergé, The Moleskine Foundation, The Kamel Lazaar Foundation and many private collections in Tunisia and abroad. She has been featured in various publications and media including, New York Magazine, Bedford-Bowery, Harper's Bazaar Magazine, Washington Post, Vogue Magazine, Beaux-Arts Magazine, CBS news, Paris-Match Magazine, Liberation, and many more.
Support: Faten Gaddes's residency is made possible with support from the Wilhelm Family Foundation and thanks to the The New York City Safe Haven Program, a coalition led by ArtistSafety.net, Artistic Freedom Initiative, Residency Unlimited, Artists at Risk Connection and Westbeth Artists Housing.