2022 | NYC | Artist
Eva Giolo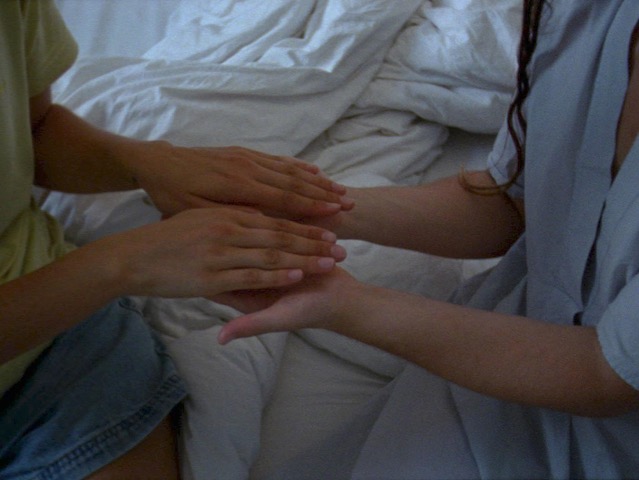 Eva Giolo, "Flowers blooming in our throats", film still, 2020.
Artist Name: Eva Giolo
Residency Dates: March - June 2022
Born: 1991
Hometown: Brussels, Belgium
Lives & Works: Brussels, Belgium
URL: https://elephy.org  /  Instagram  /  Facebook
Education:
2020 Post-academic Laureateship, Higher Institute for Fine Arts, Ghent
2016 MA Fine Arts, Royal Academy of Fine Arts, Ghent
2015 BA Media Arts, Royal Academy of Fine Arts, Ghent
2014 Kanazawa College of Art, Kanazawa
2011 Cert HE Songwriting, University of East London, London
2010 Music National Certificate, The Institute of Contemporary Music Performance, London
Bio/Statement
Eva Giolo (Belgium) is an audio-visual artist working in film, video, and installation, born in Brussels in 1991. Her work places particular focus on the female experience, employing experimental and documentary strategies to explore themes of intimacy, permanence and memory, along with the analysis of language and semiotics. Giolo uses her camera to capture the "mundane" moments of the everyday to reveal their hidden depth.
After pursuing music at East London University (2011), she received her BA in Media Arts (2015), and MA in Fine Arts, Royal Academy Fine Arts Ghent (2016). Her films, installations and other projects have been widely exhibited at festivals, museums and galleries internationally, including Sadie Coles HQ, WIELS, MAXXI–National Museum of 21st Century Art, BOZAR Centre for Fine Arts, Palazzo Strozzi, Festival Internacional de Cine Independiente de La Plata Buenos Aires, Viennale, Museum of Contemporary Art Antwerp, Kunsthalle Wien, International Film Festival Rotterdam, Kunstmuseum Den Haag, Lago Film Festival, Viennale, FIDMarseille, Courtisane Film Festival, Rencontres International Paris Berlin, Cinéma du Réel and Punto de Vista among others.
Giolo's work is in the permanent collections of Fondazione In Between Art Film (Rome) and Het Huis Van Alijn (Ghent), Museum M (Leuven). Her film Flowers Blooming in Our Throats (2020) was nominated for the European Film Awards (2020), and received Grand Prize from This Is Short, a collaborative online event co-presented by the International Short Film Festival Oberhausen, Vienna Short Film Festival, and other European organizations.
She is the recipient of a VAF Wildcard Prize (2016), the Cedric Willemen Award (2019) and special recognition from the Vordemberge – Gildewart Foundation (2020). She was an artist in residence at the Higher Institute for Fine Arts (2018–2020), SeMA NANJI in Korea and WIELS Centre for Contemporary Art (2020) and the CASTRO studio program (2021). In 2022, Eva will be an art resident at Fogo Island Arts in Canada.
Eva is co-founder of the Moving Image Atelier (Belgium) and co-founder and Artistic Director of Elephy, a production and distribution organization for film and media art, with Rebecca Jane Arthur, Chloë Delanghe, and Christina Stuhlberger. She lives and works in Brussels, Belgium.
Support: Eva Giolo's residency is made possible with support from Flanders State of the Art.