2017 | NYC | Artist
Eva Davidova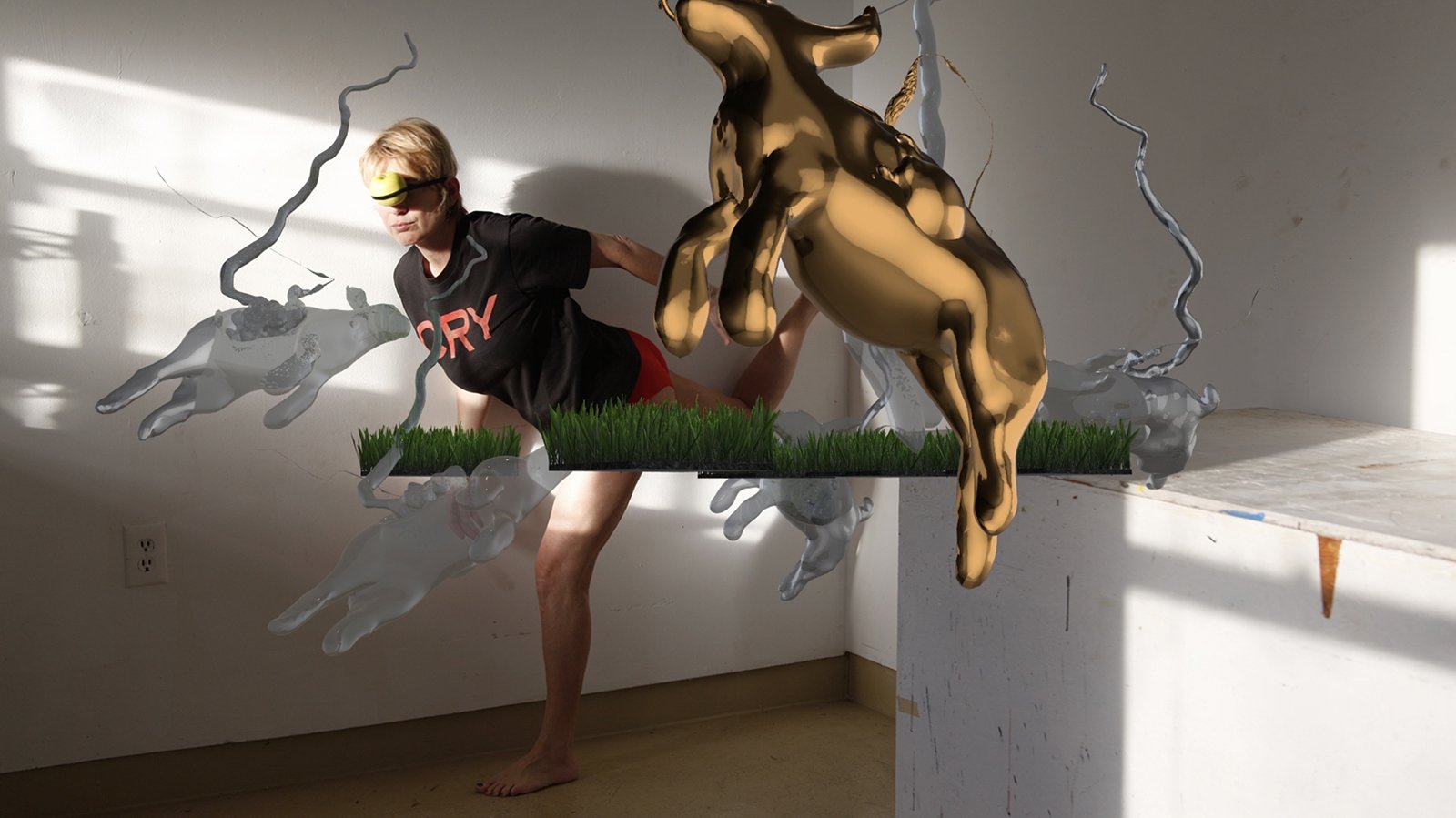 Global Mode. Photons, Eva and Rabbit
2016, photo-based and 3D animation/ scene for Virtual Reality
Bio / Statement:
In her practice Eva Davidova walks the line between the real and the absurd while layering virtual and live action. The issues in her work—behavior, cruelty, ecological disaster and manipulation of information emerge in quasi fairy-tale mode as paradoxes rather than assumptions. She creates seamless connections between holography and 3D sculpture, animation and Virtual Reality performance combined with drawing, performance, photo-based animation as well as architecture and diverse real-world structures which she uses to build "actions" around.
Using transpositions and time distortion techniques, Eva Davidova make scenes, which, as in children's play, mimic external circumstances and carry their logic to surreal outcomes. Narcissus and Climate change, the heroic efforts of Prometheus giving electricity to the Piggooses, or the Hamelin Piper leading the herd towards Medusa mix realities, mythologies and, often, the rules of one game with that of another to create scenes without resolution or a set message.
Her recent projects include Happenland at Radiator Gallery in NY, curated alongside Almudena Baeza; Birds Birth at the Emerge 2017 Festival at ASU; The Body Prevails in Dumbo, New York; Feeding Alice at the Holographic Center, New York; Moscow Biennale; LOOP; Scope Basel Video; Roma Contemporary; and institutional solo exhibitions at the Contemporary Arts Center La Regenta and the Everson Museum's Urban Video Project, Syracuse. Her work has been exhibited at the Bronx Museum (NY); Everson Museum, Syracuse; Albright Knox Museum, Buffalo; Museum of Contemporary Art, Barcelona, CAAC Sevilla; Instituto Cervantes, Sofia; and many others. She received the 2008 M-tel Award for Contemporary Bulgarian Ar, she is a 2009 Djerassi Honorary Fellow, and was in residency at Delfina Foundation in London.
For more detailed CV check here.
Select Permanent Collections: Albright Knox Museum, Buffalo, NY
Support: Eva Davidova's residency is made possible with support from the National Endowment for the Arts (NEA) ArtWorks Grant..