2012 | NYC | Artist
Erin Dunn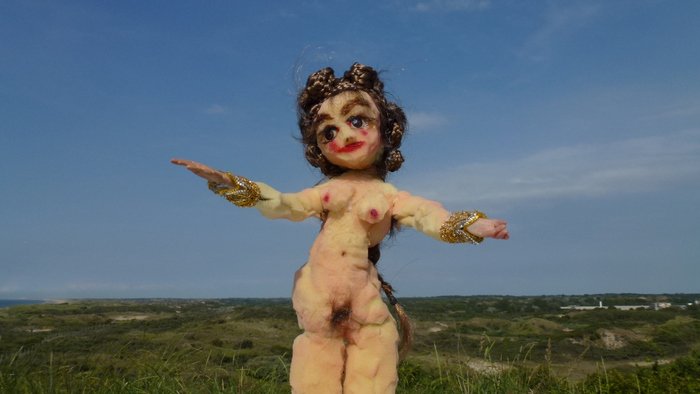 HD animation still "Rapture's Adagio" (in progress)
Currently based in Brooklyn NY, Erin Dunn has exhibited extensively in the US and abroad. Her solo shows include Carl Berg Gallery (LA), W139 (Amsterdam), and VS Gallery University at Buffalo (NY). She has exhibited in venues including The Kitchen (NY), Ben Maltz Gallery at Otis (LA), Ramiken Crucible (NY), Witherspoon Museum (NC), The Hunter Museum of American Art (TN), White Box (NY), and the RISD Museum (RI). Dunn's work has been mentioned in The LA Times, Art Week LA, Arthur Magazine, The Fader, Art Nexus, Art Scene and Nest Magazine. She holds a BFA from RISD and an MFA from Rutgers University.
Unapologetically female in imagery and process, Dunn's work dances with amateur spirit. Diligence, patience, manual dexterity, and other associations with 'feminine virtue' combine bold expressive and impulsive ambition. Dunn creates large-scale, highly detailed, multimedia drawings; as well as loose energetic still lives and landscapes. She utilizes these drawings and paintings as backgrounds for stop-motion animations, synchronizing her own digital recordings with wire puppets.
During her residency, Dunn will continue her production of "Rapture's Adagio." Based on Piero Camporesi essay "The Prodigious Manna, " the stop-motion animation follows Sister Chiara of Montefalco and the collective hallucinations she inspired. "Rapture's Adagio," divided into the four trials of Chiara's life, culminates in the astounding ritualistic operations performed by her sect sisters post-mortem.
Residency Unlimited is grateful to Chashama for providing subsidized studio space to Dunn from October 2011 through May 2012.