2019 | NYC | Artist
Emília Rigová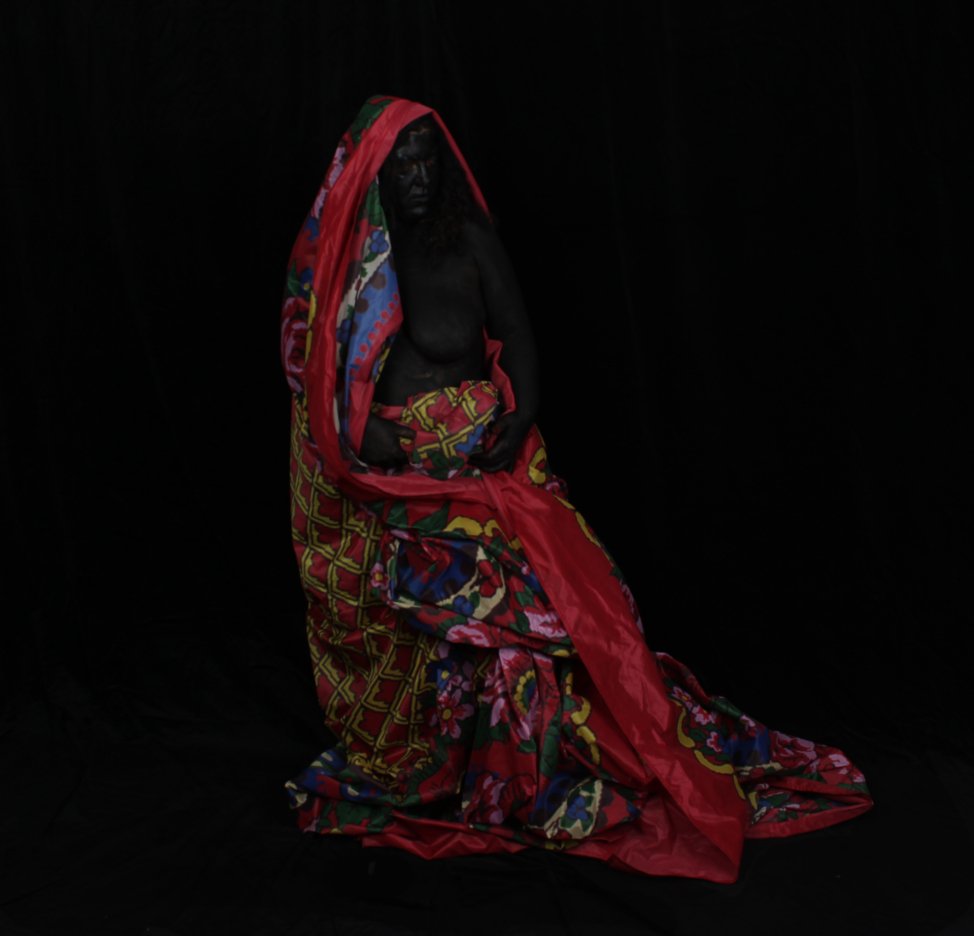 Self-Portrait. The impulse for this work is the author's light skin-color which allows her to pass in the society as a non-Roma. The self-portrait is a declaratory act of making herself visible as a Roma and simultaneously self-stylization as a black Madonna, i.e. an iconic female figure with whom Roma could identify.
Bio / Statement:
Emilia Rigova is the 2018 Award winner of the Oskar Čepan Award. Working with film, video, photography, installation, and sculpture,  Rigova deals with cultural and social stereotypes as well as politics of the body. Rigova is particularly interested in groups who have been systematically eradicated from hegemonic historical narratives. Visions of the common future of the Roma minority worldwide as well as their collective memory has been a recurring theme in the artist's oeuvre. More recently, Rigova explores through performance and interventions in the public space the construction and appropriation of Romani identity throughout European history. Her current project "Final Cut" led with the historian Nikola Ludlova, deals with the topic of coercive sterilization of Romani women in socialist Czechoslovakia and post-socialist succession states. In addition to her artistic practice, Rigova teaches art at Matej Bel University in Banská Bystrica.
Selected solo exhibitions include: Gandy Gallery, Emília Rigová - Icons of the Peripheral, 2019 Bratislava; Lost Identity, Q21, Vienna, Austria, 2018, (out of) the deadlock, Galllery8, Budapest, Hungary, 2016, Archetyp Pra Bari, Ceske Centrum, Prague, Czech Republic, 2016, Bari Rakori, Radnica, Banska Bystrica, Slovakia, 2015, Intimate Public Catharsis, Ukradena Gallery, Prague , Czech Republic, 2013, Randez-Vous, AVO AVO (S K Boborova), Outdoor Gallery, Nitra, Slovakia, 2012, Black Box, Stredoslovenska Gallery, Bystrica, Slovakia, 2011, Feminist Funeral, AVO AVO (S K Boborova), Nitrianska Gallery, Bunker, Slovakia, 2011, Atraktiv Art – ANTIART, Zvaz Architecture, Banska Bystrica, Slovakia, 2010.
Selected group exhibitions include: The Roma Spring: Art as Resistance, ERIAC, Berlin, Germany, 2018, (out of) the deadlock, Emila Filly Gallery, Ostrava, Czech Republic, 2017, Constant Metamorphosis, Invisible Museum, Bratislava, Slovakia, 2017, The Blind Man – Segregation, Avu Gallery, Prague, Czech Republic, 2017, Crossing Black/Self Portrait, The Universe Is Black, Moravska Gallery, Brno, Czech Republic, 2017, Constant Metamorphosis/The Great Black Mount, Kai di Khas Gallery, Berlin, Germany, 2017, Constant Metamorphosis/Kali Berga, Ksiegarnia  Wystawa, Krakow, Poland, 2016.
You can learn more about Rigova's practice on her artist in residence profile on Q21 Vienna.
Gallery:
Gandy Gallery, Bratislava
Support: Emilia Rigova's residency is made possible with support from Trust for Mutual Understanding.