2019 | NYC | Artist
Emanuel Rossetti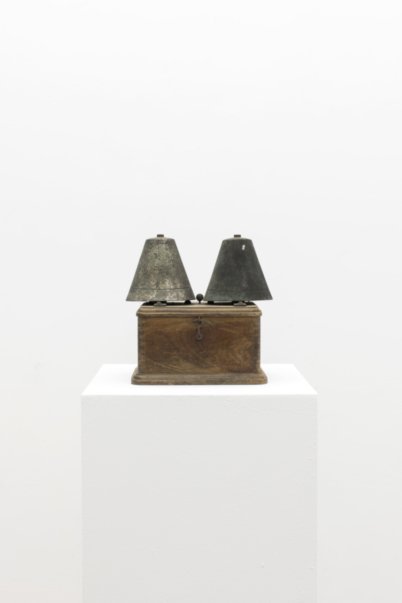 Gallery Bells, 2017. Brass bells, wood, screws, hook; 25cm x 22cm x 16cm
Bio / Statement:
Photography has made a consistent appearance in Emanuel Rossetti's practice. At times, he anonymizes the photographic element by using it as a fragment in virtual compositions or turning it into a background. Rossetti continuously makes use of found objects to signal spatial limitations and, concurrently, interfere with them. For example, his repeated use of bells, and the sound they make has become a steady part of his repertoire. Rossetti sees the process of building an exhibition as a sort of negotiation, finding ways of highlighting but also concealing things concerning the exhibited works, what is around and between them.
Emanuel Rossetti's solo exhibitions include "Relay Rust", Jan Kaps, Mexico City (2018); Developments, Sundogs , Paris (2018); Hypnic Jerk Jan Kaps, Cologne (2017); "Double Slit Vomitory", Svetlana, New York City (2017); "International Bells", Karma International, Zurich (2016); "Hems", Karma International, Los Angeles (2015); "Delay Dust", Kunsthalle Bern, (2014); "Life & the Invitation Vapour in Debri" (with Tobias Madison & Stefan Tcherepnin), The Modern Institute, Glasgow (2014); "Drip Event" (with Tobias Madison & Stefan Tcherepnin), The Power Station, Dallas (2013); "Another Day at the TCCA", 1m3, Lausanne (2011); "Brightest Day Darkest Night "(with Balthazar Lovay), Burning Bridges, New York City (2010). His work was shown in various group exhibitions including "Readymades Belong to Everyone", Swiss Institute, New York City (2018); "Spiegelgasse (Mirror Alley)", Hauser & Wirth, London (2018); "Otwarcie", Fundacja Galerii Foksal, Warsaw (2018); "Oh, that I had a thousand tongues", Tinos Quarry Platform, Tinos (2018); "Verdienst, 2014–2017", Oracle, Berlin (2017); "Le Mérite. 2014–2016", Treize, Paris (2016); "Tbilisi16", organized by Kunsthalle Zurich, Shindisi (2016); "ScreamScape", Kunsthalle FriArt, Fribourg (2015); "Haggard Caravan", The Hepworth Wakefield, West Yorkshire (2014). He also co-organized and ran the exhibition space New Jerseyy in Basel from 2008–2014, the cinema AP News in Zurich from 2011–2013 and is a member of the band "Solar Lice".  Rossetti won the prize "Förderung von Nachwuchskünstlern / Cristina Spoerri-Stiftung" in 2015 and the "Swiss Art Awards" in 2014.
Here you can find Artforum Picks featuring Emanuel Rossetti.
Interview with Milan Ther for Mousse Magazine, Early Summer 2018
Galleries:
Karma International, Zurich (CH) / Los Angeles (USA)
Jan Kaps, Cologne (D)

Support: Emanuel Rossetti's residency is made possible with support from Atelier Mondial Basel (Christoph Merian Stiftung Basel).