2017 | NYC | Artist
Diogo Pimentão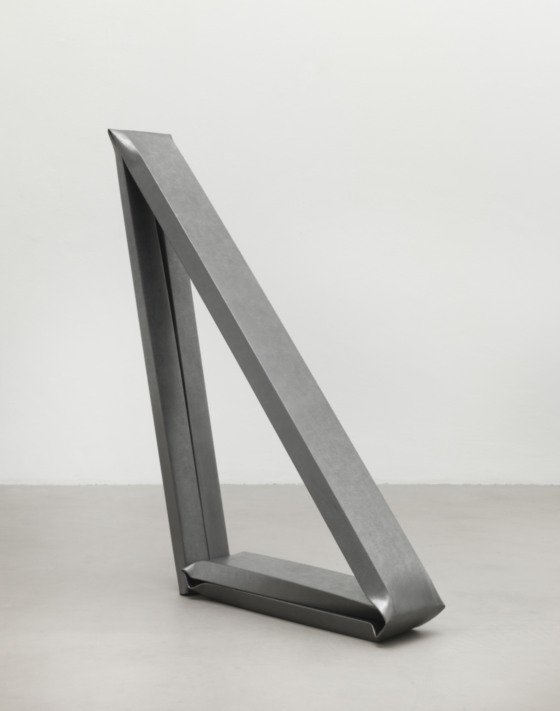 Walk, 2015 Paper and graphite 101x21x120cm
Artist name: Diogo Pimentão
Dates of residency: Sept-Nov, 2016; Feb-March, 2017
Born: 1973
Hometown: Lisbon, Portugal
Lives and works: London, UK
URL: http://www.schleicherlange.com/diogopimentao.aspx;
https://www.artsy.net/artist/diogo-pimentao
Education: Ar.Co, Lisbon, Portugal, 1998; Sculpture Seminar, Gotland, Sweden,1996; International Centre of Sculpture, Pêro Pinheiro, Portugal, 1995
BIO/ STATEMENT:
After living in France for 9 years, Diogo Pimentão moved to London in 2012 where he has lived since. Pimentão is particularly interested in drawing as a genre that he activates through performative gestures and abstract protocols. Therefore, he does not view himself as a draughtsman in the classical meaning of the term. Rather he develops experiments of inscription, layering and surface more than he draws, using iconic materials like graphite, graphite deposit, adhesive tape and paper. Even though his works are often monochromatic, the surface of the paper or of the wall becomes a delicate, albeit metallic, texture. The artist thus allows the drawing techniques to go beyond its traditional confines and expand in multiple shapes, often tri-dimensional and sculptural. Drawing, his studio practice notwithstanding, is thus used on a real scale, to probe, explore and alter the exhibition space. The process at the heart of his creation abolishes the boundary between drawing, sculpture and performance.
Pimentao 's work has been featured extensively and internationally. 2016 shows include: Solo show, Grão Vasco Museum, Viseu, PT ; Summer Guests/ Convidados de Verão, June 2016, Calouste Gulbenkian Museum, Lisbon, PT; CAAA, for the triennial of Architecture, Guimarães, PT;  3/1/1, Zak Branicka gallery, Berlin, DEU; Baixo as fronteiras, (part 2) MACE Museu de Arte Contemporânea de Elvas, Colecção António Cachola, Elvas, PT ; Abaixo as fronteiras, MUDE Museu de Design e de Moda, Colecção Francisco Capelo, Lisboa, PT; "Formal Meeting", (Carte blanche Diogo Pimentão) Until Then gallery; Paris, FR; Group Show, Galeria Cristina Guerra, Lisbon, PT; Parmi les floraisons du ciel incertain, FRAC Alsace, Sélestat, FR
Previous venues include among others:  Galerie Edouard Manet, Genevilliers, FR; FRAC, Alsace, FR; Fondation d'Entreprise Ricard, FR; RE: Institute Supérieure des Beaux-Arts, Besançon Franche-Comté, FR; Galerie Yvon Lambert, Paris; Galerie Schleicher+LangeBerlin and Paris; Galeria Vera Cortes, Lisbon;  Centre d'Art Contemporain de la Ferme du Buisson, Noisiel, FR; CAB, Bruxelles, BE; Circulo de Artes Plásticas de Coimbra, Coimbra, PT.
Here you can see Diogo's profile on ARTUNER art platform.
GALLERIES:
Gallery Until Then, Paris, France
Galeria Cristina Guerra, Lisbon, Portugal
Zak | Branicka Gallery, Berlin, Germany
SELECT PERMANENT COLLECTIONS:
Collection Lambert, Avignon, FR
Centre Georges Pompidou, FR
Fondazione Sandretto Re Rebaudengo (FSRR), IT
Pomeranz Collection, Vienna, AT
Carmona e Costa Foundation, Lisbon, PT
Portugal Telecom Foundation, Lisbon, PT
Fonds National d'art contemporain, Paris, FR
PLMJ Foundation, Lisbon, PT
Serralves Foundation, Porto, PT
EDP Foundation, Lisbon, PT
Museu de Arte Contemporânea - Colecção António Cachola, Elvas, PT
Leal Rios,Foundation, Lisbon Portugal PT
MONA, Museum of old and new art, AU
Thaddaeus Ropac, Salzburg, AT
SUPPORT: Diogo Pimentão's five-month residency is made possible by the Calouste Gulbenkian Foundation, Portugal.