2015 | NYC | Artist
Dino Zrnec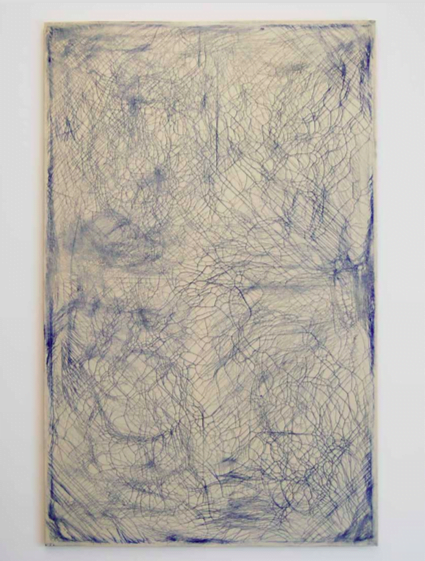 Dino Zrnerc, Untitled, 2014, oil on canvas, 200 x 125 cm
Artist name: Dino Zrnec
Dates of residency: September- October
Born: 1983
Hometown: Zagreb, Croatia
Lives and works: Zagreb and Vienna
URL: http://www.dinozrnec.com
Education: MA, Academy of Fine Arts Zagreb, 2007; Akademie der BildendenKunste Vienna (exchange) 2008, VSUP Academy of Art, Architecture and Design, Prague (exchange).
BIO/ STATEMENT:
Dino Zrnec (b. 1983 in Zagreb, lives in Vienna and Zagreb) devotes his paintings to the testing of materials. The artist draws attention to practical, usually hidden procedures inherent to painting by making conscious technical "mistakes": he lets the reverse side of the canvas show through and turns it into the motif, overstreches canvases, does without gesso or uses it "improperly," drips oil paint onto canvases, dissolves the colors with turpentine overnight or adds cracks, folds or buckling to the surface. Zrnec does not leave the result to chance, but to the process of experimentation. The deconstruction of painting allows no narration and turns the paintings into minimalist, experimental objects. Nevertheless, and even without knowing about Zrnec's process-oriented approach, the paintings stands as works in their own right. Zrnec's working method has been descrined as 'performative painting', where it is only through the action-oriented process that the canvas becomes a painting.
Dino Zrnec`s recent solo shows include Closed Circuit, Apoteka, Vodnjan, Croatia (2015); Ensure for size, Kunsthaus Graz project space, Austria (2014); Until tomorrow, Annex Gallery, Pula, Croatia (2014). His work was also featured in recent select group shows such as: Notes on Undoing, curated by Branka Benčić, Garis& Hahn Gallery, New York (2014), 'mi opettu,' Kunstmuseum Bochum, Germany (2013).
SELECT PERMANENT COLLECTION:
Erste Bank collection, VIenna
SUPPORT:
Dino Zrnerc's 2-months residency is made possible with funds from Foundation for a Civil Society/The Trust for Mutual Understanding.