2015 | NYC | Artist
Diana Policarpo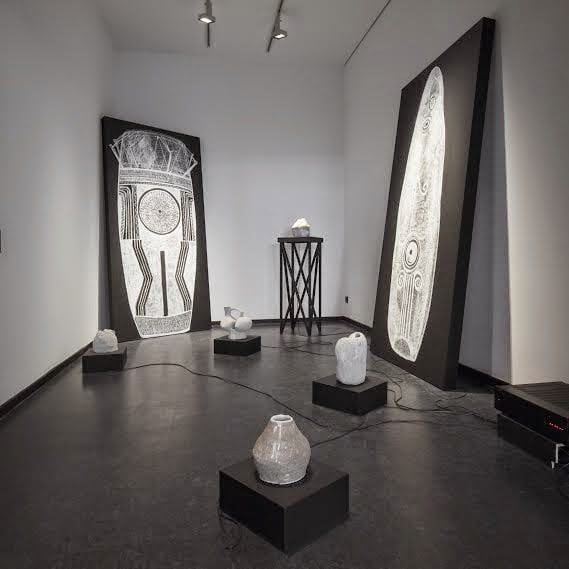 Beating Back Darkness, 2014, Installation view amplifier, sound vessels, chalk, panels, wood, cables, sound speakers and mix media Dimensions variable © Michael Belogour
Artist name: Diana Policarpo
Dates of residency: July-November
Born: 1986
Hometown: Lisbon, Portugal
Lives and works: London, UK
URL: http://www.dianapolicarpo.com, http://dianapolicarpo.blogspot.com
Education: MFA Fine Art, Goldsmiths College, London, UK
BFA, Escola Superior de Arte e Design (ESAD), Portugal
BIO/ STATEMENT:
Her work investigates questions of power relations and popular culture; juxtaposing the rhythmic structuring of sound as tactile material within the social construction of esoteric ideology. Working primarily in performance and sound installation, Policarpo examines experiences of vulnerability and empowerment, associated with acts of exposing oneself to the capitalist world. An exploration of voice, percussion, and rhythm is central to her practice, providing the means in which to score her ideas and create characters for recordings and performances. Policarpo's work is informed by issues related to the individual, mysticism and music, in respect to our basic needs (both material and ideological).
Recent exhibitions, events and performances include "(Dis)Identifications," ICA, London (2015); "Visions of Excess," Xero, Kline & Coma, London (2015); "Does Not Equal," W139, Amsterdam (2015); "Mai Im Januar," Shau Fenster, Berlin (2015), "Beating Back Darkness," Kunsthalle Baden-Baden, Germany (2014); "Sound Works by Women Artists," listening seminar, Goldsmiths College, London (2014); "General Strike," The Mews & Art Review, London (2013).
SELECT PERMANENT COLLECTION:
Staatliche Kunsthalle Baden-Baden, Germany
SUPPORTS: Diana Policarpo's 5 months residency is made possible with support from Calouste Gulbenkian Foundation.