2018 | NYC | Artist
Debora Hirsch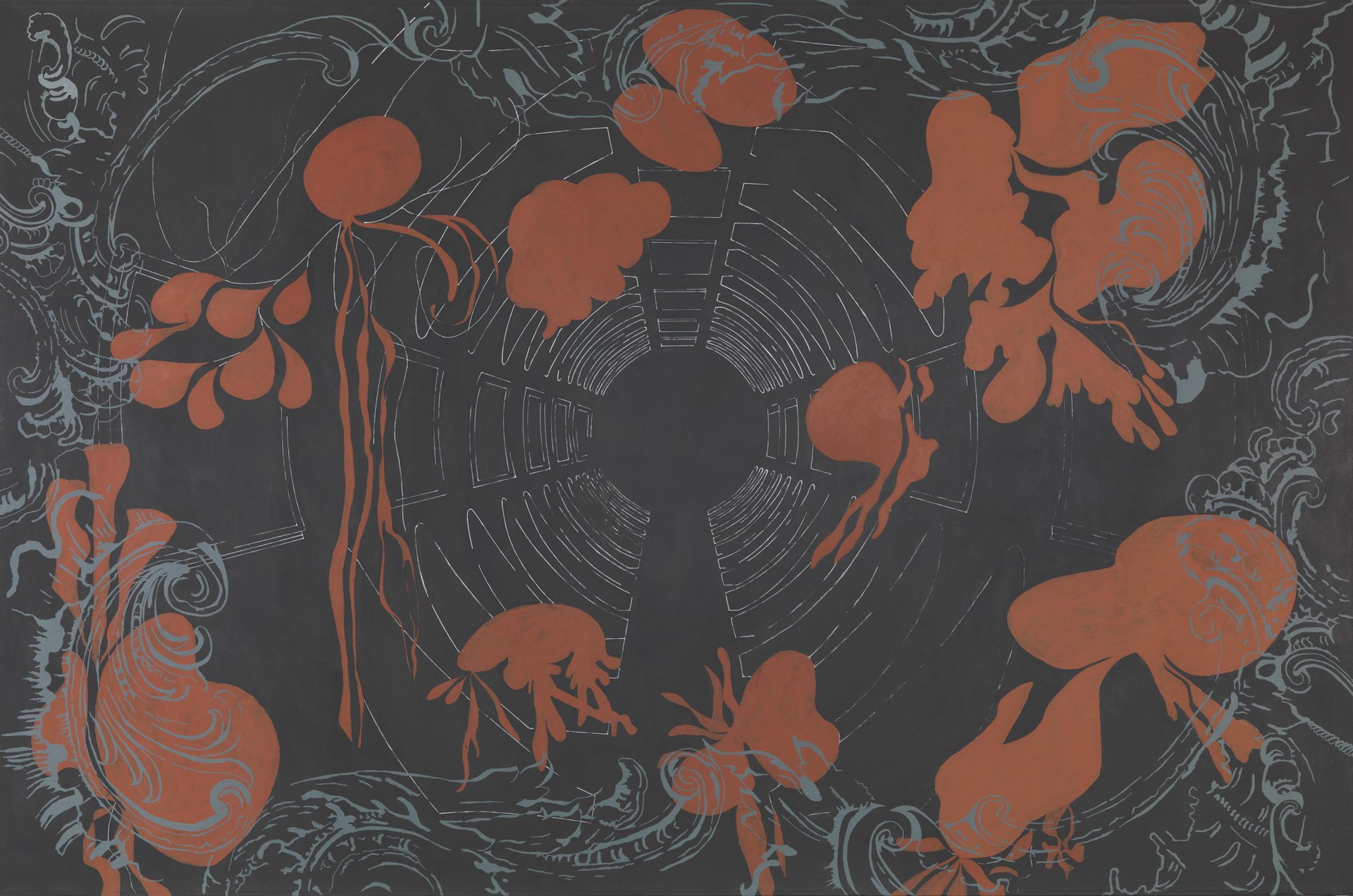 Firmamento (hall of antiques), 2017, acrylic and ink on canvas, 86 x 130cm
Bio / Statement:
In trying to restore the complexity of the real, Debora Hirsch's paintings bring multiple references and connections, after a critical investigation on apparently unrelated worlds. This results in images that find their meaning at the end of an engineered construction unfolding in a selection of decontextualized evocative architectural details, decoded artifacts hidden inside the digital language, the apparent 'natural condition' of symbolic decorative elements, scientific representations, traces from handmade automatic patterns unwillingly quoting the microscopic life, historic and digital colonialism imagery.
Progressing by hints and inferences is her favored method in the production of works that connect histories, from the past, present and hypothetical future in a subject less world. In her research, elements have lost or suspended significances, they no longer share a univocal sense: meanings are elusive and migrating. In these works, intuition is the act of validation and creation of forms, that emerges by rejecting the temptations of the intellect to understand the new in terms of language, processes and concepts from the past.
Debora Hirsch has been investigating the limits of representation by painting fragments, sceneries and composing video installations. This research tries to bring consonance, knowledge and insight. "I try to 'resend' the perception towards the network to which we are all interconnected and depending on." Her research is also related to anthropology, through elaborated works as 'snapshots' of an ongoing inquiry that includes theories, conjectures, interpreting signs and experimenting.
Her work has been shown internationally in solo and group exhibitions including most recently: WunderMoRE, MAXXI National Museum of the 21st Century Arts, Rome (2018);
BelVedere, MIART @MARS Milan Artist Run Space, Milan (2018); Panorama Punjab, Qila Mubarak, Patiala (2018); Art in Art, MOCAK Museum of Contemporary Art in Krakow, Krakow (2017); Dreams & drama. Law as literature, nGbK, Berlin (2017); Firmament (solo exhibition), MARS Milan Artist Run Space, Milan (2017); Il volto che cambia, MIDEC, Laveno (2017); Le immagini reinventate, CAP-Centro Arti Plastiche, Carrara (2017); Drawings from Lightning, Madeinbritaly, London (2017); Fateful Space, WhiteBox, New York (2016); Before Nightfall, Anthology Film Archives, New York (2016); Donotclickthru (solo exhibition), Galleria Pack, Milan (2016); Andata e Ritorno (solo exhibition), Palazzo della Ragione, Verona (2016); Medicine in Art, MOCAK Museum of Contemporary Art in Krakow, Krakow (2016). Before 2016, she has also exhibited at MuBE Museu Brasileiro da Escultura, São Paulo (two solo shows); MACRO Museo di Arte Contemporanea di Roma, Rome; Fondazione Sandretto Re Rebaudengo, Turin; Quadriennale, Roma; GAMC Palazzo Forti, Verona; MAGA, Gallarate; Palazzo Collicola Arti Visive, Spoleto; E Il Topo Rob Pruitt's Flea Market, AplusA, Venice; Spazio Oberdan, Milan; Viafarini and Care of, Milan; Fondazione A. Olivetti, Rome (solo exhibition); PAC Padiglione d'Arte Contemporanea, Milan; Espaço Telemar, Rio de Janeiro; Centro Cultural FIESP, Sao Paulo; Galerie de l'Artothèque, Lyon, Annarumma Gallery (solo exhibition); Vodafone Award, Museo Galleria del Premio Suzzara Award; Arte Mondadori Award
Select Permanent Collections: MOCAK Museum of Contemporary Art of Krakow, MuBE Museu Brasileiro da Escultura, Sao Paulo, of Sao Paulo, Casa Testori, Fondation Francès, Luciano Benetton, Arte Mondadori, Carlo Clerici, Ernesto Esposito, Giorgio Fasol, GAMEC Palazzo Forti Verona, Monte dei Paschi Bank, Museo Galleria del Premio Suzzara
Support: Debora Hirsch's residency is made possible with support from Fondazione Rivoli Due and Vittorio Rappa.