2022 | NYC | Artist
David Almeida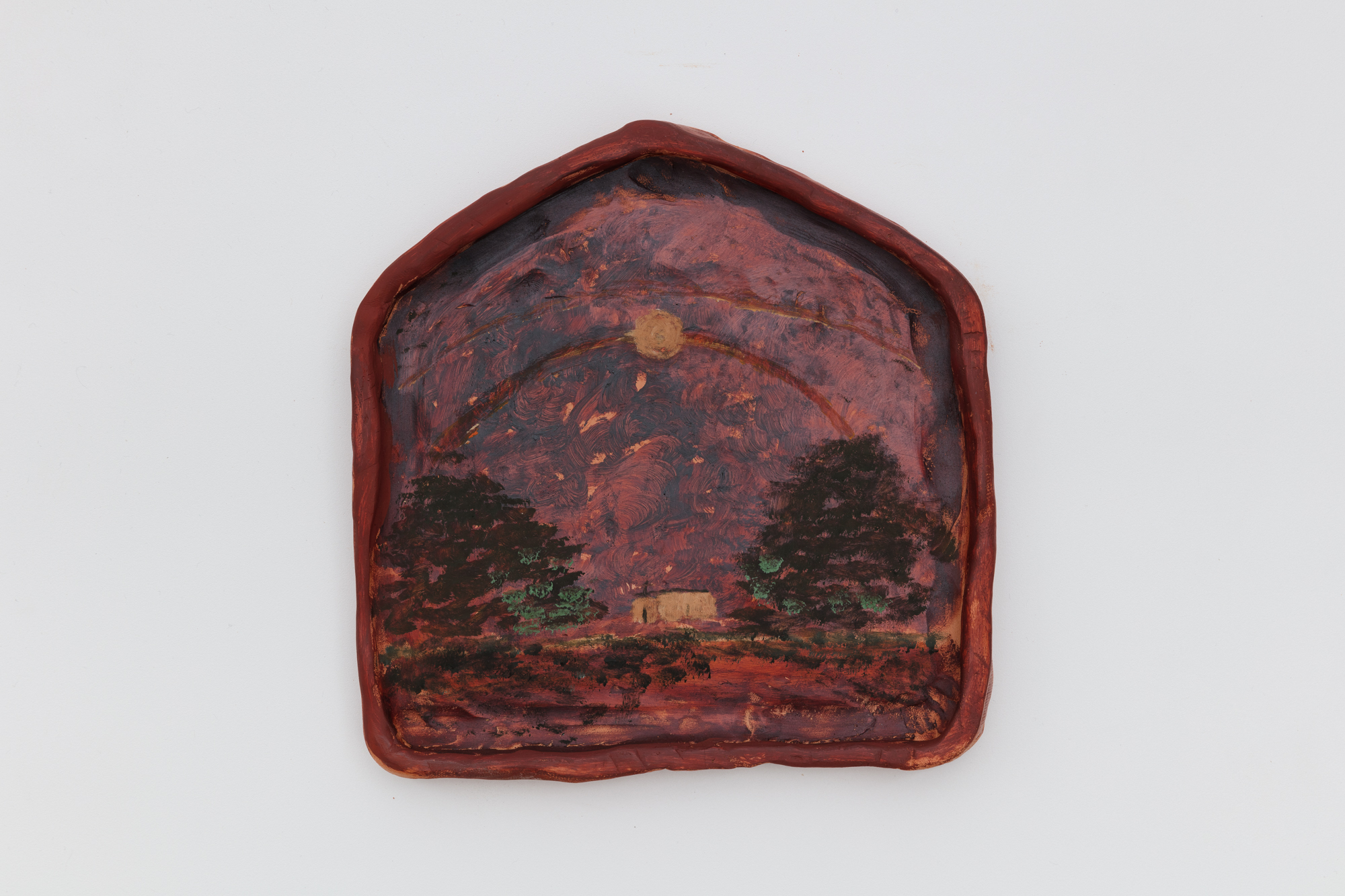 David Almeida, "Arriba do Chão", 2021, Oil on ceramics, Photo by Ana Pigosso
Artist Name: David Almeida
Residency Dates: June - July 2022
Born: 1989
Hometown: Brasilia, Brazil
Lives & Works: São Paulo, Brazil
URL: http://www.galeriamillan.com.br/artistas/david-almeida / Instagram: @almeidadavid
Education:
Fine Arts Bachelor tá Universidade de Brásília - UnB (Brasilia University)
Bio/Statement:
David Almeida's research is developed around pictorial experimentation in various media and supports such as canvas, linen, wood, ceramics and engraving. His production has as its main focus the issues of space and the body on the move, exploring the visuality of intimate territory, the city and the Brazilian regional landscape. In the pictorial space, he investigates the limits between the landscape of the countryside and the imaginary, at times emphasizing the density of materials in figurative works or tending toward abstraction, at times displacing natural elements in canvases with a metaphysical and spiritual tone. Almeida engenders the concepts of memory, body, phantasmagoria, and optical perception, creating canvases in which the intimacy of a culture or people is subtly manifested in the landscape. In his work, places and sensations dialogue with his method and procedure of representation, in which the density of a painted night is intimately related to the oblique process of constructing it in the image.
David Almeida is represented by Galeria Millan and has a degree in Fine Arts from the University of Brasília. He held the solo show A task of wonders, during his residency at Espronceda Art Center, in Barcelona, Spain (2020). Among his main individual shows are: Lindeza, Referência Galeria de Arte, Brasília, DF (2019); Encalço, Mult.i.plo Espaço Arte, Rio de Janeiro, RJ (2018); Paradeiro, Zipper Galeria, São Paulo, SP (2018) and Asseidade da Fenda, Elefante Centro Cultural, Brasília, DF (2016).
Awarded in 2013 and 2015 at the 12th Jataí Art Salon, in 2014 by the 20th Anapolino Art Salon and first place at the I Vera Brant Contemporary Art Award in 2016, he has participated in group shows such as Postcards, Galleri Magnus Karlsson, Stockholm (2021), Sweden, A Nowhere: Contemporary Landscapes, Galeria Marília Razuk, São Paulo, SP (2021); Segunda Naturaleza, Fernando Pradilla, Madrid, Spain (2020); Triangular - Art of this Century, Casa Niemeyer, Brasília, DF (2019); Scapeland - Territory of Free Transit, Memorial da América Latina, São Paulo, SP (2018); UNS, Library of Love, Contemporary Art Center, Cincinatti, USA (2017); Salão Transborda Brasília 2016, Caixa Cultural Brasilia, DF (2016), among others.
Gallery:
Galeria Millan (São Paulo, Brazil)
Click below to see images of works by David Almeida realized during his residency
Support: David Almeida's residency is made possible with support from Galeria Millan.

RELATED: