2020 | NYC | Artist
Daniel Mantilla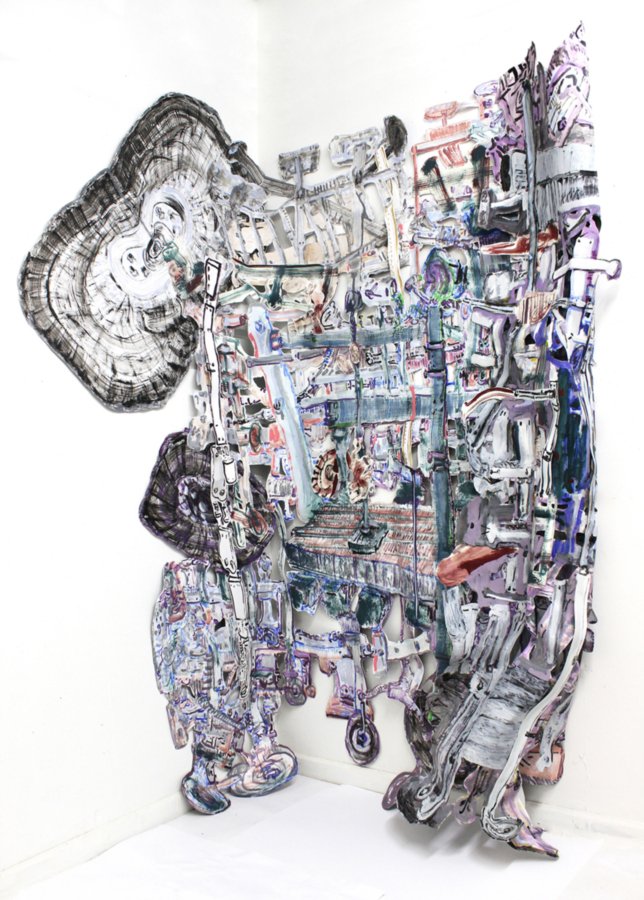 Gate, 2018, Acrylic on Paper. Courtesy the artist.
Daniel Mantilla is a Colombian-born, New York-based artist who approaches pictorial space in terms of enclosure and accumulation. His practice consists of paintings, prints, drawings, collages, and cut-outs motivated by ideas of transition and instability. Mantilla's work has been exhibited in Colombia, Spain, and the United States at venues including Museo de Arte del Tolima Bank of the Republic in Ibagué, Columbia; the United Nations in Bogotá, Columbia, Auditorio Enrique Granados in Lleida, Spain; The Tampa Museum of Art and USF Contemporary Art Museum in Tampa, FL.; The School of the Art Institute of Chicago, and Hunter College, New York. Mantilla participated in the 2015 AIM Bronx Biennial at the Bronx Museum, New York. He is a recipient of a Kossak Travel Grant and Recognition Painting Award Julio Fajardo from Museo del Tolima, Columbia. In 2017, he was the first artist to be selected for the Liquitex Cadmium-Free Research Residency at Residency Unlimited (RU) in Brooklyn, NY. Since 2018, Mantilla has collaborated with Sprechgesang Institute, a research-based platform for artists working between languages and disciplines, and has presented performative projects in New York at Target Margen Theater, Hercules Art/Studio Program, The Block Gallery, and Recess.
After being nomadic for the last few months and working in small spaces, the Residency Unlimited /Artists Alliance, Inc. residency will provide Mantilla the opportunity to make paintings, cutouts, and works on paper that he can physically expand and contract by folding and unfolding, or by assembling and disassembling to fit inside cases and transport them with ease. In collaboration with Sprechgesang Institute, he is working on the production of the play Rock Paper Scissors, which will be performed in December 2020 on Zoom.
Mantilla has a Master of Fine Arts in Studio Art from Hunter College, New York, NY (2014); a Post-baccalaureate Certificate in Studio-Painting and Drawing from School of the Art Institute of Chicago, Illinois (2012),  and a Bachelor of Fine Arts from University of South Florida, Tampa, Florida (2008). In addition, he completed an "Estudio de Arte y Creación por Olga Martinez," in Ibagué, Colombia (2012).
Daniel Mantilla's residency is made possible through Residency Unlimited's ongoing partnership with Artists Alliance Inc.