2014 | NYC | Artist
Daniel Horowitz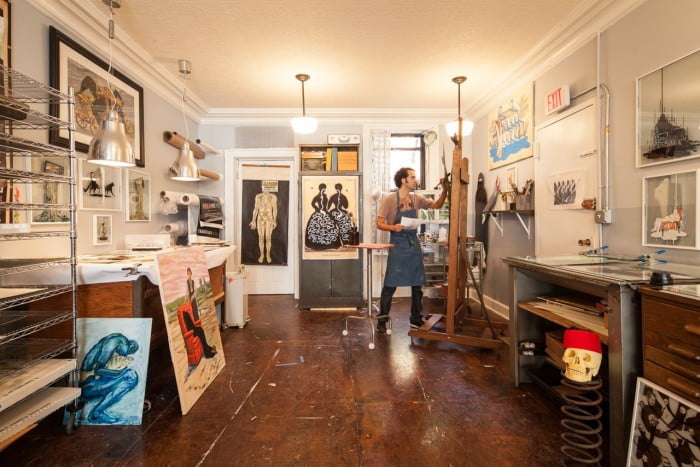 d-horowitz-studio-700x467
photo credit © Chris Mosier 2013
Artist: Daniel Horowitz
Dates of residency: June – August
Born: New York, NY
Hometown: New York, NY
Lives and works: 11201
URL: http://www.daniel-horowitz.com
Education: Bachelor of Fine Arts, Art Center College of Design
BIO/ STATEMENT:
"I feel overwhelmed by the never-ending tide of media and information we are inundated by. My current practice was built on a simple challenge to produce a finished work every day, to attempt to produce at the same rate I consume. My works are interventions into found media and imagery, sourced from vintage lifestyle advertising, history books, and encyclopedias. The resulting collages and drawings subvert and distort the original source materials to produce new hybrids often fantastical, violent, and impertinent. Often influenced by my subconscious and always evolving, my work seeks to actively critique that which constitutes it, allowing us  to become active critics of culture rather than the consumers as which we are so often depicted".
Daniel Horowitz is a Brooklyn-based artist working in a variety of media  whose work has been exhibited in New York as well as internationally. Horowitz is the winner  of the Scope Miami 2011 Artists Wanted competition in painting. In March of 2012, Horowitz  debuted his diurnal series of 365 drawings at The Invisible Dog Art Center in NY, which has subsequently  been exhibited in part at Christie's New York, The Direktorenhaus in Berlin, and most recently at  the Warsaw Museum of Modern Art. In March of 2014 Horowitz exhibited the first 100 Drawings  of his метаморфоза Series at the L'inlassable Galerie in Paris France.
GALLERY: L'inlassable Galerie, Paris.