2016 | NYC | Artist
Dalia Baassiri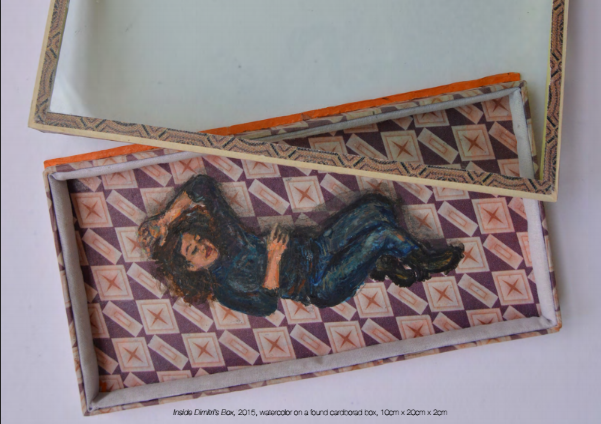 Inside Dimitri's Box, 2015, watercolor on a found cardboard box, 10cm*20cm*2cm
Artist name: Dalia Baassiri
Dates of residency: June-July
Born: 1981
Hometown: Sidon, Lebanon
Lives and works: Beirut, Lebanon
URL: http://www.daliabaassiri.com
Education: MFA, Chelsea College of Arts, London, UK, 2012; BS, Graphic Design, Lebanese American University, Beirut, Lebanon, 2003
BIO/ STATEMENT:
Dalia Baassiri  is concerned  with material and surface,  dimensions and volume, thickness and weight with a distinct attraction for graphite and charcoal dust which feels both familiar to the artist and reminiscent of dirt in everyday life. Baassiri's practice draws on the formal theory of the line and its trajectory: "Lines are everywhere but we cannot see them. Like cells, they progressively multiply, expand and intertwine, forming endless possibilities of forms. I perceive the world as a giant spherical drawing room inhabited by beings and elements that are constantly in motion. Their impulses push them from one point to another, creating a series of linear paths."
Her current investigations deal with the immediacy of the everyday, dirt or traces left behind by human activities, and quotidian activities such as window cleaning and floor sweeping. Her desire to enter the world of the familiar as  a "warm" place for artistic practice, she finds in the quotidian a new dynamic energy in her trajectory, leading her to re-consider the role of found objects in painting.
Dalia Baassiri is represented by Galerie Janine Rubeiz in Beirut (with a forthcoming solo show in 2017). Recent shows include: LAU Alumni Exhibition, Lebanese American University, Beirut, Lebanon, 2016; Collective Exhibition, Beirut Art Fair, Janine Rubeiz Gallery, Beirut, Lebanon, 2015; Nostalgic Imagery, Group Exhibition with the collaboration of BAKS/Art Concepts; 2014: The Young Collectors Auction, Ayyam Gallery; Kempinski Hotel Bristol, in cooperation with Siena Art Institute in Italy, Berlin (as a result of her residency at Siena Art Institute).
She is a recipient of the Fabriano, Maraya and the Lebanese Web Design Awards.
GALLERY: Galerie Janine Rubeiz, Beirut, Lebanon
SELECT PERMANENT COLLECTION: Cultural Concepts Intl., Geneva, Switzerland
SUPPORT: Dalia Baassiri 's residency is supported by ArteEast.