2019 | NYC | Artist
Colleen Merrill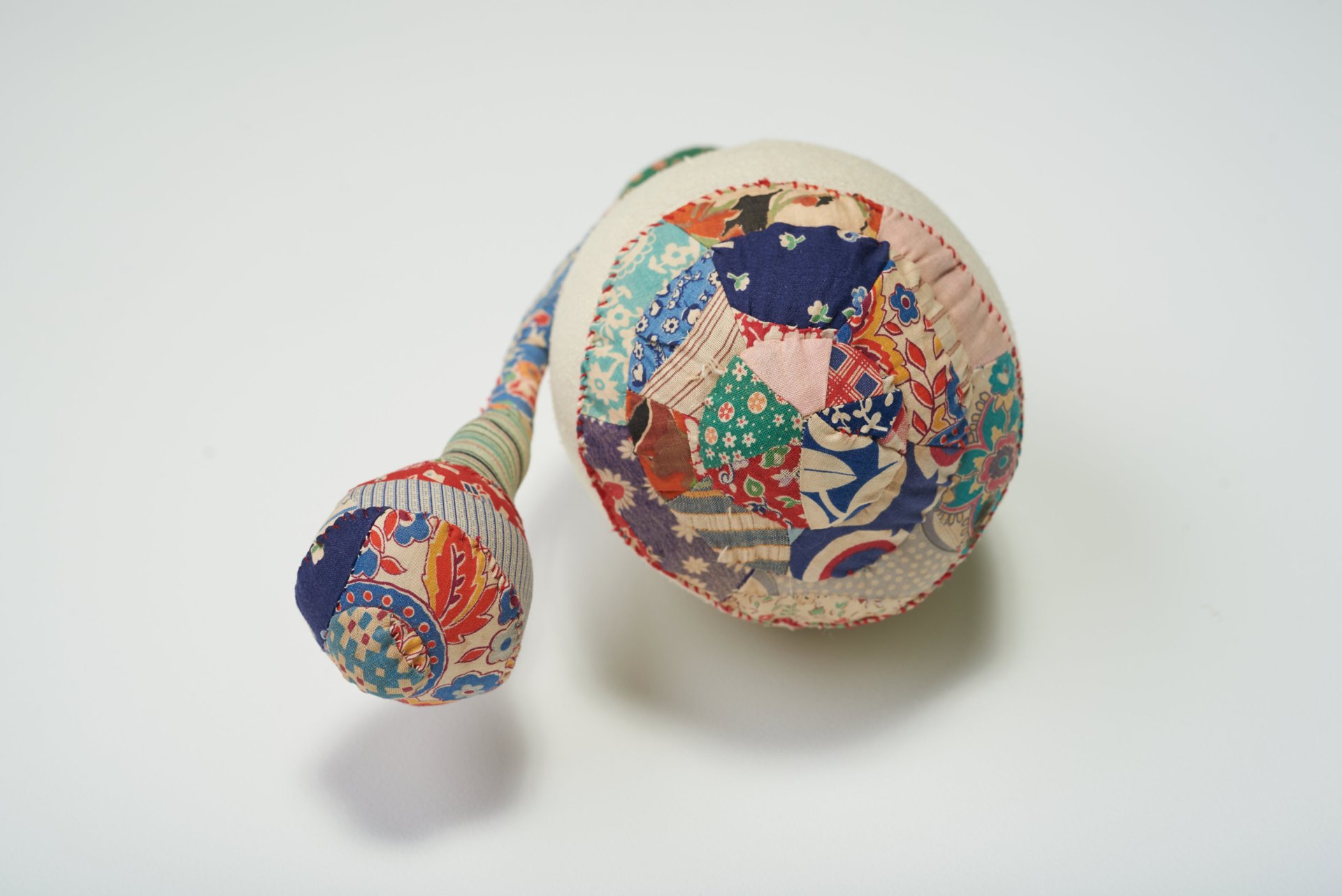 Emulated Entanglement. 2016, mixed media, approx. 9"x8.5"x14"
Bio / Statement:
Colleen Merrill's practice examines notions of maternity, intimacy, and sexuality through the reconfiguration of domestic textiles. Her composite forms are suggestive of the emotional and physical impact of interdependent relationships within one's life. Merrill's work conjures the simultaneously personal and social implications of quilt making and embroidery. Quilts and samplers are familiar objects often associated with the care and comfort of home or family. The act of making these objects within sewing circles and quilting bees, has long functioned as a communal space where women gather to not only share skills and labor but to be empowered and heard collectively. Her current work titled Fawn, refers to one still un-weaned or retaining a distinctive baby coat and scrutinizes the personal and societal expectations of her role as a partner and mother.
Merrill was recently awarded an Artist Enrichment Grant from the Kentucky Federation for Women. She received fellowships for attending the Byrdcliffe Artist Residency in New York and the Pentaculum Textiles Residency at the Arrowmont School of Arts & Crafts in Tennessee. Her work has been published in the Australian book, "The Craft Companion" by Ramona Barry and in "Textiel Plus Magazine" printed in The Netherlands. She currently lives in Lexington, Kentucky, where she is an Assistant Professor of Art Foundations at Bluegrass Community and Technical College and Part-Time Instructor in Fiber at the University of Kentucky.
Select art exhibitions- New Domesticity, Morlan Gallery, Transylvania University, Lexington, KY KY Nasty Women Exhibition, The Parachute Factory, Lexington, KY F*ck You in the Most Loving Way, Northern California Women's Caucus for Art, Arc Gallery, San Francisco, CA Caliker, solo exhibition, The Green Building Gallery, Louisville, KY International Textile Art Biennial, juried, Kunststichting Perspektief Vzw (KSP), Haacht, Belgium Icons and Identity, The Green Building Gallery, Louisville, KY Construct, Pittsburgh Center for the Arts, juried, Pittsburgh PA Sweet Home, Zephyr Gallery, Louisville, KY 2014 cont. Fiber Options: Material Explorations, juried, MFA Circle Gallery, Annapolis, MD Select fellowships/grants- Artist Enrichment Grant, Kentucky Federation for Women Fellowship, Byrdcliffe Artist Residency, Woodstock, NY Fellowships, Pentaculum Textiles Residency, Arrowmont School of Arts & Crafts, Gatlinburg,TN Select publications- "The Craft Companion", Ramona Barry "New Domesticity Women's Work in Women's Art", Emily Goodman "Textiel Plus Magazine" printed in The Netherlands.
Support: Colleen Merrill's residency is made possible with support from The Great Meadows Foundation.