2015 | Outbound | Artist
Clare Olivares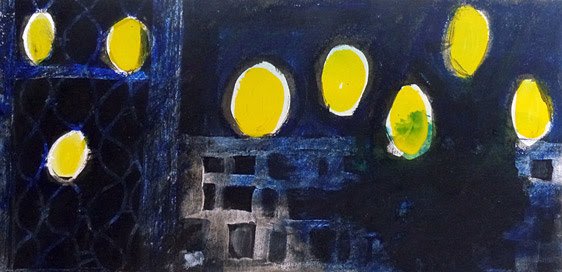 One of Clare Olivares's visiual diary pages that reflects her experience at the White Building
Artist name: Clare Olivares
Residency dates: September
Born: 1951
Hometown: Fresno, California
Lives and works: Oakland, California
URL: http://www.clareolivares.com
Education: MA, University of California
MFA, Mills College, Oakland (California)
BIO/STATEMENT
Clare Olivares's artistic practice encompasses painting, mixed media and poetry. An overarching theme of her work is memory and place, usually drawing from personal observations of daily life. Olivares explains, "We define ourselves and our communities through our personal and collective memories. Our narratives are based on what we remember not what we forget. I attempt in my work to highlight a sense of awe regarding the world and our collective obsession with its mysteries."
From mid-September to mid-October 2015 Clare Olivares was the Pisaot Artist-in-Residence at Sa Sa Art Projects in Phnom Penh for a one-month residency organized by Residency Unlimited. As part of her community involvement while residing in the White Building, Olivares led two children's drawing classes that quickly became painting classes as well as a series of photo transfer workshops for the young photographers in the building. She introduced the students to contemporary artists who use photo transfers as well as other non-traditional photography techniques. She wanted to expand their understanding of creative possibilities for photography. Groups of students worked collaboratively to create interesting artworks. Throughout her stay, Olivares also worked on her Found Poem series. The Found Poem series consists of pages taken from old physics textbooks in which she "finds" a poem and then add imagery to the page.
Olivares has exhibited nationally and internationally including at the Alexandria Museum of Art, University of San Francisco, Berkeley Art Center, Richmond Art Center, art space Dotouan, Kala Art Institute, Laguna Gloria Art Museum and Gallery Irohani.
--
Clare Olivares's residency is kindly supported by Residency Unlimited, New York, through Residency Unlimited Residency Raffle Fundraiser 2014.