2020 | NYC | Artist
Christopher Udemezue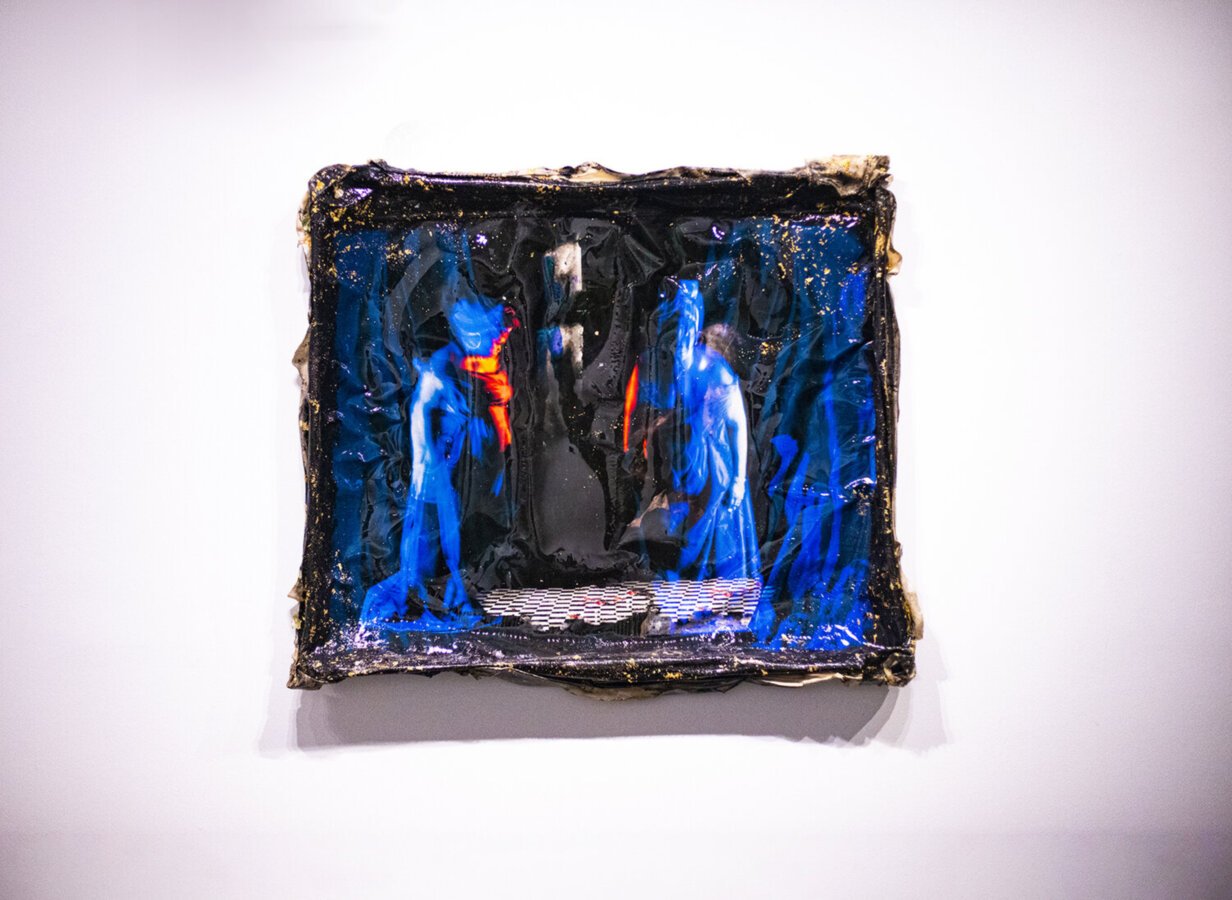 She said they call it 'Poco, 2019, Canvas, acrylic, gold leaf, sand, resin, objects found in Jamaica. Courtesy the artist.
Christopher Udemezue is the founder of RAGGA NYC, a collective platform that connects a growing network of queer Caribbean artists and allies across disciplines through online storytelling and events. His penchant for interviews and storytelling has deeply informed his visual art practice with a focus on his Jamaican heritage and the complexities of desire for connection, personal mythologies, and the tragedies of public lynchings as primary source material. Udemezue's concentration has recently expanded to recounting and visualizing the effect's of his mother's immigration from Jamaica.
Born in Long Island, NY, Udemezue has exhibited at venues across New York City including The New Museum, Queens Museum, MoMA PS1, Bruce High Quality Foundation, and Envoy Enterprises. In 2017 he completed a residency through The New Museum's Department of Education and Public Engagement's R&D Season: BODY, culminating in the exhibition RAGGA NYC: All the threatened and delicious things joining one another. As a lead organizing member of the New York City-based artistic collective House of Ladosha, Udemezue recently exhibited in Trigger: Gender as a Tool and a Weapon at The New Museum (2017) and in The Shed's Inaugural Open Call for NYC-based emerging artists and collectives (2019). He received a BFA in Fine Arts from Parsons School of Design, New York, NY in 2008.
Christopher Udemezue is one of four artists participating in the 2020 NYC Artist Residency Program dedicated to artists whose practices fill in gaps in historical knowledge and represent a range of diverse voices traditionally underrepresented in the arts. The program is organized by Rachel Gugelberger, RU Residency Program Director/Curator of Programs together with Alyssa Alexander, NYC Residency Program Assistant.
The 2020 NYC Artist Residency Program is supported, in part, by public funds from the New York City Department of Cultural Affairs in partnership with the city council and generous support from individual donors.