2015 | NYC | Artist
Cho Mi Young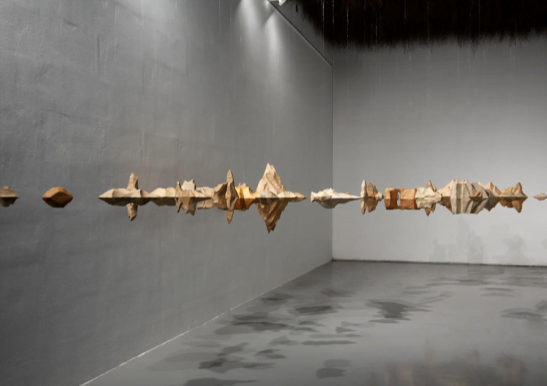 The Islands-Psychological Space/Form board, Paper of Used Cardboard Box, Wood, Variable installation800X700X160cm, 2010-2011
Artist name: Cho Mi Young
Dates of residency: May - July
Born: 1974
Hometown: Seoul, Korea(South)
Lives and works: Seoul, Korea(South)
URL: http://www.miyoungcho.net
Education: MFA, Hong-Ik University, Seoul, 2002; BFA, Hong-Ik University, Seoul, 1997
BIO/ STATEMENT
Based in Seoul, Korea, Cho Mi Young works in sculpture and installation. Prompted in part by the political, social and economical problems that affect urban areas in Korea, her work examines the ways in which human beings experience their surrounding environment through the creation of psychological spaces that are inspired from architecture and landscape and transmits one's thoughts and emotions.
Made of paper, foam board and cardboard, " Islands-Psychological space" represents three different psychological spaces :   Islands, architectures and the Siyeong Apartments (2013). Linked one another, each space is a metaphor of consciousness and unconsciousness. Here the artist's intention is overcome the negative feelings associated with urban living. With "Committed Landscape"(2014), the artist employs art to create contexts of dialogue between landscape and humans.
In 2013, Cho Mi Young received the Pollock-Krasner Foundation award.
Recent solo exhibitions include "Committed Landscape" at Gallery Chosun (2014), "The Islands-Psychological space" at Yesong Museum (2013). Group exhibitions include "Apart-Life-Apart Project" at the Seoul History Museum (201), SeMA Nam Seoul Living Arts Museum, kyeongnam Art Museum, Gwangju Museum of Art in (2013), KIC Art center, Shanghai China, (2010).
GALLERY:
Gallery Chosun Seoul, Korea
SUPPORT: Cho Mi Young's 4-months residency is made possible with funds from the Asian Cultural Council.