2016 | Outbound | Artist
Carlos Vela Prado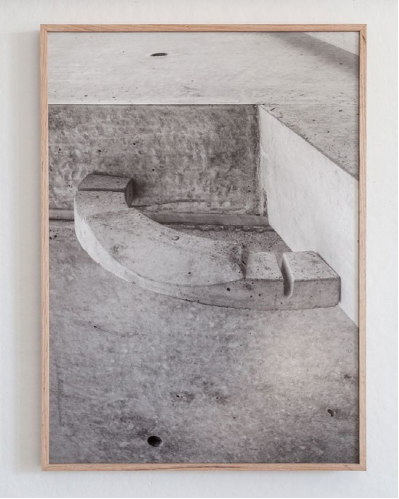 Carlos Vela-Prado. Untitled (Navel). Archival inkjet print in oak frame. 24" x 33". "Clear North Sky; Dark Skin; Average Weathered Wood" is a body of work made on Governors Island through LMCC focused on the residue from island landscapes. 2014
Artist name: Carlos Vela Prado
Born: Guatemala, 1984
Hometown: Guatemala
Lives and works: Basel, Switzerland
URL: http://www.carlosvelaprado.com
Education: 2012 MFA Yale University, Sculpture, New Haven, CT.
2006 BA State University of New York at Albany, Albany, New York.
BIO/ STATEMENT:
Carlos Vela Prado is an American, Guatemalan born artist living and working in New York City. He started his practice as an artist in 2006, before receiving an MFA from Yale in 2012.
His work relates the trace of objects and landscapes to a human presence. He uses a constellation of interrelating images and protagonists. He is interested in re-contextualizing locations and narratives through a language of memory. Through manipulations of photo-mechanical process, he seeks refractions to dislocate conventions of image and space. His works will take their skeletal forms from different aspects of historical sculptures. These modernist structures bathe with the idea of contemplation and transcendentality. They will serve as the framework providing the anatomy of a wide variety of works from photographs, videos, sound, and sculptures created in the space for the space.
Grants and prizes include: 2015 Sound Artist in Residence, MoMA PS1 Printshop. 2014 Container Artist Residency. 2013 LMCC, Lower Manhattan Cultural Council Swing Space Residency, New York, NY. Harpo Foundation Grant (Finalist), New York, NY. 2006 Roanne Kulakoff Grant, SUNY at Albany, NY. Assets for Artists, Grantee, New York, NY. Art Departmental Award's in Printmaking/Photography/Digital Imaging, SUNY at Albany, NY. Nomination for Presidential Undergraduate Research Award, SUNY at Albany, NY.
SUPPORT: Carlos Vela Prado's 6 months' residency is supported by the Zaeslin-Bustany-Scholarship in collaboration with Atelier Mondial and Christoph Merian Stiftung, Basel, Switzerland.