2020 | NYC | Artist
Carlos Rosales-Silva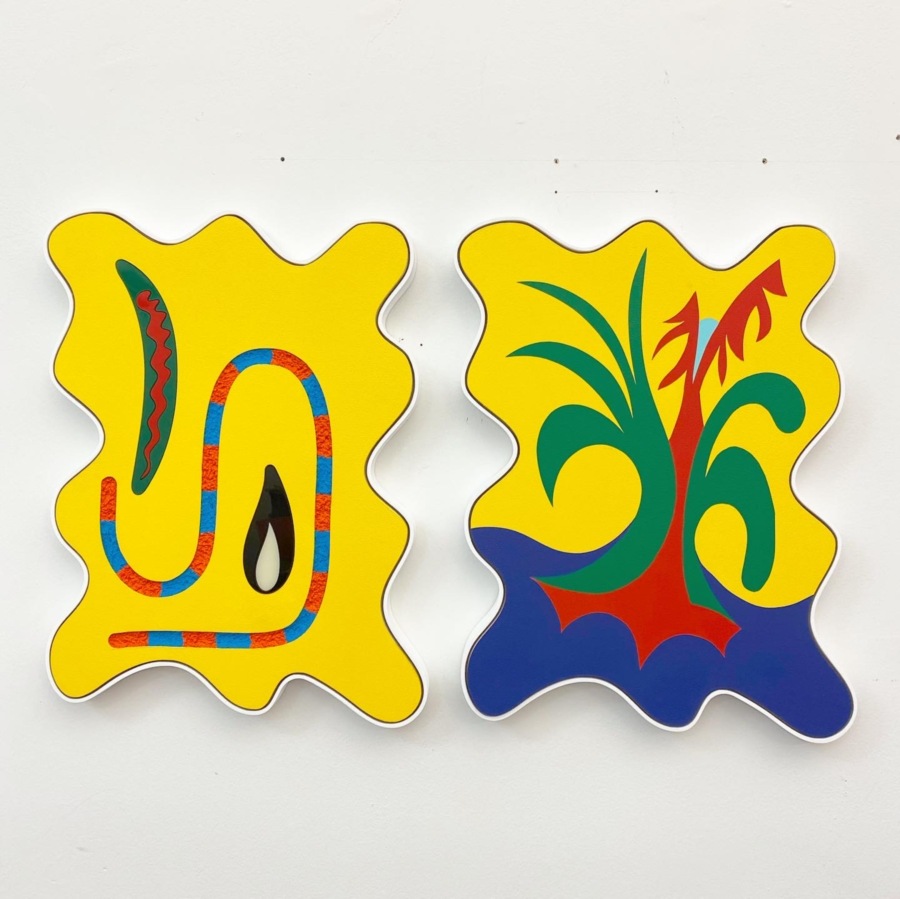 Carlos Rosales-Silva, Cockfight, 2020, Acrylic paint, crushed stone, acrylic plastic, custom panel and frame. Courtesy the artist
Carlos Rosales-Silva's practice considers a deep history of making that spans the complex visual communications of pre-colonial indigenous peoples to the intentional and functional color language of small businesses and homeowners in predominantly Brown neighborhoods. Formally obsessive about color, texture, and shape, abstraction is his tool for navigating the tense states that Brownness often finds itself in, states that both attempt to preserve cultural tradition and assimilate for survival purposes; states where home is experienced in both fleeting moments and memory.
Recent exhibitions include a curatorial project at the 2020 Spring Break Art Show and a solo exhibition at Sadie Halie Projects, Minneapolis, MN (2019). Rosales-Silva has exhibited throughout Texas, in Mexico City, New York City, Los Angeles, Miami, Minneapolis, Chicago and Kansas City. He has been an artist-in-residence at Artpace, San Antonio, TX (2018) and at Pioneer Works, Brooklyn, NY (2017). In 2019 Rosales-Silva founded the collaborative pedagogical and publishing project MFA Brown Art. He received a BFA in Studio Art from the University of Texas, Austin in 2017 and will graduate with an MFA in Fine Arts from the School of Visual Arts, NY, in 2020.
Carlos Rosales-Silva is one of four artists participating in the 2020 NYC Artist Residency Program dedicated to artists whose practices fill in gaps in historical knowledge and represent a range of diverse voices traditionally underrepresented in the arts. The program is organized by Rachel Gugelberger, RU Residency Program Director/Curator of Programs together with Alyssa Alexander, NYC Residency Program Assistant.
The 2020 NYC Artist Residency Program is supported, in part, by public funds from the New York City Department of Cultural Affairs in partnership with the city council and generous support from individual donors.