2009 | NYC | Artist
Brandstifter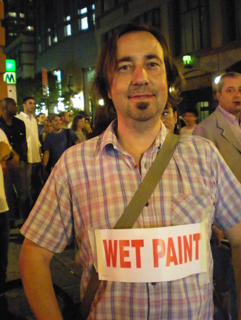 July 1, 2009 - December 31, 2009:
Set in the context of our partnership with Flux Factory, Brandstifter was Residency Unlimited's very first artist in residency. Within this framework, Stephan benefited from a work space for 6 months, in-house resources, and public presentation possibilities at Flux factory combined with on-going customized technical and network support from Residency Unlimited staff. This residency also offered the artist his first trip to New York and the USA.
Called "Mr Brandstifter" (Arsonist), his works are not traditionally conceived as works of art as painting or sculptures might be. His approach incorporates concepts close to Dada, Fluxus, Happenings, and conceptual art. Encompassing performance, collage, installation works, book making, and video, Brandstifter's seemingly heterogeneous body of work is constantly informed by the dialogue between sound and art. An accomplished musician, Brandstifter's inclination to mix up genres is tinged with a Fluxus legacy through his interest in the everyday. As prime example of his working process, the "Asphaltbibliotheque"[Asphalt Library] is an ongoing collection of found papers and lists - including from the streets of New York - conscientiously gathered, photocopied and enlarged by the artist/Asphalt Librarian over the years as public performance that can serve as a point of departure for spontaneous communication.
Born in 1968 in Bad Kreuznach in Rhineland-Palatinate, Germany, Brandstifter founded the non profit art organization, Walpodenstraße, in Mainz. An interdisciplinary artist and networker, he uses social interaction to transform his visual and performance art, sound, music, and lyrics into Intermedia.
Stefan's residency is made possible by Schloss Balmoral, Stiftung Rheinland Pfalz für Kultur (Germany)
Websites:
http://brandstiftung.wordpress.com/
http://www.brand-stiftung.net/
Public presentations realized during Stefan's 6 month residency in NYC:
BRANDSTIFTER MADE IN NEW YORK 2009