2022 | NYC | Artist
Baptiste Charneux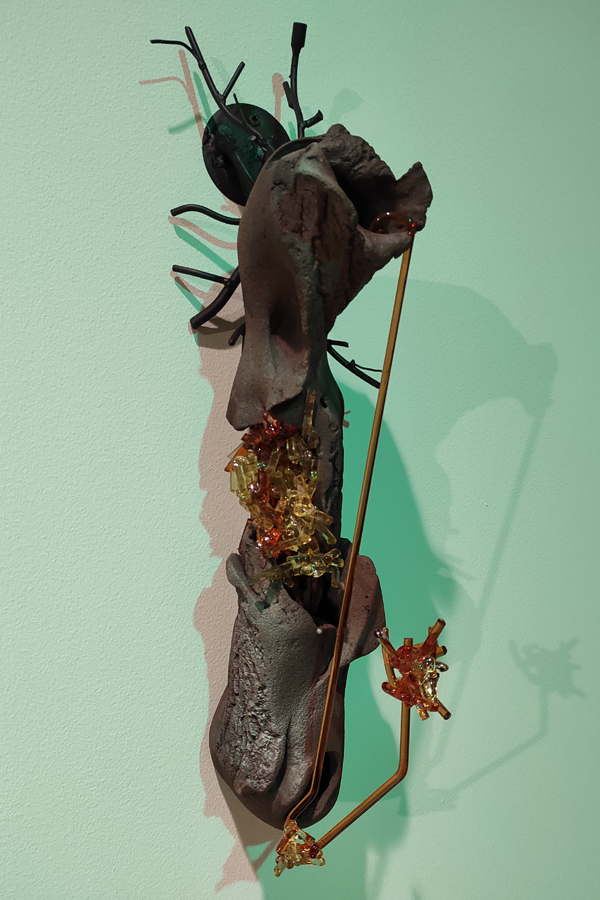 Baptiste Charneux, « Lichen N°5 », 2021. Black stoneware, natural oxides, glass, metal structure, 6x8x34cm. Photo: Jan Kolský
Artist Name: Baptiste Charneux
Residency Dates: August 2022
Born: 1991
Hometown: Charleville-Mézières, France
Lives and works: Between Charleville-Mézières (FR) and Brussels (BE)
URL: http://www.baptistecharneux.com | Instagram: @baptiste_charneux
Education:
2014-2016 | Master's degree, Fine Arts School, Caen, France
2011-2014 | Bachelor's degree, Fine Arts School, Caen, France
Bio/Statement:
Baptiste Charneux is the finalist of the Jindřich Chalupecký Award 2019.
Charneux's work claims to be, first of all, a search on the form and for the form. It is instinctive and confessional. Mainly inspired by his experiences and observations, he is interested in structures, shapes, and objects that compose and make up the different territories surrounding him. Creating hybrid objects, he questions, always in a poetic and personal way, the status of the forms he met and the relationship that one can establish with them. His artistic practice essentially is engaged in the field of ceramics. Appreciative of the many ways of treating and modeling clay and enchanted by its various characteristics, he relishes its power to induce voluntary aphasia, stimulating the senses, especially the sense of touch. For the artist, the imaginative process always takes its source in this medium with multiple and variable qualities before being restrained by the form, a form whose immanence of the moment empirically opens the poetic dimension of the object produced.
His works have been exhibited in various institutions. Solo exhibitions include Facades and their Beasts at Centre for Contemporary Art FUTURA, Prague (2018) and Corps des Chales at La Serre, Saint-Etienne (2018). Select group shows include What's Love Got to Do With It at Szara Kamienica Gallery, Krakow (2018) and Orient2 at Kunsthalle Bratislava (2019). He also participated in residency programs such as KARLIN STUDIO (CZ) in 2017  and Moly-Sabata in 2018 (FR).
Support: Baptiste Charneux's residency is made possible with support from The Trust for Mutual Understanding