2015 | NYC | Artist
Anna Fabricius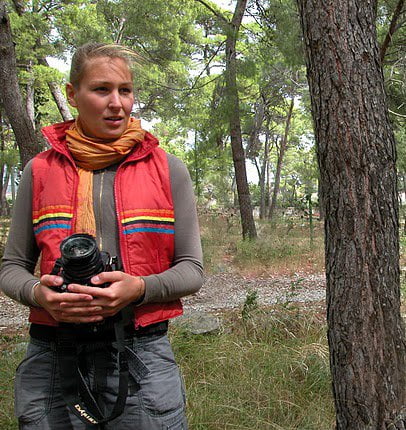 Artist name: Anna Fabricius
Dates of residency: September -November
Born: 1980
Hometown: Budapest, Hungary
Lives and works: Budapest, Hungary
URL:https://vimeo.com/annafabricius
http://www.fabriciusanna.com
http://www.aintbadmagazine.com/article/2012/10/13/anna-fabricius/
Education: Doctorate, 2015, Moholy-Nagy University of Arts, Budapest; 2008-2011: Moholy-Nagy University of Arts, DLA scholarship; 2003: Glasgow School of Art, Scotland, scholarship; 
2000-2005 Hungarian University of Arts and Design, photo department, Budapest
BIO/ STATEMENT:
Anna Fabricius is a photography and video artist. In her practice, she continuously explores the notion of 'group' – how it is constructed and how the individual positions itself within this setting. Her photographs and videos depict specific groups such as manual laborers, factory workers, athletes or housewives. She photographs them during their working hours at their usual workplace whilst engaging them with improvisation games. For example, the series Hungarian Standards illustrates professions acting out the same position within their environments. Repetition illuminates the similarity of her subjects and defines the iconic interpretation of each profession. Subtle variations in individual body posture suggest separateness and remind us that groups consist of individuals who ultimately reinforce or rebut social preconceptions.
Recent group show by Anna Fabricius include 2014: Lockout – Visual Cultural Research Center, Kiev, Ukraine; 2014: Backlight Photofestival, Tampere, Finland; 
2013, LEOPOLD BLOOM AWARD – Ludwig Museum, Budapest; 2013, STILL – Photography in the museum, MODEM, Debrecen; Contemporary Hungarian Photography after the years 2000 – Hungarian National Gallery, Budapest
In 2013, she had solo shows at FaurZsófi Gallery, Budapest (2013); Unpredictable Events of the Future – Photon Gellery, Ljubljana, Slovenia (2012) and Unpredictable Events of the Future – Faurzsófi Gallery, Budapest (2012
GALLERY: Gallery Faur, Budapest, Hungary
SELECT PERMANENT COLLECTIONS:
Jozef T. Baio private collection, New York, NY
KOGART Collection, Budapest, Hungary
Gallery of Miskolc City Museum of Art, Miskolc, Hungary
Horvath Artificial Association, Hungary
SUPPORT:
Ana Fabricius's 3 months residency is supported by ACAX | Agency for Contemporary Art Exchange as well as the Trust for Mutual Understanding.