2022 | NYC | Artist
Anissa R. Lewis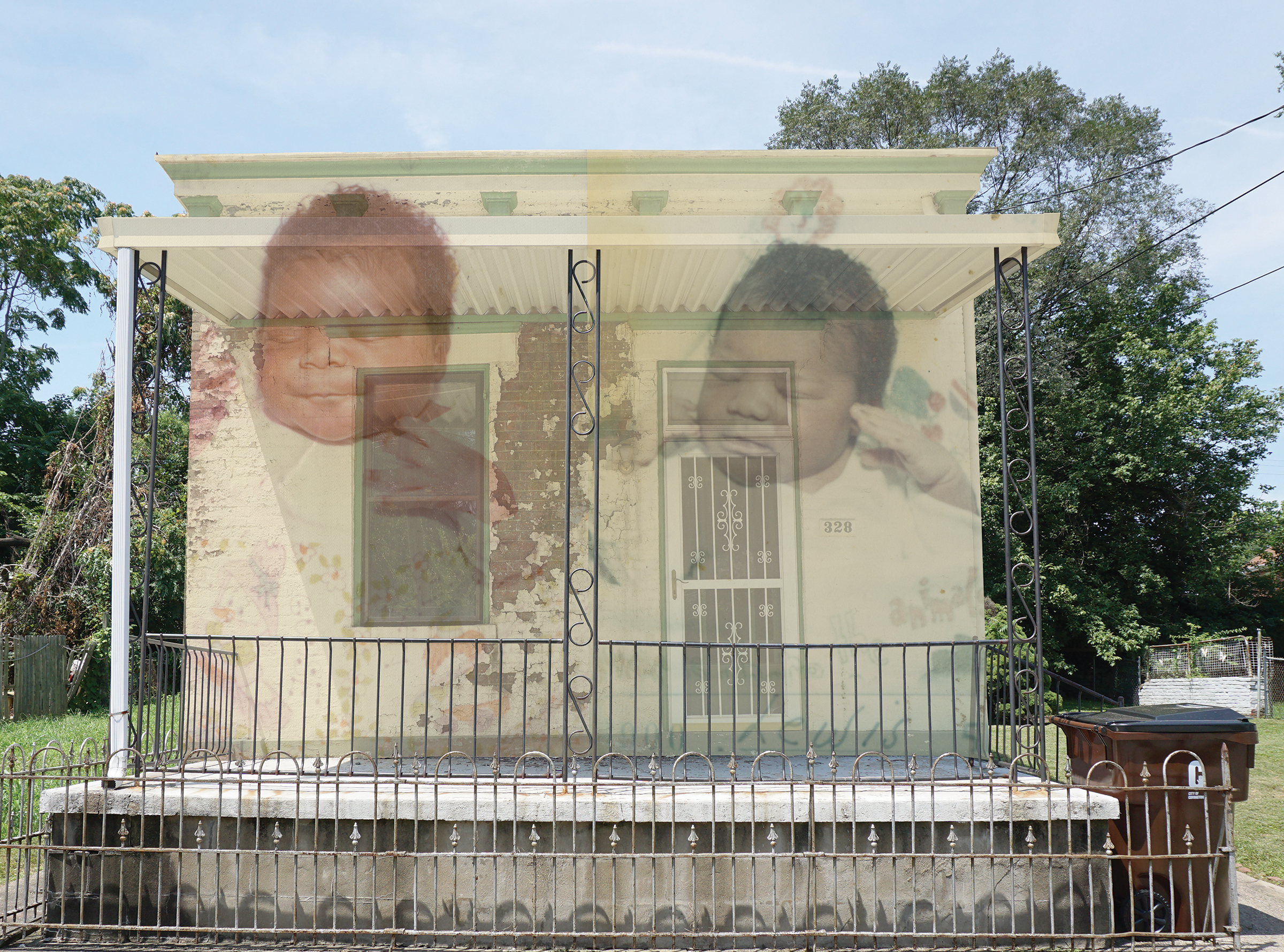 Anissa R. Lewis, "328 Pleasant Street (Pleasant Street Series)", Photo based print, 20x15 in, 2015
Artist Name: Anissa R. Lewis
Residency Dates: May – July 2022
Born: Covington, KY
Hometown: Covington, KY
Lives & Works: Covington, KY & Cincinnati, OH
URL: anissalewis.com
Education: MFA, Painting/Printmaking, Yale University School of Art, New Haven, CT
Bio
After receiving her MFA from Yale University School of Art, Anissa R. Lewis moved to Philadelphia, PA where her deep belief in community, identity, agency, justice and voice led her to many projects and collaborations. Some of these include: an arts-based women empowerment classes for a Philadelphia County prison drug and alcohol abuse unit; a rites of passage program for black and brown teenage girls; student driven mural projects aimed to address civic engagement, neighborhood relationships and identity, and others.
In 2005, Lewis returned to Covington, KY to focus her work on the power of place in her hometown neighborhood and continue her community-based practice and projects. She has created murals, given talks on community, story and voice, and race and justice as it relates to place. She has taught classes in social practice and print at the University of Cincinnati College of Design, Art, Architecture and Planning. She has appeared on the podcast, "I like your work," and was featured in Cincinnati Magazine's article "Artist Anissa Lewis on Community, Creativity, and 'Camp Delivery'". She has received a Creative Community Grant from the Center for Great Neighborhoods, in Covington, KY. Her work has been viewed at the Hampton University Museum, in Hampton, VA, The Carnegie, in Covington, KY, the Riffe Gallery, in Columbus, OH and at the Contemporary Arts Center, in Cincinnati, OH. Her work has been collected by the Sara Vance Waddell Collection.
She lives in her childhood home, Covington, KY, with her family and works at the Art Academy of Cincinnati as the Director of Diversity, Equity, Inclusion and Belonging.
Statement
While walking down a street in my hometown, many of my childhood friends' homes are either boarded up or are now open lots. The change of the neighborhood does not stop at physical structures. They include a significant change in race, socioeconomics and the community's identity/culture, its aspirations and relationships amongst its current residents.
Also, at the end of my walk and reliving my memories, I realized that the neighborhood where I grew up no longer exists. New stories lay atop mine. This is nothing new. I accept that I am now an insider/outsider created by my relationship to a place that lives in a time past rather than what physically presents itself now. But, questions do persist.
What are the stories that are alive and here now? Who is telling or gets to these stories? In what ways do they differ from mine? What remains from years ago that resonates with what now exists? Or are these stories and experiences parallel to the point where one longtime resident said to me, "I feel like a stranger in my own neighborhood."
My practice seeks to elevate and amplify the voice of my community. I want to hold space for this place and its residents so that they can claim, demand and speak their power, voice and identity. I attempt to do this work through prints, murals, story shares and installation.
Support: Anissa R. Lewis' residency is made possible with support from the Great Meadows Foundation.