2014 | NYC | Special Features
Angeline Gragasin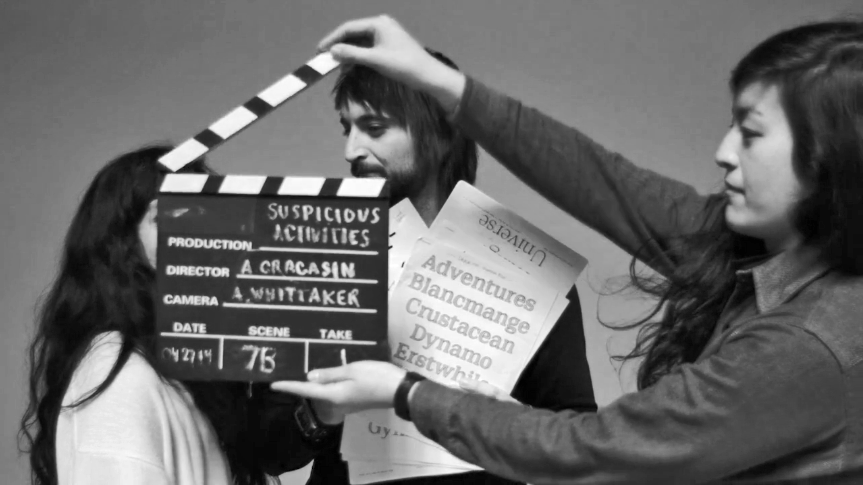 Suspicious-Activities-by-Angeline-Gragasin
Artist name: Angeline Gragasin
Dates of residency: April
Lives and works: New York
URL: http://angelinegragasin.com
Education: The University of Chicago
The National YoungARTS Foundation
BIO/STATEMENT:
Gragasin's personal filmic style tends toward a documentary/narrative hybrid not only in process but also in content; pieces like WOMEN OF THE FUTURE (2013) and THE ECSTASY OF DECAY NO. 2 (2011) best demonstrate this approach. She is interested in acknowledging the artifice of filmmaking, in finding a balance between formal composition and verité storytelling by exposing the process rather than hiding it from my films. Gragasin makes films in which the viewer feels complicit in the making of the story, such as those of Agnès Varda, whose work has been hugely influential to me and persists as an ongoing source of inspiration.
Prior to pursuing a career as a filmmaker, she trained extensively in clown, mask, mime and ensemble-based theatre with Teatro Punto, 500 Clown, and Double Edge Theatre. She is interested in conducting new interdisciplinary research and applying the techniques and traditions of French and Polish theatre artists Jacques Lecoq, Étienne Decroux, Jerzy Grotowski, and Tadeusz Kantor--whose work was at the center of her investigations as an undergraduate at the University of Chicago--to her filmmaking process.
SUSPICIOUS ACTIVITIES - 6min
Gragasin scouted Residency Unlimited's space and found a peculiar hand-painted sign in the bathroom that read "SUSPICIOUS ACTIVITIES," which inspired her to create this oddball action film.
SUPPORT: This program is supported by public funds from the New York City Department of Cultural Affairs in partnership with the City Council and the New York State Council on the Arts with the support of Governor Andrew Cuomo and the New York State Legislature.