2018 | NYC | Artist
Angélica Maria Millán Lozano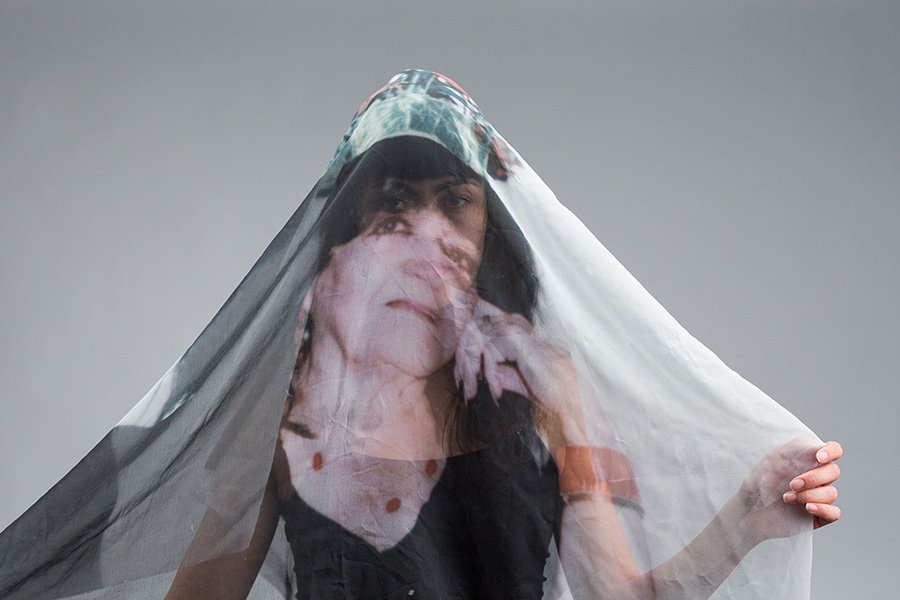 I shrouded myself in a veil with the image of my grandma, then whispered a poem as I unveiled myself, and kissed members of the audience on the cheek. I explored affection to disarm the audience and challenge their position within domestic spaces.
Bio / Statement:
Angélica Maria Millán Lozano is an artist from Bogotá, Colombia currently based in Brooklyn, New York. Millán is a fibers and performance artist whose multifaceted projects explore her Colombian and American identities. She creates abstract and figurative compositions on distressed fabrics that question the social injustices that affect Latinas in the home. Her projects are united by their reverence of the women in her family, and an interest in making public the hidden stories of their lives. "This is about generational trauma, and what it means to carry stories of your ancestors and see yourself in them, and to claim space for myself in a place where I have to choose between cultures."
Millán is a co-founder at cvllejerx, a people of color focused fashion, poetry, and performance collective.
Most recent exhibitions include 2018 Treguas, Solo exhibition at Fuller Rosen Gallery, Portland, OR;  ROPA VIEJA cvllejerx at s1, Portland, OR;  Functionally Literate + Housewifes at Timucua, Orlando, FL; Histories' Presence at PAGE Space, Portland, OR; 2017 Triumph/Adversity at 511 Gallery, Portland, OR; Coded Albumen at Indivisible Gallery, Portland, OR; Fuck the Patriarchy at Gas Gallery, Los Angeles, CA ; Thrown at Bridge Productions, Seattle, WA; rolas in pdx at Williamson|Knight, Portland, OR; Multiples at Galería Guadalupe - Guadalupe Cultural Arts Center, San Antonio, TX;  no-place at Gallery Protocol, Gainesville, FL; and Etat de Siege, a performative lecture curated by Michele Fiedler at Disjecta, Portland, OR.
Selected residencies and honors include 2018 Ox Bow School of Art and Artists' Residency, Saugatuk, MI Visiting Artists: Ronny Quevedo, Alberto Aguilar, and Sharon Louden; SVA Contemporary Practices Summer Residency, New York, NY Faculty: Dara Birnbaum, Seph Rodney, and Anna Ogier-Bloomer; Artistic Focus Artist Project Grant by Regional Arts & Cultures Council, Portland, OR, Co-managed ROPA VIEJA weekend fashion show promoting emerging artists; 2017 Precipice Fund Grant from The Andy Warhol Foundation, Portland, OR Co-organized SUCIX, community event promoting local musicians; and Caldera Residency at Caldera Arts Center, Sisters, OR Visiting Artist: Karyn Olivier.
Selected publications include 2018 Unraveling Family History, Oregon Arts Watch; Portland Guerilla Fashion Collective Cvllejerx Finds Beauty in the Bins, Willamette Week, Portland; 2017 A Gallery in a Truck Fuels Up on Anti-Patriarchal Art, Hyperallergic, L.A; Resistance and Representation, Artborne Magazine, Orlando, FL.
Galleries:
Fuller Rosen Gallery, Portland, OR
Support: Angélica Maria Millán Lozano's residency is made possible with funding from The Cultural Development Fund from NYC Department of Cultural Affairs and National Endowment for the Arts /Artworks Grant.