2015 | NYC | Curator
Angela Bailey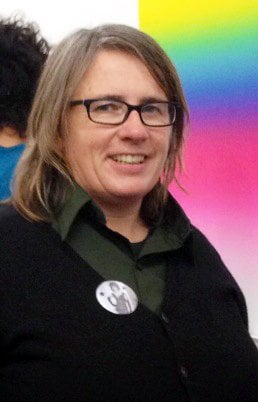 Curator name: Angela Bailey
Dates of residency: March 2015
Born: 1966, Sydney
Hometown: Brisbane
Lives and works: Melbourne
URL: http://www.angelabailey.com.au
http://www.blindside.org.au/portfolio-item/9-26-july-interpreting-the-archive-ray-cooke
http://www.alg.org.au
Education: Bachelor of Communication, Queensland University of Technology; Associate Diploma of Photography, Queensland College of Art; Postgraduate Diploma of Fine Art, Victorian College of the Arts; Masters of Art Curatorship, University of Melbourne.
BIO/ STATEMENT: 
Angela Bailey is a curator and photographic artist whose curatorial and photographic/art practice is informed from the perspective of the community and the cultural. As a young activist participating in the fight for gay law reform in Queensland in the late 1980's to her work as Director of the Visual Arts for the Midsumma Festival (Melbourne's Gay and Lesbian Festival) in the late 1990's – all have contributed to her ongoing participation in promoting and interpreting our rich and diverse histories by creating exhibitions, installations, discourse and public programs of engagement. Bailey is interested in the cultural, collective and community memory that reflects on events/archives, artworks, artists and how we continually reinterpret their significance in the ongoing history of HIV/AIDS.
Bailey has worked extensively on community based art engagement projects and exhibitions and, for a number of years was the Director of Visual Arts for the Midsumma Festival. Angela has lectured and tutored in Photography and has work in the collections of the National Gallery of Australia, Queensland Art Gallery and the State Library of Victoria. In 2014 Angela curated two exhibitions that featured as part of the International AIDS 2014 Cultural Program in Melbourne. The Vital Signs exhibition featured artists creating new work from engaging and interpreting the collection of the Australian Lesbian and Gay Archives Collection, where she is currently Vice President of this community based National archive.
Check out the online exhibition she put together while in residency: http://www.thebody.com/visualaids/web_gallery/index.html
SUPPORT: Angela Bailey's one-month residency is made possible and co-sponsored within the framework of the collaboration between RU and Visual AIDS.